12 Ways To Add A Short-Sleeve Button-Down To Your Wardrobe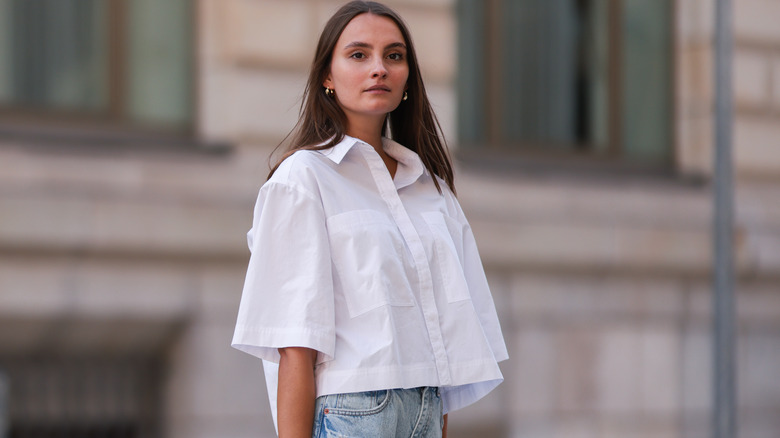 Jeremy Moeller/Getty Images
A button-down shirt is a staple piece that deserves a spot in everyone's closet. Timeless and versatile, a crisp button-down shirt goes with pretty much anything, and a classic collared version can make you look put-together in an instant. A long-sleeve button-down might be the first image that comes to mind when you think of this shirt style, but short-sleeve button-down shirts are just as useful and fashionable.
You can wear them in all the same ways as the classic long-sleeve version — with jeans, over a dress, to the beach, and more. But they're way more comfortable in the summer when it's too hot and humid for full-length sleeves. Plus, their summery look gives you an enviable vacation-chic vibe, like you've just returned from a European beach-side villa.
Just like their long-sleeve counterparts, short-sleeve button-downs come in a range of styles, fabrics, colors, and patterns. This opens up a world of possibilities for styling a short-sleeve button-down, whether it's a plain collared shirt under a sweater vest or a loud patterned button-down T-shirt used as a pool cover-up. We've rounded up some ways to add a short-sleeve button-down to your wardrobe, complete with styling tips to make a short-sleeve button-down work with your current style.
Wear a matching set
If you're unsure how to rock a short-sleeve button-down, a matching set is one of the best ways to add this garment to your closet. One of the main perks of a matching set is that it always makes an outfit look put-together and intentional, so you won't need to think about what to pair your shirt with — the hard work is already done for you! To find a matching set that feels like you, take a look at your closet and find one that's sure to fit in. Or, going for a beachy and bright option is the perfect choice for a day by the ocean or a vacation snapshot.
Stay comfy in a chambray shirt
There's something so cozy and unpretentious about a loose chambray shirt, making it the perfect overshirt option for a casual day out. Chambray button-down shirts have a denim look, but they're more comfortable and flowy than a stiff jean jacket. A chambray shirt brings this look more comfortably into the summer. Pair a chambray shirt with linen pants for a covered-up summer outfit that will still keep you cool (both in temperature and in how you look!).
Under a sweater vest
Sweater vests almost always look their best when they're layered. If you're looking for a formal and preppy outfit for warmer weather, wear a button-down short-sleeve shirt under your sweater vest. This outfit idea is great for transitional seasons when it's just cool enough to still rock your sweater vest but too warm for a long-sleeve shirt. A collared shirt makes this outfit look all the more put-together.
As a beach cover-up
Long-sleeve button-downs are a classic swimsuit cover-up for your next warm-weather vacation — they're light, airy, and provide protection from the sun. If you want an even cooler option, opt for a short-sleeve version. This also means you'll get some sun on your arms (though you might want to take it off once in a while to avoid tan lines). Choose a thin linen version to stay even cooler on hot days and match the shirt to your bathing suit, or choose a fun color or pattern to make your outfit pop.
Bring plaid into summer
Plaid shirts are oh-so-cozy in colder weather, but they're much too warm to wear throughout the entire summer. If you can't give up your comfy plaid shirts (even in the heat), then opt for a short-sleeve version to get a similar look. Along with short sleeves, put a 2023 spin on a classic flannel shirt by reaching for one in light colors and a lighter-weight material, which will help you stay cool throughout the summer. Plaid tops pair beautifully with denim, so wear a plaid short-sleeve button-down with your favorite jean shorts.
Add a pastel pop of color
It makes sense to buy many of your basics in neutral colors, especially if you have a small wardrobe. They're just easier to match! But if you're missing a bit of brightness in your closet, add it in the form of a pastel-hued short-sleeve button-down. You can wear a bright-colored shirt like this one alone or rock it as an overshirt over your neutral-toned dresses, shirts, and shorts. It's a great way to add a pop of color without the commitment since you can always take it off if you want to tone your outfit down.
Choose an oversized shirt
Oversized silhouettes are having their moment in the spotlight, and we love this trend toward all things baggy. An oversized short-sleeve button-down is one way to add an oversized top to your summer wardrobe. It's better for hot weather than an oversized blazer or jacket, and going up a size helps with air flow as well, so you'll stay even cooler.
Use it for layering
Short-sleeve button-downs aren't just for hot weather. You can use them as a layering piece for cooler seasons as well. Layer like a pro and throw on a collared short-sleeve button-down over a form-fitting long-sleeve shirt — it will be even cozier if you choose a turtleneck! While a thin button-down shirt won't provide much warmth, it sure offers a lot in terms of style.
Stay cool in linen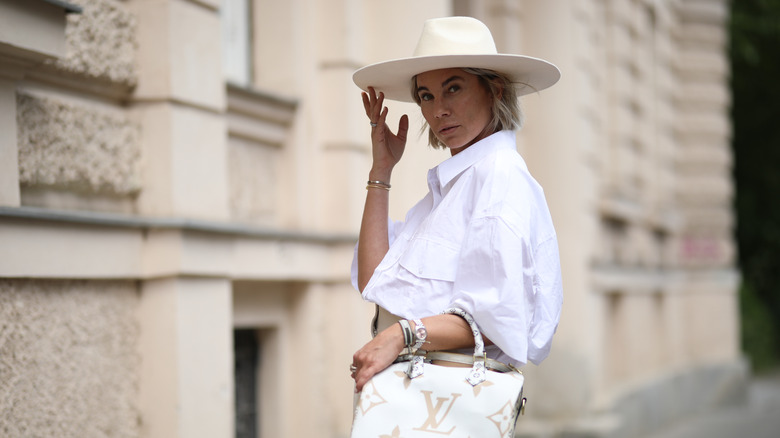 Jeremy Moeller/Getty Images
Linen clothes are a staple in many summer wardrobes. Breathable, flowy, and sophisticated-looking, a linen short-sleeve shirt just makes sense for when the weather is hot. The best part about owning a button-down linen t-shirt is that you can make it look as formal or casual as you'd like. Pair it with linen pants and a blazer for an office-friendly look, or wear it undone with a crop top and shorts for a relaxed summer outfit.
Style it cropped
The crop top trend won't be going away anytime soon, and one way of styling a crop top beyond the basic involves reaching for it in a button-down form — especially if structured button-down short-sleeves feel a little too boxy. Just like other cropped shirts, this style will really show off your waistline. If you can't find the perfect cropped short-sleeve button-down, you can make one by cutting a longer one to size or by tying the shirt up at your waist.
Play with tucking
An easy way to make one of your old outfits look fresh is to play with tucking — and that also applies to short-sleeve button-down shirts. There are several ways to tuck your shirts, no matter what look you're going for. A full tuck will give you a more formal look, ideal for a work outfit or to accentuate your waist off-hours. For an informal look, go for a half-tuck like in this photo, keeping one side of the short-sleeve button-down untucked.
Go all out with a loud pattern
Short-sleeve button-downs are available in all sorts of fun colors and patterns. If you can't find your perfect pick in your usual section at the store, head to the men's section. These shirts are a men's section staple, so there are lots of options! Pro tip: Grab a shirt from the men's section in a larger size to achieve that oversized look.