The Secret To Keeping A Repeat Outfit Fresh Is In The Accessories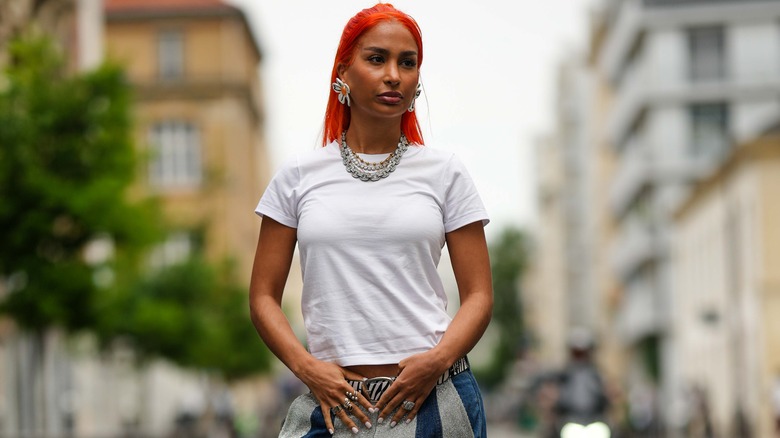 Edward Berthelot/Getty Images
We may receive a commission on purchases made from links.
Keeping up with the latest fashion trends can be challenging. There's always something new that's trending. Not to mention how costly it can be to purchase a new dress for every wedding you get invited to. But with people becoming more conscious as consumers, another trend that's also evolving is minimalism. In fact, if you go online, you'd probably be able to find lots of fashion enthusiasts embracing the repeat outfit practice — where they either choose to wear the same outfit every day for a while or simply rock a smaller wardrobe. Regardless of what you believe in, wearing the same outfit to a social event twice in a row can feel daunting, especially if you know there will be lots of pictures.
Fortunately, it turns out there's an interesting way to freshen up a repeat outfit: accessories. In fact, if you keep varying accessories on hand at any given time, you can pull endless outfit inspiration from them. Whether it's via a cute hat, a fabulous handbag, or a statement piece of jewelry, switching up your accessories can breathe new life into a tried and true outfit, as holistic personal stylist Laurie Loo shared in her blog. Here are some more ways you can use accessories to diversify your look. 
Think simple yet different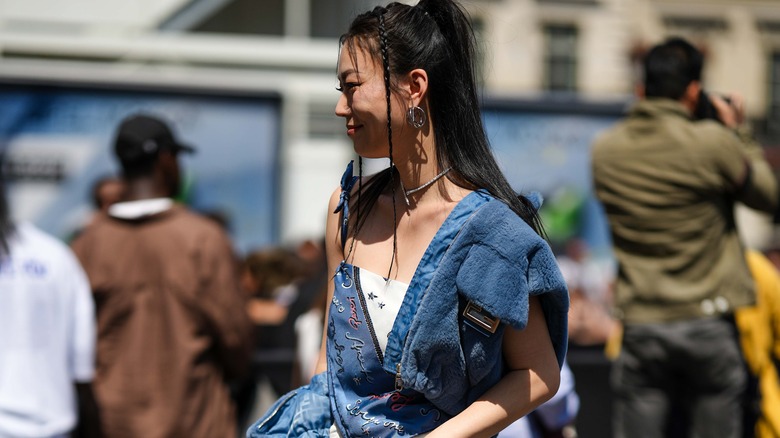 Edward Berthelot/Getty Images
Think about the last time you noticed a gorgeous handbag someone carried at a party. Even if the person was wearing the same floor-length white maxi dress they wore to a luncheon a week ago, their new lilac-hued saddle bag with a blue strap completely stole the show. 
The key is to keep things simple yet interesting. You can choose between combining a pair of green statement geometric drop earrings, a vintage bracelet, or some cute new lavender suede pumps with your old white button-down shirt dress and secretly transform your look for a new social engagement. If you're feeling extra creative, why not try a fresh hairstyle to complete the look? Contrary to what you might think, people don't really remember what others wore at past events. They're generally more worried about keeping their own outfits on-trend. But by tweaking your repeat outfit this way, you're giving yourself a much-needed confidence boost — not to mention all the compliments you'll get on your jewelry. 
Accessories have a way of telling a new story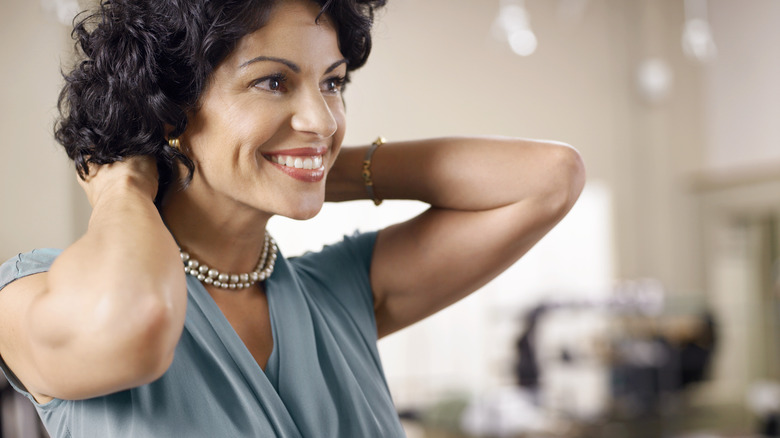 Siri Stafford/Getty Images
Leveling up your LBD with some accessories is not only about changing the way you look. It's about letting your old clothes tell a different story. Jill Chivers, author of "Shop Your Wardrobe" wrote on her website that embracing accessories is not only the key to rocking a repeat outfit but can also help you inject your own personality into your look. And isn't that the crux of what good style is? Having pieces that speak to you and make you feel good while wearing them — whether that means a bold statement necklace or a cute shoulder bag. So, the next time you're tempted to go out and buy a fresh belted jumpsuit for the engagement party you were invited to, why not pull out your tried and true beautiful yellow swing dress and combine it with a different pair of shoes or statement earrings? 
The key to accessorizing is in choosing pieces that reflect your unique personality. You can switch things up with necklaces, rings, bracelets, earrings, bangles, scarves, bandanas, handbags, clutches, hats, shoes, etc. The list is long. Besides, repeating an outfit is a fun and creative exercise to an otherwise straightforward routine of getting dressed up. Ultimately, simple fashion accessories can do heavy duty, so why not invest in some?