The Layered Bob Is The Right Way To Add Texture To Your Trendy Short Hair
Do you have long, layered tresses and think about transitioning to a trendy bob but don't want to lose the layered look? If you're intrigued by the chic power bob haircut, but the only obstacle holding you back from making the chop is that you want to keep a layered hairstyle, the layered bob is perfect for you. While classic blunt bobs might have been the vibe in the '90s, you don't have to choose between a bob and layers in 2023. The layered bob gives you both the bob and the layers — hence the name.
"[It's] simply a bob with layers in it," Adam Reed, a professional hairstylist who founded Arkive Headcare, told Byrdie. The layers provide "a softer finish and adds volume to the overall look," Reed explains. Thus, while sacrificing length is crucial to achieving the trendy bob, you can still rock some short layers for that bouncier voluminous look if you worry that a more traditional one-length bob will appear too harsh and flat. So, why not rock a layered variation of the bob in 2023?
Try choppy layers
Subtle, soft layers are always beautiful, but don't be afraid to go for a bolder look with choppier, more striking layers for more texture. If you want to ensure the layers in your bob look noticeable, ask your hairstylist for more intense, defined layers rather than gentle, dainty layers. Make the layers hit right at your cheekbones for a daring layered look. 
Have fun with curly looks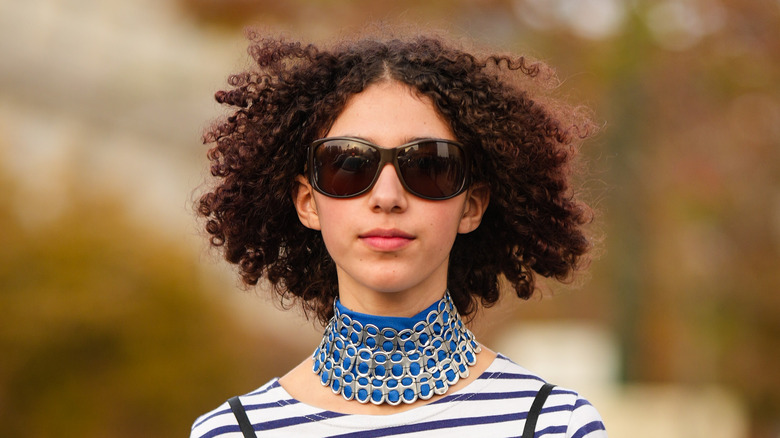 Edward Berthelot/Getty Images
Curly hair is perfect for the layered bob look, as the short layers will look lively and bouncy without overpowering your face as longer lengths might. If your hair is naturally straight, the layers in the bob will still look great, but you may want to try curling it once you get the layered bob haircut for a more voluminous effect.
Layered lobs bring the glamour
Thanks to the subtle extra length, long bobs (aka lobs) always look stylish and effortlessly chic — whether the lob is professionally styled or in early-morning bedhead mode. Anyone who wants to add even more glamour to that shoulder-length haircut should add some layers. The additional texture that the layers provide can create a more dynamic and unique look than a classic one-length lob.
Layered bobs with bangs are beautiful
Do you want to rock an effortlessly chic French bob with an edgier update? Try a layered bob with bangs. The fringe will add an even more playful spin to the trendy haircut, and there are many bang variations to consider. Whether you want traditional full bangs to add a more classic touch to the trendy haircut, bold side bangs for some Y2K influence, or more subtle curtain bangs that will harmonize with the layers, bangs plus layered bobs make for a striking combination.