One Easy Step That Will Make Sure Your Boob Tape Never Peeks Out Of Your Outfit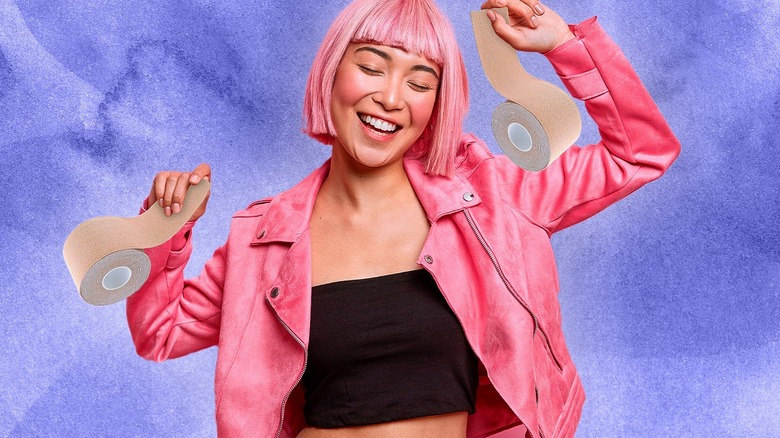 Static Media/Shutterstock
Wearing whatever outfit you want shouldn't be a hassle. Unfortunately, when boobs are involved, it can feel that way. You know that cute strapless top you've been waiting to wear during the summer? How about the daring outfit with the plunging neckline that you know will be a hit? Unless you're feeling the no-bra look, wearing a normal bra will completely throw off the style you're going for with tops like these. There are ways to make bras work with these tops, including a viral hack for wearing a tie-front top with a bra, but sometimes, it's just easier to pull out a roll of boob tape. After all, no one wants an avoidable bra mistake getting in the way of their fashion.
Boob tape may be the perfect solution to your boob-lifting needs, but that doesn't mean you want everyone to see it peeking out from your top. Say goodbye to worrying about your boob tape sticking out like a sore thumb. Using nude-colored eyeliner on your tape will ensure it stays out of sight no matter what outfit you choose to wear.
How to use nude makeup to hide your boob tape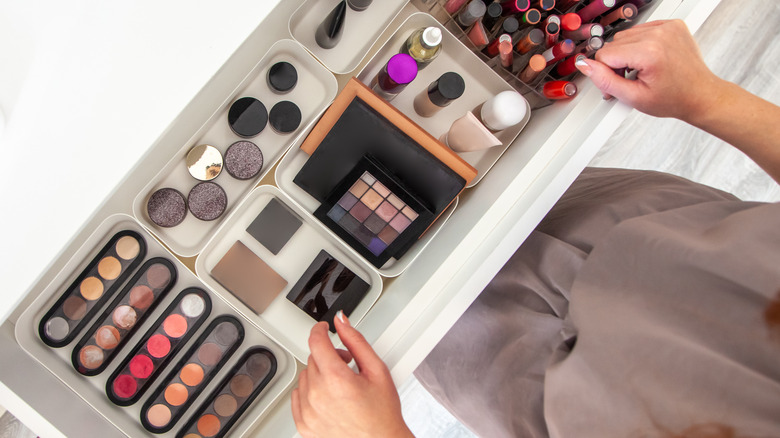 Kostikova Natalia/Shutterstock
After you've figured out how to make boob tape work for every style of top, the next step is to make sure that your tape won't make an unexpected appearance while you're out in public. To do this, style expert Stephanie Montes, who is also the founder of breast tape brand Nue, recommends digging into your makeup bag to find the perfect solution.
Makeup gets a lot of attention for how it can be used on the face, but for this hack, we're going to take a look at how makeup can turn boob tape into an unstoppable — and unseeable — force. Yep, it's that amazing. Talking with Byrdie, Montes explained that using nude eyeliner to draw around the outline of your tape will help to conceal it from view. The color will help your tape blend seamlessly into your skin, making the true shape of the tape just about indiscernible. It's an easy trick that will make a huge difference.
Pack this item in your purse for on-the-go touch-ups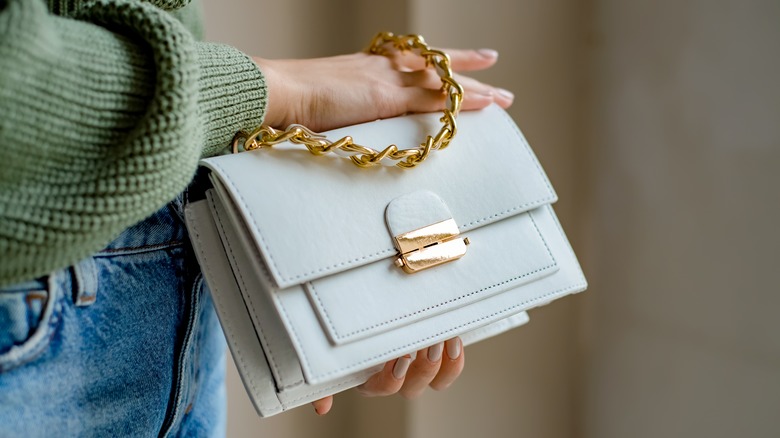 Chernova Yuliia/Shutterstock
Most boob tape comes in rolls that you can cut off in strips as you need them. Once you have your shape for the day, be it a triangle, cross, or simple straps, you probably set your scissors aside and go about your schedule. However, if you find yourself out somewhere and realize that your tape is playing peek-a-boo from behind your top, you could find yourself wanting those scissors in your grasp more than ever.
Instead of tugging endlessly at your top and feeling self-conscious for most of the day, you should opt to bring scissors with you if you're wearing boob tape. If you find that it's showing at any point, excuse yourself and head to the nearest bathroom. There, you can trim away those stubborn, visible pieces until you have the perfect shape down. Just make sure your scissors are small enough to tuck away inside your purse or clutch, and you'll be a master at keeping your boob tape stay put all day.