Prairie Dresses Are The One Summer 2023 Look We'll Be Taking Into Fall With Us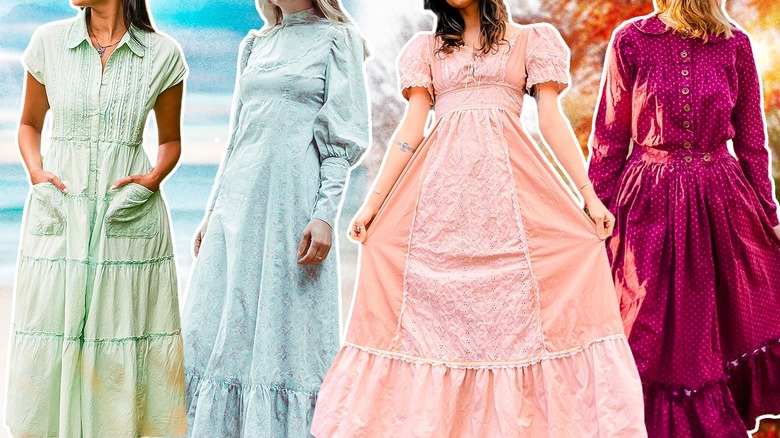 Static Media/Shutterstock
While some fall fashion trends are all about sleek lines and minimal styles, there's one trend ready to bring a feminine touch to your fall closet. Prairie dresses are vintage-style dresses known for their romantic designs and flowy fabrics. These dresses are composed of airy materials, ruffles, high necklines, and puffy shoulders. They can appear in shorter and longer hems, depending on your preference. You'll also see them with short or long sleeves. These subtle variations make it an easy piece to add to your year-round wardrobe. 
Prairie dresses bounced back to popularity with the beginning of the cottagecore trend. While much of the fashion industry has shifted to a minimal style, these prairie dresses are the perfect fall piece to give your closet a switch-up. Even if your style isn't as feminine or romantic, there are a lot of aspects you can take from the prairie dress to add to your wardrobe.
Mini praire dress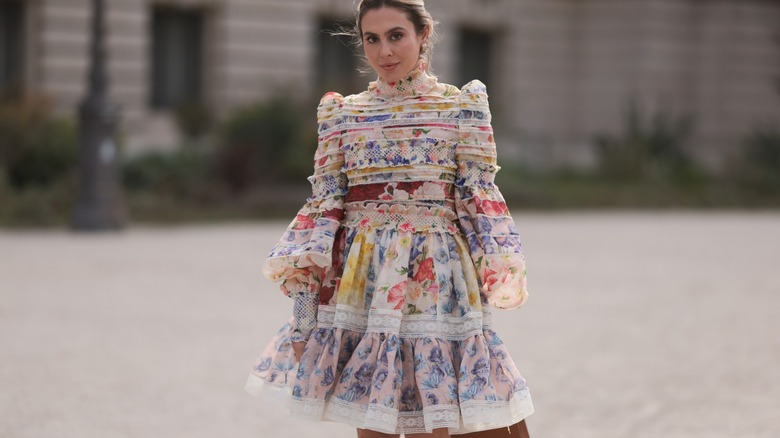 Jeremy Moeller/Getty Images
Although we're used to seeing longer prairie dresses in the summer and fall, the minidress is ready to shine. While minidresses aren't the go-to for the colder season, you can pair them with warm tights underneath. A shorter hem is funky and feminine while staying true to this vintage design. Pair this with tights, coat, and boots for a stylish prairie look.
Prairie plaid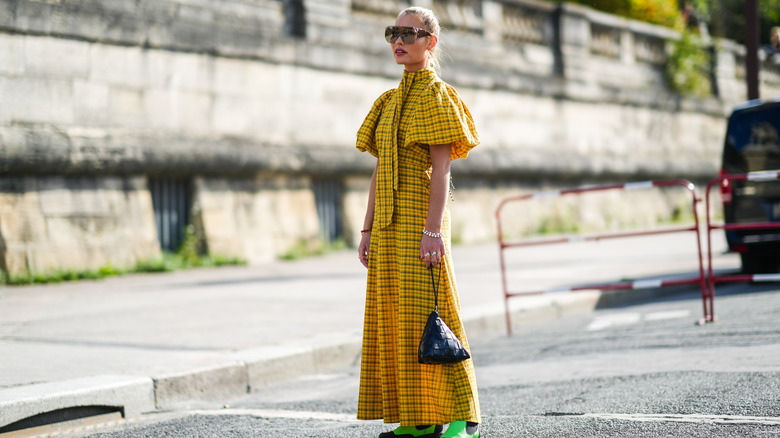 Edward Berthelot/Getty Images
If you've ever seen a prairie dress, you've probably seen it in a plaid print. Plaid prairie dresses are as timeless as a pair of blue jeans. You can't go wrong with a plaid print since it's a pattern that can jump from summer to fall. A plaid prairie dress is timeless and easy to wear with a trenchcoat or blazer for a modern look.
Maxi lengths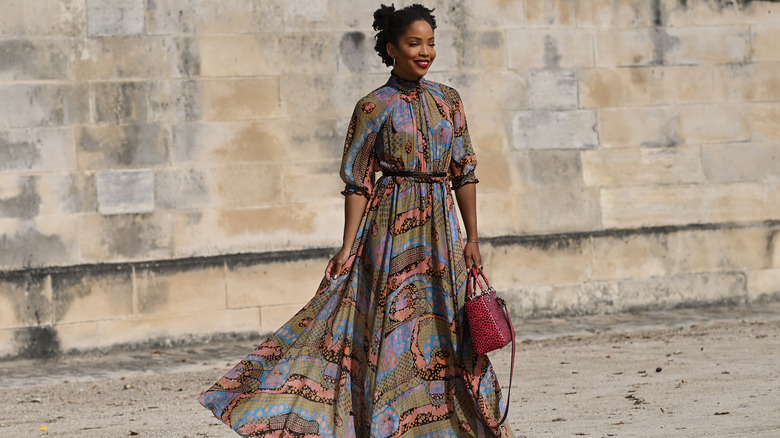 Daniel Zuchnik/Getty Images
If you want an authentic prairie look, you'll need longer lengths. Adding heeled boots can give you extra height to avoid getting swallowed by the billowing fabric. With plenty of movement, this airy design will help you float. You can also get away with wearing tights underneath your maxi, or knee-high boots for extra warmth without ruining your look.
Floral prints and accents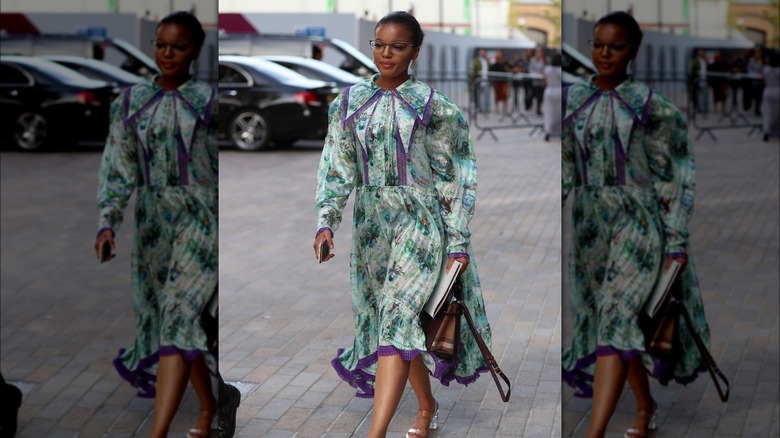 Neil Mockford/Getty Images
Almost as iconic as plaid, floral is another typical print for this feminine style of dress. Florals are appropriate for both summer and fall, making it an easy transition print for your wardrobe. Keep it simple with a ditsy floral, or go maximalist with larger flowers and greenery. A pair of suede boots is the ideal footwear to give you the rustic fashion your dress needs.
Puffy prairie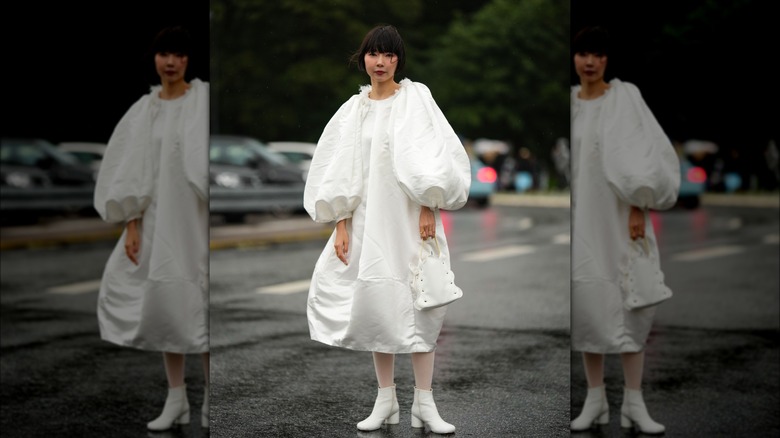 Edward Berthelot/Getty Images
A common component of the prairie dress is the puffy sleeve, which is usually a subtle detail that adds flair to your 'fit. In today's era, an exaggerated puffy sleeve turns your prairie dress from retro to haute couture. Add volume with sleeves that are bigger than life. This modern take on a classic is a must-have for all of your fall formal events, and perfect for making a statement.
Frills, ruffles, and more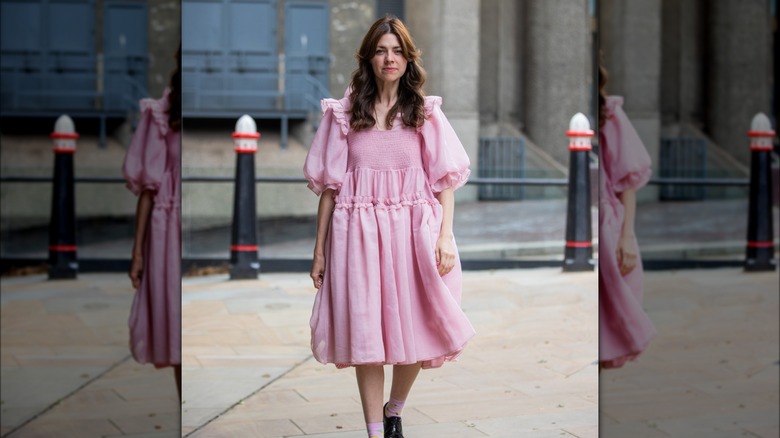 Christian Vierig/Getty Images
While prints and sleeves are typical prairie dress features, you can't forget the tiny details. Ruffles and frills are the subtle aspects that give it the prairie feel. While you could go for a plain look, the ruffles give this trend a feminine, fairytale touch. Add soft details like chiffon and ribbons for a girly twist on your Western look.