How To Make A Hair Mask Using Beer For Shiny, Hydrated Strands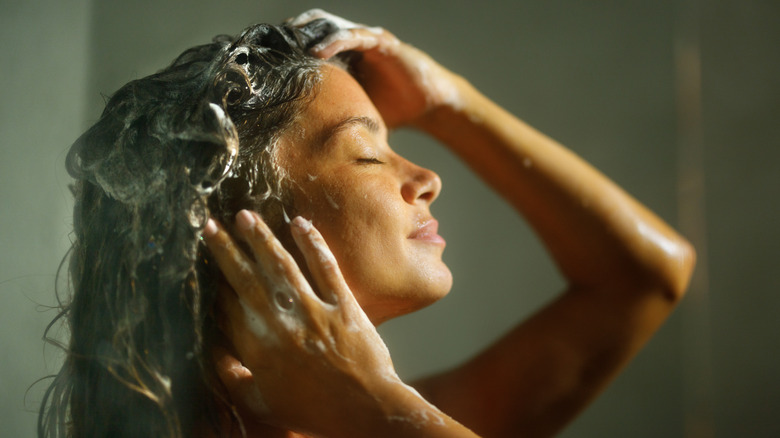 Skynesher/Getty Images
We may receive a commission on purchases made from links.
Using hair masks for healthier hair is an excellent method of self-care, giving us a taste of luxury from home while keeping our hair in good shape. But do you pay attention to the ingredients in these hair masks? Believe it or not, some kitchen staples are hair care secret weapons, as some food and drink items can benefit your hair. For instance, beer can help keep your locks healthy. While you probably wouldn't expect to hear "beer" and "hair care" in the same sentence, this not-so-sweet alcoholic beverage has some surprising benefits for helping your tresses look healthier.
"Because beer is rich in proteins and vitamins, through the natural barley and hops, it does contain nutrients for helping to develop healthy hair," Dr. Ryan Welter, a hair restoration surgeon, told Fox News. Instead of just rinsing their locks with beer, many TikTokers are opting to incorporate beer into DIY hair masks — some of which include other edible items, like eggs.
TikTokers are making beer concoctions for beautiful hair
Beauty-focused TikToker @caitkiernan posted a video showing viewers how to improve dull-looking tresses by making a hair mask with beer and eggs, noting that beer offers helpful proteins, and an egg's yolk provides beneficial vitamins like biotin. The TikToker said that the combination of a flat beer mixed with two raw eggs leads to stronger and shinier tresses. She instructs viewers to put the mask in their hair, and keep their beer and egg-mask-soaked tresses in a shower cap for a half hour. The video ends with the shiny results: healthier, livelier-looking locks. Impressed viewers commented, "Oh definitely trying this" and "super look."
Hair-focused TikToker @happipham shared a video of a slightly more involved beer hair mask. The TikToker started by showing off abnormally healthy-looking, long, silk-like hair, proving that the beer mask can deliver beautiful results. She advises boiling one or two bottles' worth of beer, giving it time to cool off, adding two raw eggs, and stirring in olive or coconut oil. Next, the TikToker thoroughly worked the mask into the scalp and tresses and kept it all in a shower cap for a half hour — much like TikToker @Caitkiernan's method. Then, TikToker @happipham suggested shampooing twice and conditioning once to complete the process, ending with silky-looking hair.
Here are some more beer-related hair ideas
We also found a hair mask involving beer and rosemary. Belgium-based hair TikToker @georgia_bran posted a video mixing two rosemary sprigs, two cups' worth of water, and a cup of flat beer that had not been filtered. The TikToker boiled the concoction and traditionally washed her hair with shampoo, and followed it up by a rinse with the DIY mask. After 10 minutes, she rinsed again with shower water. A reversed how-to order, TikToker @georgia_bran showed her results at the very start of the video — long, shiny, silky-looking hair.
If you aren't comfortable creating these beer hair masks at home, you can purchase items with a similar idea. For instance, the CRAZY SKIN Beers Hair Pack 200g — pH 5.5 German Beer Yeast Hair Treatment Mask sells for less than $20 on Amazon at the time of writing and claims to heal dull hair that needs some love, as the beer yeast cream product features helpful ingredients such as biotin, keratin, and collagen. The Amazon's Choice item has 4.2 out of five stars at the time of writing, earning high scores for feeling soft and moisturizing, smell, and value. One pleased reviewer even wrote, "It makes my hair shiny, soft, and good-looking."