An Expert Explains How You Should Really Be Using Hair Masks For Healthier Hair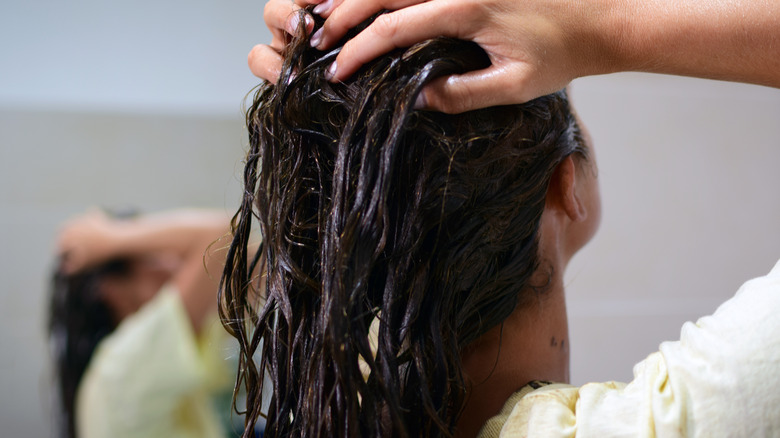 Adam_lazar/Getty Images
When it comes to improving the look, feel, and texture of the hair, the first cosmetic product that comes to mind is usually conditioners. Containing moisturizing and hair-strengthening ingredients, hair conditioners are capable of keeping your locks silky smooth and frizz-free. However, for those with severely dry and damaged hair as a result of heat styling, sun exposure, and chemical treatments, conditioning with a hair conditioner is not enough.
Advertisement
You'll need a deeper, stronger conditioning treatment that can penetrate your hair shafts deeply to replenish nutrients, support the structure of the hair cuticle, and lend your stressed strands a powerful boost of hydration and shine. And such a decadent, reparative hair treatment can be found in a hair mask. Hair masks are typically made with a high density of proteins and natural oils, allowing them to intensely feed your scalp and hair follicles with hydrating and softening ingredients and significantly improve the condition of your hair. To learn more about the benefits of hair masks and how to make them a part of your haircare routine, Glam reached out to cosmetologist Ghanima Abdullah of The Right Hairstyles for more insights. 
Advertisement
One mask per week keeps the hair healthy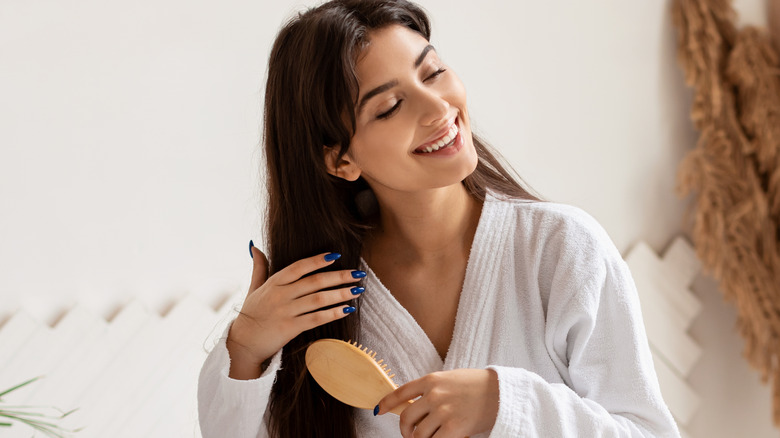 Prostock-studio/Shutterstock
You shouldn't wait until your hair gets dry and rough to consider applying a hair mask. "... it's essential to use a hair mask as a preventative measure to make sure your hair stays healthy," Ghanima Abdullah explained. 
Advertisement
Although hair masks are a safe and effective at-home fix for hair woes, they are not meant to be used on a daily basis. Since hair masks are loaded with heavy ingredients and have a thick consistency, using them every day will put your hair at risk of a protein overdose. When your hair is over-moisturized with protein, it won't get any healthier or silkier. Instead, your hair will feel limp, frizzy, and more vulnerable to breakage. To deep-condition your hair sans protein buildup, the general rule of thumb is to space out your hair mask treatments. You can start with one hair mask per week and see how your hair reacts to the treatment.
If you have specific hair concerns, such as damaged or super dry or oily hair, consult your dermatologist or hairstylist for advice on mask usage frequency to avoid over or under-conditioning your hair.
Advertisement
Shampoo before hair masking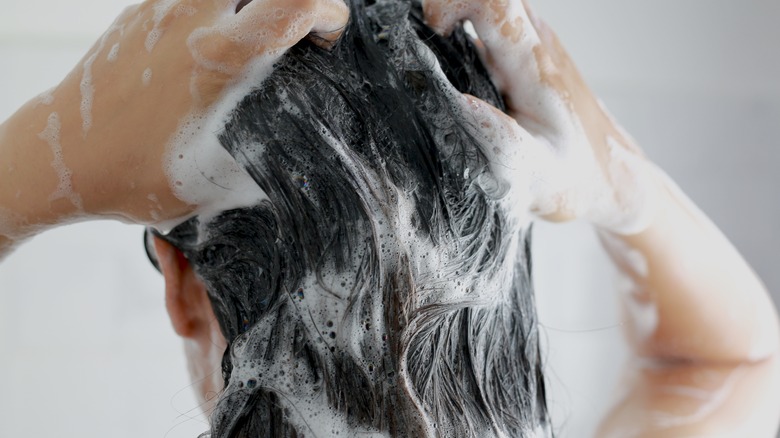 fongbeerredhot/Shutterstock
One question that many people have about hair mask application is which comes first — shampooing or hair mask? The answer is: shampooing comes first. "Many people apply a hair mask before washing [and] then cleanse their hair after using the mask," Abdullah points out. But the last thing you want to do is to pour heavy ingredients on a full head of dirty hair and a greasy scalp. The accumulation of dead skin cells, hair product build-up, and excess sebum can prevent the ingredients of the mask from penetrating your hair shafts. This is also the reason why most hairstylists shampoo your hair before giving you a keratin treatment.
Advertisement
Therefore, it's wise to give your hair and scalp a deep cleanse to get rid of dead skin cells, excess oils, and dirt prior to using a hair mask. A squeaky clean mane will make it easier for the hair mask nutrients to penetrate more effectively and help you achieve desirable results, explains Abdullah.
How to apply a hair mask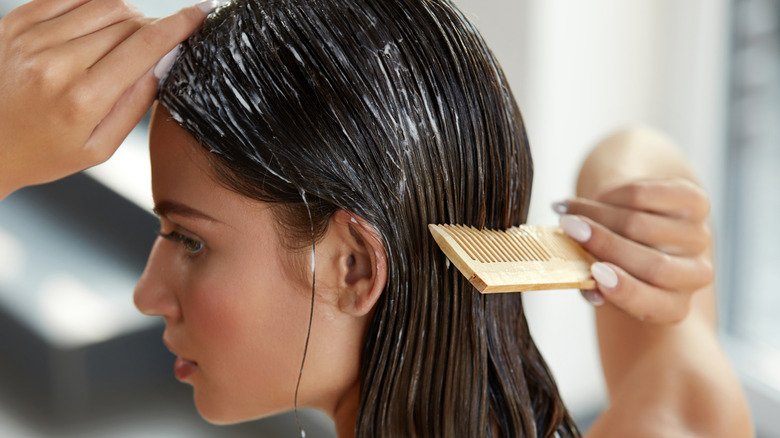 Puhhha/Getty Images
The best time to use a water-based hair mask is when your hair is towel-dried. When your hair is still damp and porous, it can better soak in and retain the ingredients of the mask. Spreading cream over soaking wet hair can dilute the formula, so make sure you ring out all the excess water with a microfiber towel before applying the solution. An oil-based mask should be applied to dry hair because water repels oil. To reap the best results from your hair mask, make sure you're choosing the one that really addresses your hair concern.
Advertisement
For easy application, separate your hair into different sections and secure them with hair clips. Then, start massaging the product into your hair from root to tip. "Apply the hair mask evenly throughout your hair and comb it through to ensure that the product is evenly distributed," says Abdullah. "Just slathering it on your hair isn't going to give you the maximum potential of the product. Make sure you cover every strand."
Another thing to note is that hair mask cream can feel thick and lumpy. To prevent the formula from coming off on your clothes and leaving a stain, wear only a bathrobe or a cape when you're masking.
Heat the mask with a hair dryer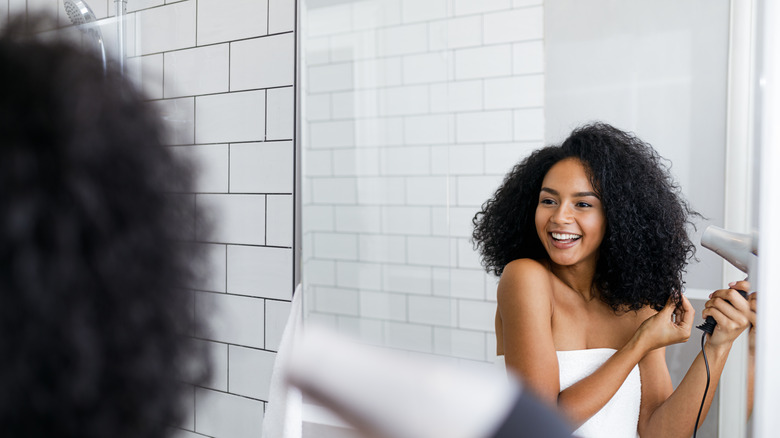 Artem Varnitsin/Shutterstock
After spreading the hair mask evenly throughout your hair, put it in a shower cap, Abdullah advises. If you don't have a shower cap, you can use a regular towel to cover your hair. Then, use a hair dryer to blow hot air over the cap to warm up the mask inside. "Warmth is important because the consistency of hair masks is usually thicker than regular conditioners," explains Abdullah. "Warmth helps break down the product so it can easily penetrate."
Advertisement
Like an intensive conditioning treatment, a hair mask should be left to sit on your head for up to 20 minutes to allow the product to sink in. When the mask has been on your hair for the proper amount of time, rinse it from top to bottom with cool water to remove product build-up. Using a cold water rinse helps to lock in the hydration and leave your hair frizz-free.
If you want to leave a hair mask on overnight, check the instructions on the product label first. Some hair masks are formulated with ingredients that are safe for overnight use — especially for those with severely damaged hair — but some are not. Keeping on a hair mask that's not designed to be worn overnight might be detrimental to your scalp.
Advertisement
Finish the treatment with a conditioner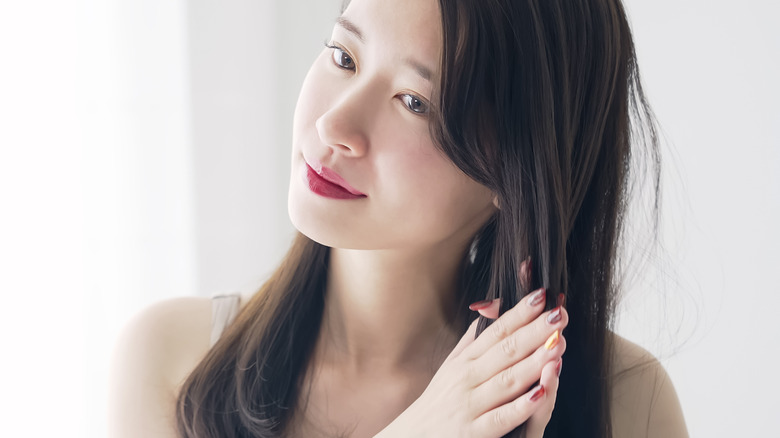 metamorworks/Shutterstock
Many people believe that a hair mask and a hair conditioner are mutually exclusive. This is because a deep-conditioning treatment like a hair mask already does a great job of replenishing the moisture levels in your hair. Hydrating one more time with a hair conditioner will only increase the risks of over-moisturizing, right?
Advertisement
"Hair masks work differently than regular hair conditioners. Their job is to penetrate the hair strands, whereas a hair conditioner is meant to seal in moisture," says Abdullah. It pays to follow up with a conditioner to seal in the nutrients of the mask and amplify their effects. Besides, if your hair is heavily damaged, adding hair conditioner to the treatment can offer it more nourishment and repair.
After working a hair conditioner to the lengths and ends of your hair, wait for a few minutes, then rinse the product out. No single hair conditioner has the same effects on every mane, so take care to choose a formula that best suits your hair type and condition.