Call Us Extra, But Accessorizing Your Swimsuit With A Belt Is The Poolside Style Move To Try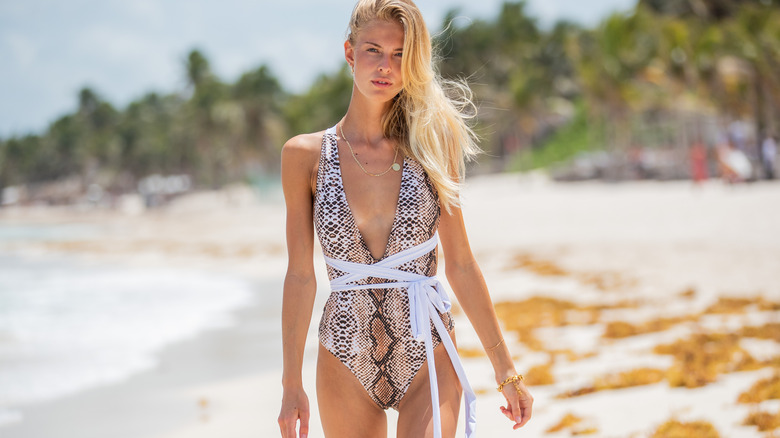 Christian Vierig/Getty Images
Think your swimsuit and resort wear has to reflect quiet luxury and minimalist fashion? Sure, if that's what you're into. But if you're living large this summer, it may be time to extend the reach of fashion maximalism all the way to your next beach vacation. Fortunately, there's an easy way to elevate any swimwear ensemble: belts.
They may be considered fashion basics, but belts are everywhere right now — from the office to the pool. There's even a double-belting fashion trend for whenever a single belt doesn't create the focal point you're dying for. And not only can you sling on a belt to hold up your trousers or manipulate the silhouette of a dress, but belts can be styled over your favorite swimsuit to add texture and intrigue.
Of course, adorning your bare midriff with a belt is a bold statement in and of itself— but showing tons of skin is not required to work the belted swimwear look. Rather, these fashion staples can breathe new life into any swimsuit, bikinis and one-pieces alike. So if you're interested in shaking up your swimwear aesthetic with some chic accessories, consider playing with various belt styles to personalize the outfit and create a poolside look like none other.
Wide white belts create nautical contrast
Color blocking is a great way to create sharp contrast in a swimwear look. So why not add a thick stripe of nautical white over your one-piece suit? This trick works with any shade, though it looks especially dapper and ocean-ready paired with black or navy blue. Of course, you can also use this trick in reverse — if your swimsuit is white, try topping it with a wide, eye-catching belt in black, blue, or a pinup-worthy cherry red.
Rope belts offer a retro, seaside vibe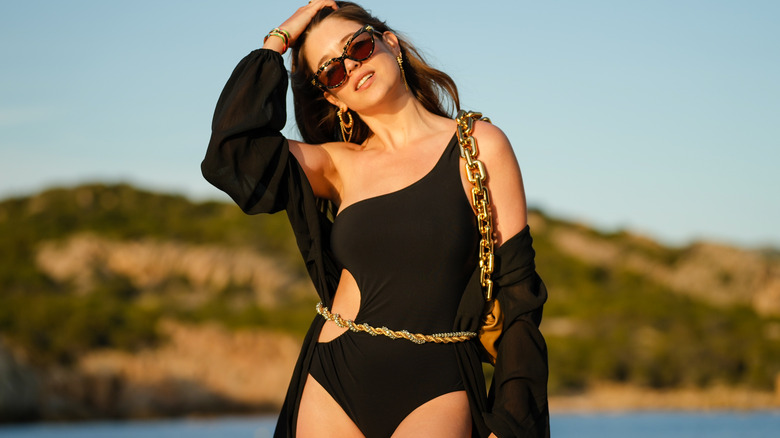 Edward Berthelot/Getty Images
White belts aren't the only nautical game in town — bringing both seafaring and vaguely vintage vibes, an opulent rope belt can lift your entire swimwear look. On the one hand, they bring to mind the practical ropes on yachts and boat docks. But on the other, they hearken back to the chain- and rope-inspired prints made fashionable by classic fashion houses like Versace and Hermès in the '80s. The result is an oh-so-appropriate mélange of aquatic luxury that pairs perfectly with any swimsuit.
Thin chain belts are elegant and alluring
For a glamorous and understated approach to the swimwear belt trend, you can also opt for a delicate body chain. Worn around the waist, a thin chain belt — whether beaded, a twist chain, or comprised of distinct, individual links — subtly draws attention to your figure and compliments the body-hugging fit of your swimsuit. Plus, the metallic sparkle of most chain belts looks equally good against your bare midriff when wearing a bikini, or setting off the design of your favorite one-piece suit.
A low-slung hip belt emphasizes your curves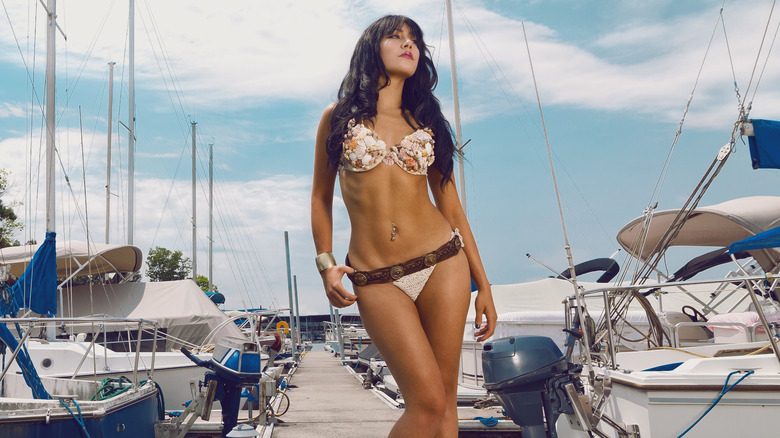 Anthonysp/Getty Images
For a flirty twist on the belt and swimsuit combo, why not angle a low-slung belt around your hips? Cute and sassy, this technique adds extra dimension to your figure and can be tweaked to serve a number of different aesthetics. A braided leather belt gives playful, Western vibes, while an eyelet-studded canvas belt makes you seem like a swimmer on a mission. There's also something a little vintage and even tactical about the look — maybe because throwing a low-slung belt on over your swimsuit bottoms evokes Ursula Andress' iconic belted bikini in "Dr. No."
Fringed or studded belts create an edgy swimwear look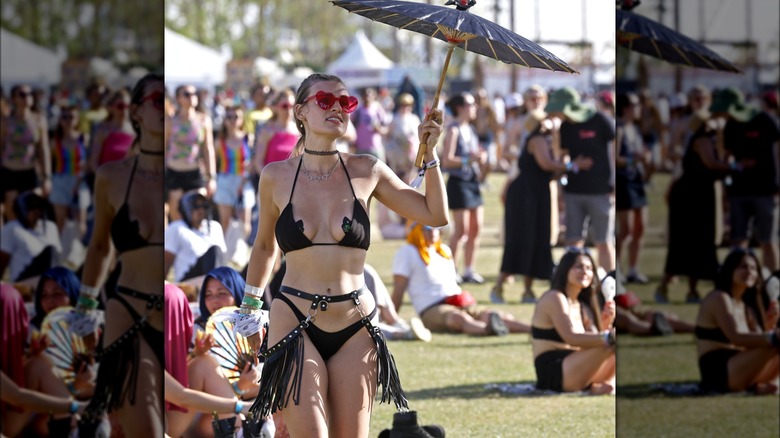 Frazer Harrison/Getty Images
Of course, not all swimwear has to be styled for a glam, Hollywood vibe. Whether you're more inclined to wear your swimsuit at the pool, the beach, or at a music festival, you can instead add a punk or gothic tone to the look by topping it with an edgy belt. Black leather is strikingly geometric against any skin tone, and the addition of rivets, studs, or hanging fringe brings extra detail and flair to the ensemble. Wear an edgy belt over your bikini or one-piece swimsuit for a daring, party-ready finish.