Adorning Your Bare Midriff With A Belt Is The Boldest Way To Wear One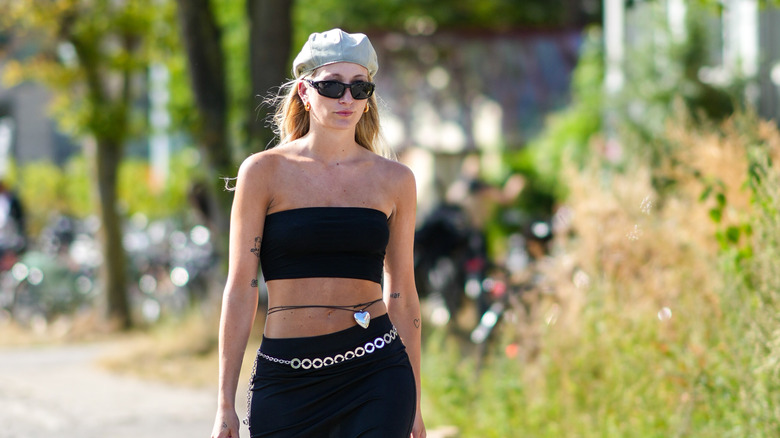 Edward Berthelot/Getty Images
The fashion world can sometimes be intimidating, since it's an open space to showcase what you love. Everyone has a different style representing who they are, and many enjoy following new trends and dressing up. There's something for everybody, whether your thing is athleisure wear, adding pleated skirts to your wardrobe, or bringing skorts back into your life after you said you wouldn't. Fashion can get you in touch with your creative side, especially when styling mundane accessories like belts. While belts are more of a necessity, they're also a huge fashion statement. You can wear them in various ways on your body.
We've recently seen runway models wear belts around their bare midriffs — a bold move. Belts are often worn through the loops of your pants to keep them from falling or over a loose-fitted dress to cinch and give your silhouette shape. However, wearing a belt on its own can change your entire vibe. These different belt styles might make you second guess how you wear your belt the next time you put an outfit together.
Stay suave in satin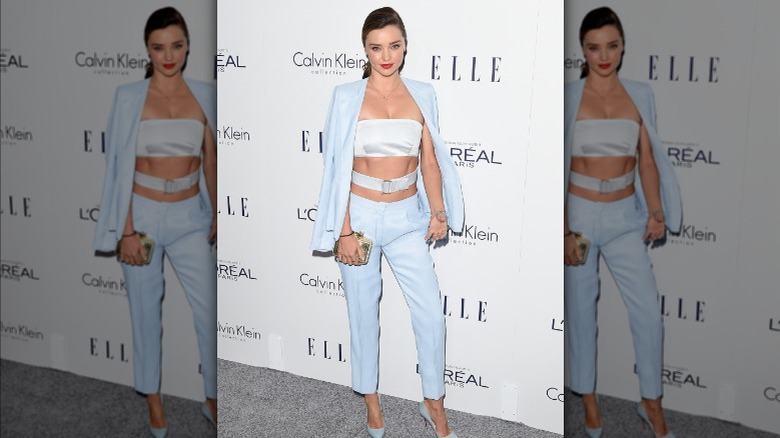 Jason Merritt/Getty
Australian model Miranda Kerr is seen here sporting a gorgeous pantsuit and blue satin belt that matched her bandeau top. The monochromatic look is effortless and chic. Make the look your own by wearing any satin belt with a pair of trousers and cropped top. You can keep it classy by wearing a blazer that matches the trousers. Or, keep your outfit casual with jeans, a halter cropped top, and loafers. This look is best with low-rise to mid-rise jeans.
Try an eyelet belt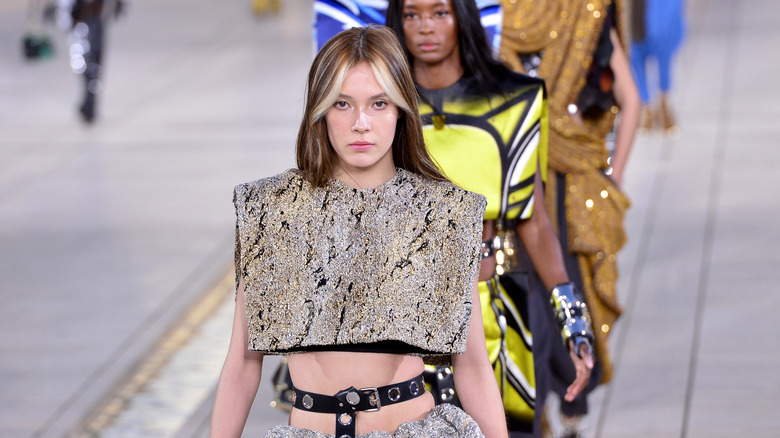 Jerod Harris/Getty Images
Opt for an eyelet belt to spruce up your outfit for an edgier look. This belt showed up in the Louis Vuitton Cruise 2023 Show, giving shape and attitude to the entire collection. California's landscape inspired the show, and the eyelet belt gives the patterned top and matching skirt contrast. You can wear it with a black midi skirt and a corset top for a daring outfit. You can also style a black denim skirt with a basic white cropped tee and belt for a cool outfit.
Go thin
Kevin Mazur/Getty
We all know that with anything Jennifer Lopez wears, we have to try to replicate it. Here she is wearing black baggy pants, a sparkly bra, and a thin black belt topped with a blue trench coat. The outfit is bold and flashy, and you can make it your own with black baggy jeans, a fun colored bralette, a thin belt, and a denim jacket. Or swap the denim jacket with a bomber jacket to expose your belt.
Mix patterns and colors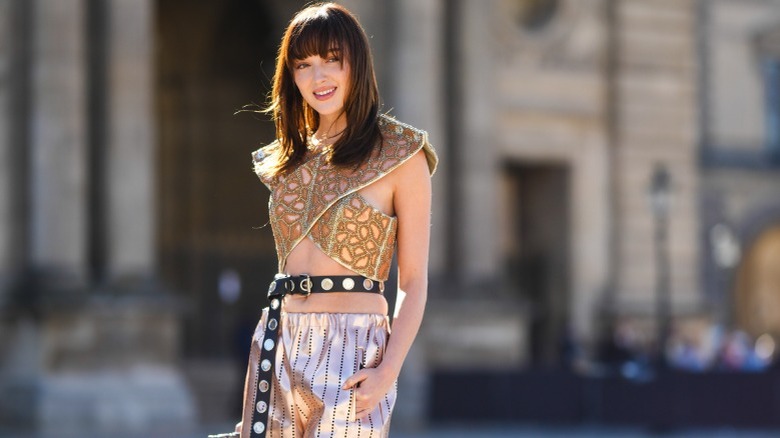 Edward Berthelot/Getty
Sometimes you don't need to find the right belt to match your outfits. We mentioned how fashion allows you to show off your personality, so you can mix patterns, prints, and colors, and find unique ways to fit them together. For example, actress Phoebe Dynevor wears blends of different metallics and designs with a black belt above. You can pair different patterns with any belt to create a similar look. 
Opt for a chain belt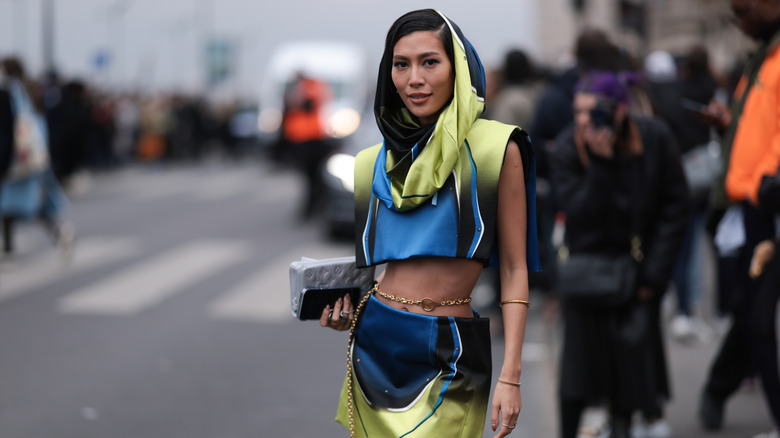 Jeremy Moeller/Getty Images
If you don't like thicker belts, chain belts are an excellent replacement. They are often available in different styles with different shapes. In addition, chain belts give a flirty feel to an outfit. They're easier to style, whether you're going for something dressier or more casual. Pair a silver chain belt with jeans and a white tee for the perfect coffee date outfit. You can match it back to your jewelry or makeup with silver accents.