Browns Are A Staple For Fall Fashion, But This Shade Is The Must-Have In 2023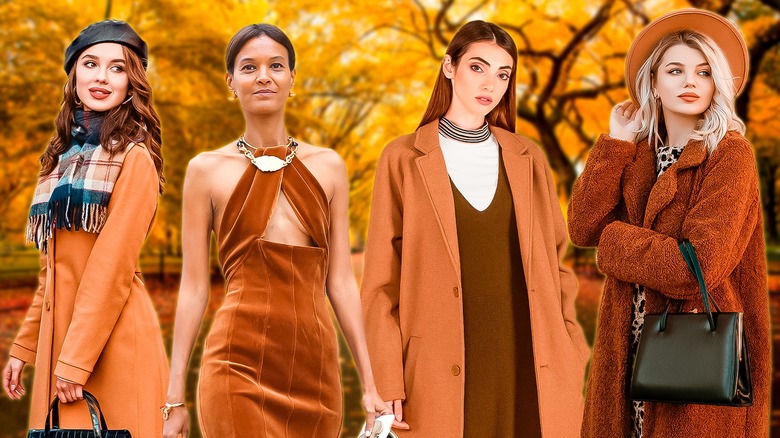 Static Media/Shutterstock/Getty
When you think of fall, images of warm lattes, burnt orange leaves, and buttery browns come to mind. Each season inspires certain colors, and when summer ends, the palette naturally fades from pastels into rich, darker tones. Wearing browns in the fall immediately makes you feel cozy, as if you're sitting by the fireside drinking a mug of steaming hot chocolate. Not to mention, brown boots are a staple for crisp days and look elegantly chic when worn over skinny jeans or knit leggings.
When it comes to fall 2023 fashion trends, the one shade you want to have in your closet is caramel brown. It's not just a regular chocolate color, but a warm hue with hints of gold and orange, making it flattering for all skin tones. Designers have already jumped on this trend, and high-end labels like The Row and Alaïa were sporting the color on their fall/winter 2023-2024 runways. Chances are, you already have a caramel brown clothing item — or many — in your closet, so when the weather turns nippy, make sure you pull them out of storage for the fall.
Cozy up in a fuzzy caramel coat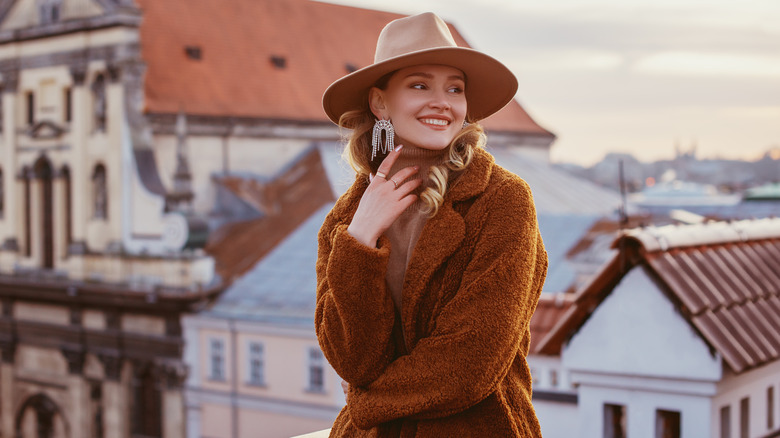 Victoria Chudinova/Shutterstock
When there's a bite in the air, nothing makes you feel cozier than a warm, furry jacket. This rich caramel hue is perfect for taking a stroll and looking at the changing leaves. Play with shades of brown with a camel-colored fedora and a matching turtleneck. You'll look extra chic while staying toasty at the same time. Keep to the color scheme with bronzed latte makeup and a dusting of beige eyeshadow on your lids.
Pair caramel brown with winter white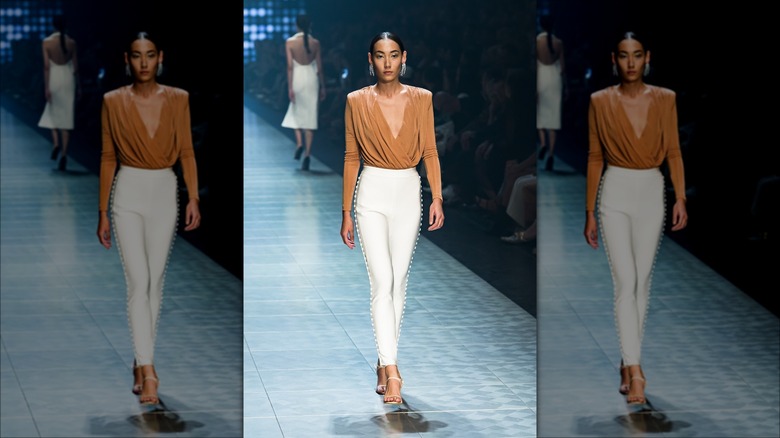 Naomi Rahim/Getty Images
Everyone needs a shirt that goes with everything, and a soft, caramel-brown blouse is just what you need. This versatile color goes perfectly with bright white, and the color combo is a great transition from summer to autumn. A plunging neckline and structured shoulder pads give this shirt (made by designer Misha) a bold and sexy look.
Oversized brown blazers are a fall must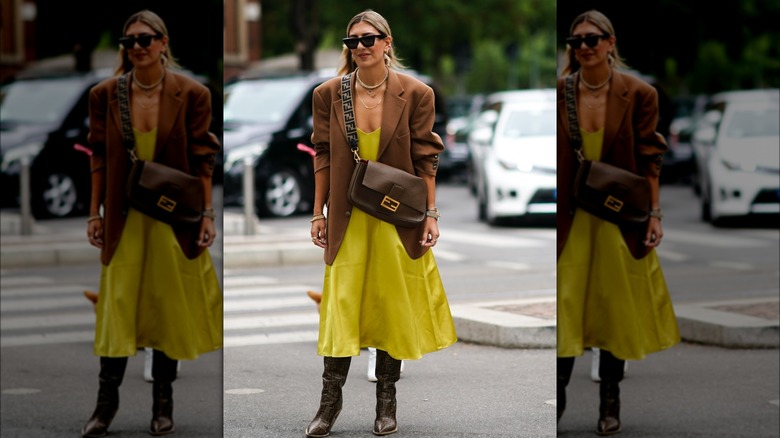 Edward Berthelot/Getty Images
In-between weather is tricky to dress for. Sometimes it's too hot for sweaters but too cold for miniskirts. Pairing a colorful midi slip dress with an oversized toffee-colored blazer is the perfect fall look. Add a pair of boots to keep with the end-of-summer theme, and you'll have transitioned your summer frock for the fall.
You'll be reaching for your caramel boots on repeat this autumn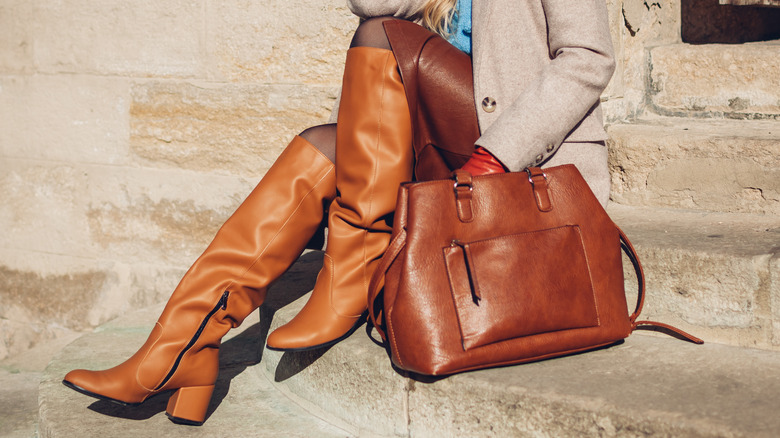 Mariia Boiko/Shutterstock
We believe there's no such thing as having too many pairs of boots, but that could just be an excuse for us to run out and buy some caramel-colored ones for fall 2023. Knee-high boots are going to be big this fall, and these slouchy ones are great if you like some extra wiggle room. Wear them with an above-the-knee skirt, or let them peek out of maxi denim skirts that have been trending in Summer '23.
All-over caramel is super sweet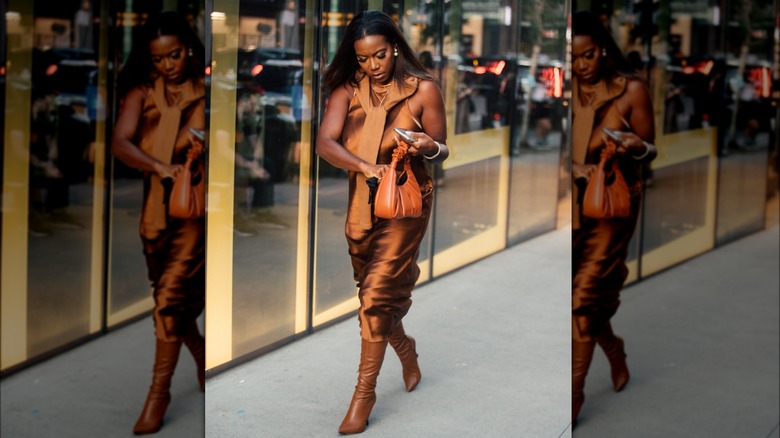 Melodie Jeng/Getty Images
Monochromatic looks never go out of style, and it takes a certain finesse to pull it off. The trick to putting together the perfect monochromatic outfit is to mix and match textures. This fashionista paired her shiny, silk slip dress with caramel leather boots and a slinky scarf in a lighter color. When in doubt, lay out all your clothing items and see how they mesh together. Try varying shades of caramels to balance out your outfit. Remember, brown clothing does not have to equal boring!