How To Add A Streetwear Edge To Uniform Dressing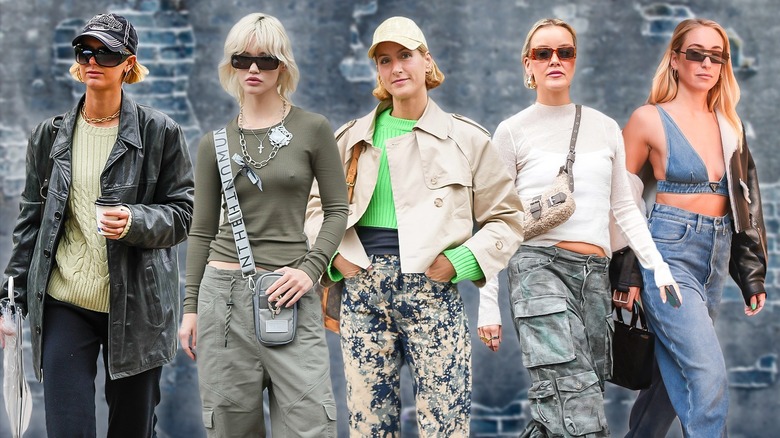 Static Media/Shutterstock
Your personal style is a reflection of you and the things you're drawn to. What makes having your own "uniform" stand out is that it tends to err on the side of consistency after a while. In other words, regardless of how many fashion trends you come across, you usually like to reach for the same outfit combination. For you, it could look like choosing a classic white T-shirt and jeans or cargo pants, similar to the Kim Possible fashion trend, as your static wardrobe pieces. From there, using accessories to add personality to your outfit can feel as natural as knowing you don't mind wearing different variations of white T-shirts.
With uniform dressing, you also have the option of wearing baggy clothes if you're fond of the oversized trend. The point is that no matter your style, there are various ways to add a streetwear edge to your outfits and often only involve one or two standout pieces. 
Keep it cool with a dad hat
Before dad hats became associated with streetwear, often seen worn by street style stars during fashion week events, they were popularized by baseball players. Because of their quintessential nature, dad hats not only function as an accessory but signal that you're committed to wearing an elevated casual outfit. They serve as a comfortable hat option for those who don't want to wear a felt or straw hat, and they work for those messy hair days. 
Let your graphic tracksuit do the talking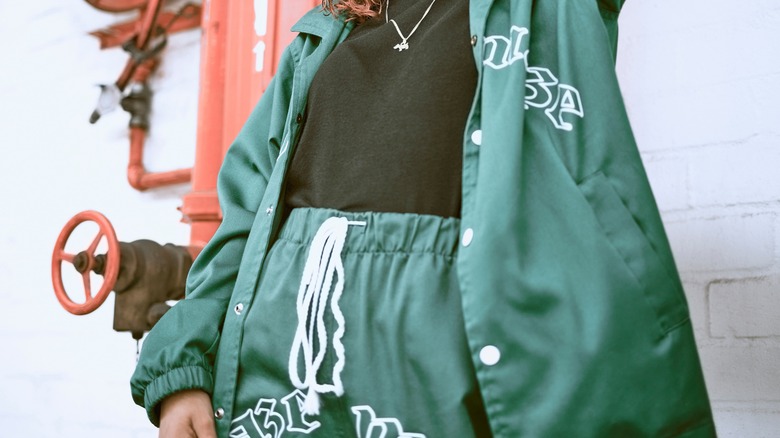 PeopleImages.com - Yuri A/Shutterstock
Tracksuits are another wardrobe staple that has been adapted over time. From being associated with track and field to being worn by those who seek an extra level of comfort at home or while running errands, tracksuits have taken on a new life in the streetwear scene. Although you may not immediately think of them when considering uniform dressing, they're able to be paired with a tailored blazer or overcoat. To take things one step further, you can add a pair of pumps to your outfit.
Add a black or grey jacket to create edginess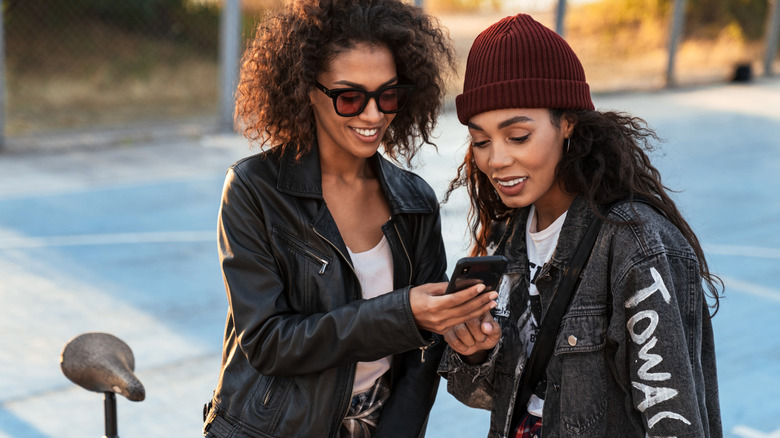 Dean Drobot/Shutterstock
Nothing says streetwear edge like a black jacket, be it one that's [faux] leather or denim. Despite its simple, monotone nature, a black jacket is alluring and seems to catch the attention of others. A black jacket is also versatile which means you can pair it with a monochromatic outfit or one that features various colors. Don't worry — wearing a black jacket doesn't mean you're automatically rebelling against anything unless that's the message you want to send with your outfit. 
Keep it cool with a lightweight trenchcoat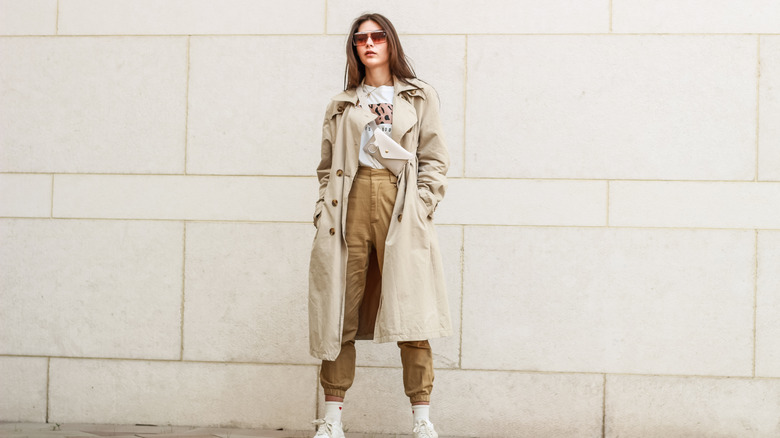 Pravosudov Yaroslav/Shutterstock
Long before trenchcoats were considered a must-have for fall and winter, they were primarily worn by soldiers during World War I. The name evolved as a result of the trenches soldiers often found themselves in. Today, trenchcoats are readily available to anyone who finds them appealing and adds a bit of prestige to uniform dressing. You can easily wear a trenchcoat with cargo pants, jeans, or midi rib knit dress. 
Create juxtaposition with a denim coat and hoodie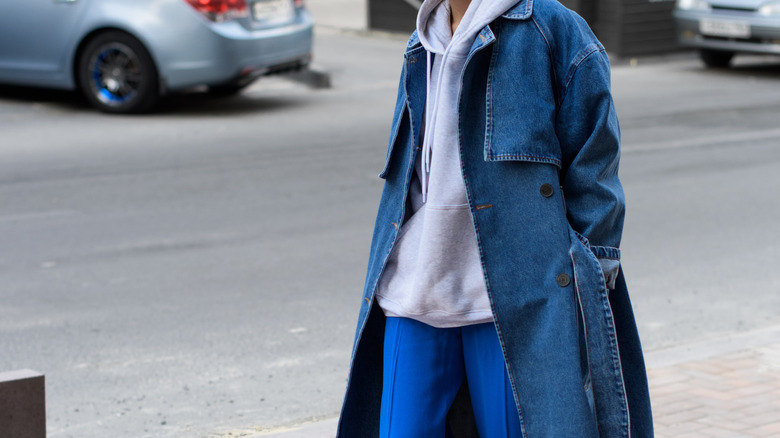 Street style photo/Shutterstock
Instead of the cotton or gabardine fabrics that trenchcoats are usually made of, wearing one made of denim is certainly going to give your uniform outfit a streetwear edge. It takes the classic trenchcoat and makes it even more casual, thus leaving room for the rest of your outfit to go in a variety of directions. If you want, you can style a denim trenchcoat with an oversized hoodie and trousers. 
Upgrade your basic T-shirt with a corset
Corsets were essentially designed to be worn under a woman's clothes but have since evolved into a fashion statement. From puff sleeves to bandeau necklines, adding a corset to your outfit can level up your look. You can either wear it alone, underneath a jacket, or over a T-shirt of your choice. To help your corset stand out, we recommend you pair it with a plain white tee or dress shirt. This gives your outfit a sleek yet edgy, minimalist look.
Try the cargo version of a Canadian Tuxedo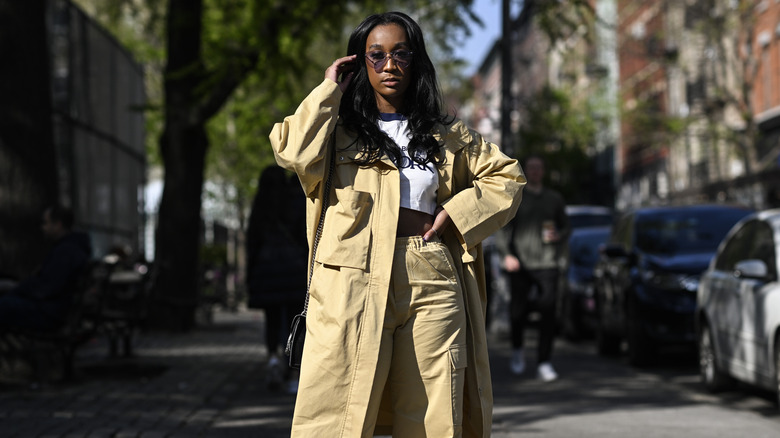 Daniel Zuchnik/Getty Images
Canadian tuxedos are a brilliant denim take on a classic black or white tuxedo and, as we've seen in recent years, women aren't afraid to wear a denim-on-denim look. But, instead of using denim as the primary fabric in your outfit, try wearing cargo. With fibers such as cotton-synthetic giving them their appearance, a cargo coat and pants will give you a new version of the Canadian Tuxedo. And if you're feeling adventurous, wear your cargo coat open and allow either a white T-shirt or a crop top to peek through. 
Don't be afraid to add a pair of black sunglasses
Neo along with other characters from "The Matrix" series were on to something when they chose to wear black shades with their leather outfits. But, you don't have to be an agent or spy to wear them. Sunglasses are universal and come in an array of styles but nothing compares to the appeal of wearing a black pair. Whether you choose to wear them during the daytime or at night is up to you, but be prepared for your sunglasses to add a cool factor to your overall look.
Let your abstract nails and jewelry do the talking
You may not think your nails and jewelry can give your outfit a streetwear edge but they do. Since they count as accessories, think of them as a subtle added element to what you're wearing. The rest of your outfit could be simple — think a basic gray sweatsuit and slides — but your accessories are what will bring it to life. In this case, having abstract nails and wearing bold rings are edgy but not enough to overpower your outfit.
Add sneakers for a streetwear edge
Sneakers have become a part of everyday life and can be worn by different generations. Although they're available in various patterns, a classic pair of Converse Chuck Taylor sneakers have the ability to give your outfit a bit of a rugged feel. Similar to skater shoes, you can wear a pair that has thicker soles while leaving the shoe laces untied. And, if you don't mind, you can take things a step further by allowing your sneakers to become scuffed so they're able to live up to the streetwear name.