A Strapless Dress Can Be Styled For An Outing As Casual As Grabbing Coffee - Here's How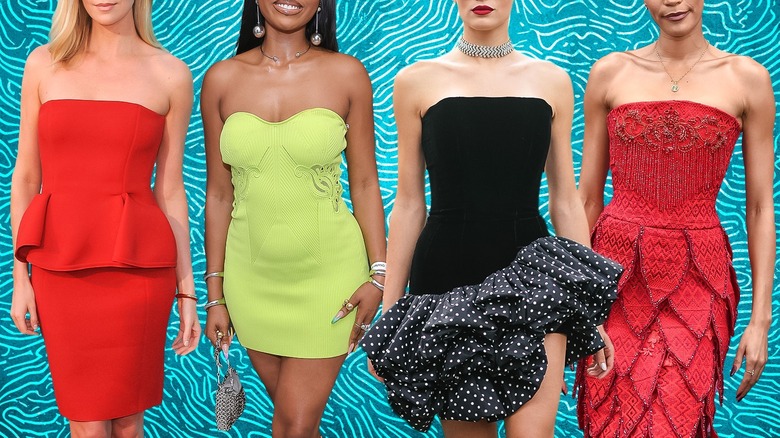 Static Media/Shutterstock/Getty
When you think about what to wear when grabbing coffee with a friend, your mind probably goes to jeans or pants, perhaps even sweatpants depending on the level of friendship. If you're inclined to dress up a little, you may even wear a cute sundress with sandals. But there's one item of clothing you may not think fits the bill for a coffee date, and that's a strapless dress. Usually viewed as party attire, you may be surprised to hear that a strapless dress could actually be the key to more elevated casual outfits.
Strapless items of clothing are always slightly reminiscent of the Y2K tube top craze. However, a strapless dress is often viewed as a more formal item because of the silhouette and the material, as opposed to cotton or nylon tube tops. You probably have a strapless dress in your wardrobe you wish you could wear more but never get the chance to, which is where re-styling it to fit a more casual occasion comes in. 
Shoes are important for changing the vibe of an outfit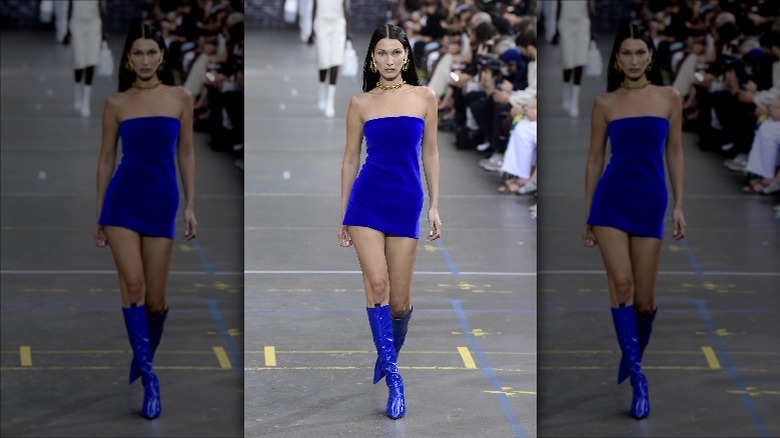 Kristy Sparow/Getty Images
The first tip for styling a strapless dress for the daytime is swapping out your trusted heels for different footwear. Shoes are one of the items that will change the vibe of an outfit instantly, especially if you choose a super casual shoe. If you want your outfit to have some edge to it, we recommend wearing a pair of platform boots, or knee-high boots like the ones Bella Hadid wore for the Off-White 2021 Ready to Wear collection if you prefer a supermodel look.
Are boots not your thing? Sneakers are a surefire way to make your outfit appear more dressed down, especially bright white ones. Sneakers paired with a strapless dress will contrast and create a cool girl vibe no matter the color or pattern of your dress. If you still prefer a bit of height, platform sneakers are ideal, as they're still casual but will give you a boost. For even more of a dressed-down look, wear some scrunched white ankle socks for ultimate off-duty model vibes.
Add other items of clothing to bring a different vibe to your look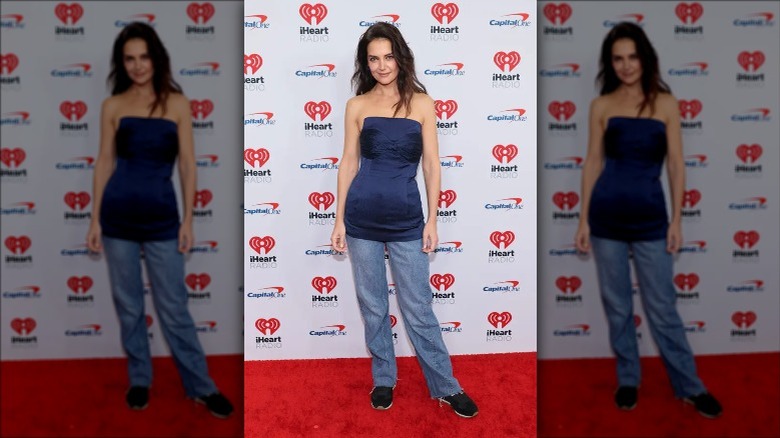 Dia Dipasupil/Getty Images
Adding other clothing items can also be very helpful when it comes to making your strapless dress less formal. A cropped cardigan or sweater thrown over the top of your strapless dress will automatically make it seem less club and more brunch with the girls. If you feel a little too exposed for daylight when wearing a strapless dress, add tights or a longer jacket, both of which will also help to tone down your look. 
Moreover, if you like to think outside of the box, you could even wear a mini strapless dress over jeans to recreate the controversial Y2K dresses over pants trend as Katie Holmes did at the iHeart Radio Jingle Ball 2022.
Remember, accessories and hair make a difference too. Your hair being in a relaxed style like a ponytail or left down will help to give a laid-back vibe to your strapless dress outfit, as will a cap or bucket hat. Pair any of these options with a casual shoe like the ones mentioned above and your strapless dress brunch look is complete.