Rose Vs. Rosehip Oil: What's The Difference And Is One Better?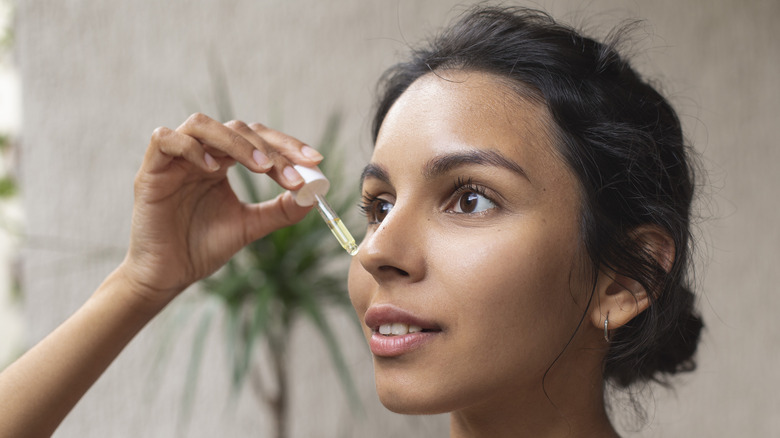 Viktoria Ovcharenko/Getty Images
Rose and rosehip oil can be found easily at the store and can even be a key ingredient in certain products. However, many people do not know that while they have similar names, they have key differences that anyone buying them should understand. For starters, according to Beautiful with Brains, rose oil is made with petals and created through steam distillation to create a strong essential oil. Rosehip oil, on the other hand, is extracted from the fruit of the rosehip plant. It is made by squeezing the fruit and going through a cold-press method.
With a clear distinction between the two oils, it's important to understand their uses. While everyone has a preference when deciding between the two oils, it's critical to note that rosehip oil has more benefits than the average rose oil. Regardless, both rose oil and rosehip oil are great options to incorporate into your beauty routine.
Rosehip oil vs. rose oil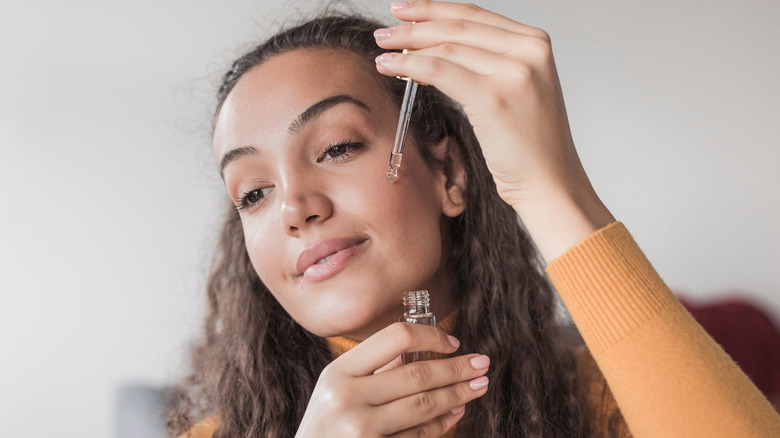 Dobrila Vignjevic/Getty Images
If you're looking into the pros of rose oil in your beauty routine, you'll quickly find that it's beneficial to have around the house. According to Circcell Skincare, it's a great hydrator, especially for dry skin. This is because it's a humectant, which is great for attracting water from the air into your skin. Beautiful with Brains also adds that those with eczema or skin irritations could benefit from the oil as well, as it has soothing properties in the oil.
While the rose is great, there are also benefits to adding rosehip oil to your skincare routine. According to Healthline, the fatty essential acid in the oil helps your skin cells retain water. This makes it an effective hydration option that also allows your body to soak up the antioxidants found in rosehips. Not only has this been proven to help with eczema and other skin irritations, but it can also protect your skin from sun damage. This is because the oil is rich in vitamins A and E which are great for working against ultraviolet ray exposure. Plus, those who want to reduce the appearance of fine lines can use a bit of rosehip oil and gradually change the appearance.
How to use both oils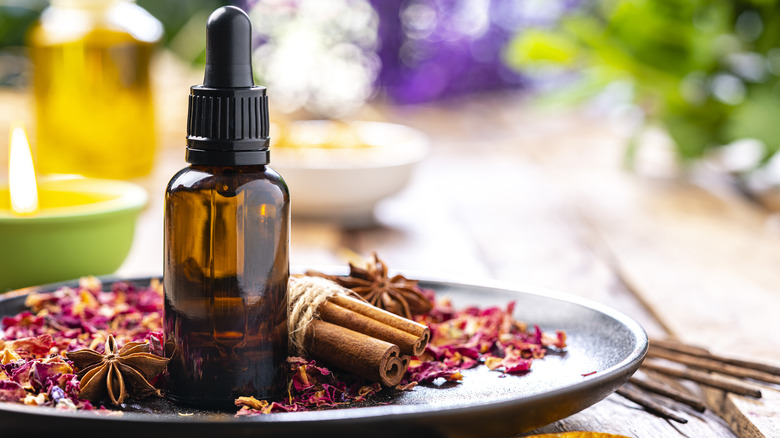 Fcafotodigital/Getty Images
While both of these oils are beneficial, they cannot be used by everyone. According to Beautiful with Brains, some people experience irritation due to the ingredients found in the oil. While this is rare — especially for rosehip oil — some precautions should be taken into account. First and foremost, it's important to mix it into carrier oil instead of applying it directly onto the skin. This is because rose oil is an essential oil, and its concentration can aggravate skin allergies.
With both oils, it's best to do a small patch test before applying it all over your body. According to the American Academy of Dermatology Association, the best way to do this is to apply a quarter size amount of product to a place on your skin that won't easily wash off. Then, keep applying this product in the same spot for up to 10 days. If you notice any irritation, stop using them immediately.