Step Aside, Barbie - Bratz Style Is The Latest Trend We're Embracing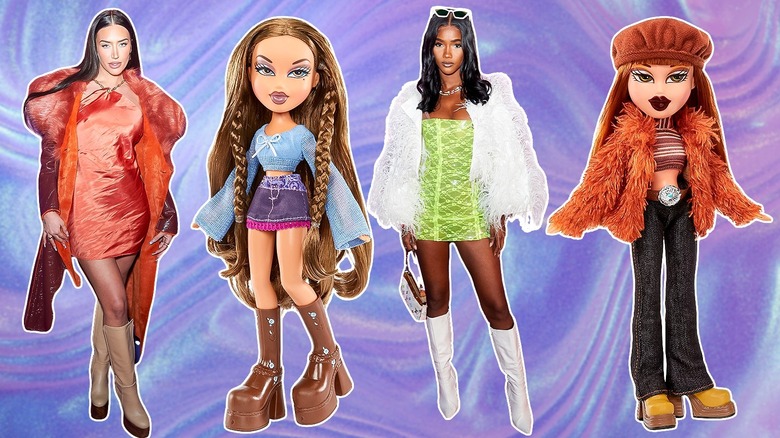 Static Media/Shutterstock/Getty
Thanks to the 2023 "Barbie" movie, nostalgia is having a moment with the Barbiecore fashion trend. In other words, we can't leave the house without spotting people wearing pink clothes. The aesthetic isn't only for clothes, though — pink Barbiecore manicures and makeup are everywhere in 2023, too. We can all agree that Barbie presents a specific look: a hyper-feminine style with pink overload. But what if you're getting tired of the ultra-girly pink trend or want to see something edgier? Or, what if you always preferred Bratz dolls? Either way, you'll love the latest trend.
"For me, Bratz represented a freedom of self-expression I always yearned for," Mercedes Viera, an Associate Deals Writer, told Refinery29. It's about time Bratz dolls are getting some recognition for their bolder styles. The Bratz vibe is less about achieving perfection and fitting classic beauty standards and more about embracing the wild parts of yourself that make you unique. While Barbies can seem like the 'good girl' type, Bratz dolls are the confident, fun-loving party girls. If the Bratz lifestyle resonates with you, now is the time to unlock and unleash your inner Bratz doll through fashion.
Wear your most cropped tops
Again, Bratz dolls aren't famous for being sweet and wholesome like Barbies. Bratz dolls are sexier and more free-spirited, so if you want to capture the confident party-loving Bratz energy, don't be scared to show some skin. One of our favorite ways to show off a little skin is to wear crop tops, so break out the cropped pieces for Bratz vibes.
Bring out your shortest skirts
If you want to take the sexy Bratz doll energy further, throw on a miniskirt with your crop top. Short skirts are sexy, bold, and playful — all words that can describe Bratz dolls. Thus, not only are crop tops ideal for Bratz-inspired outfits, but miniskirts are perfect for capturing their unapologetically sassy looks, too.
Sport any color or pattern you want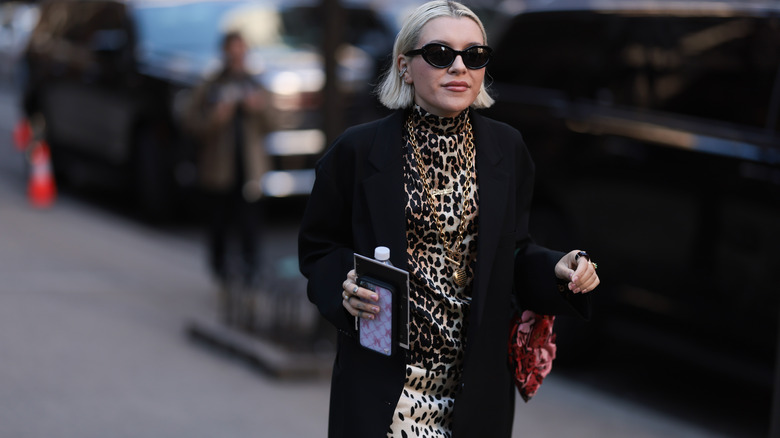 Jeremy Moeller/Getty Images
While only one color is typically acceptable for Barbiecore, Bratzcore isn't so limiting. A genuine Bratz doll would wear any color, neutral, or pattern she feels like without a care in the world. So, you like neon hues? Wear neon pieces. If you just want to wear black, wear black. Do you love a good animal print top? Rock that animal print. And if you want to wear pink, that's okay too, as long as you wear it because it reflects your unique personality and style.
Rock Bratz merch
We can't think of a better way to embrace Bratz-inspired fashion than to wear actual Bratz merch. For instance, a Bratz-themed T-shirt with the logo and pictures of the dolls will show your love for the Bratz. Any item with that iconic name on it will give instant Bratz vibes.
Complete your look with a sassy hat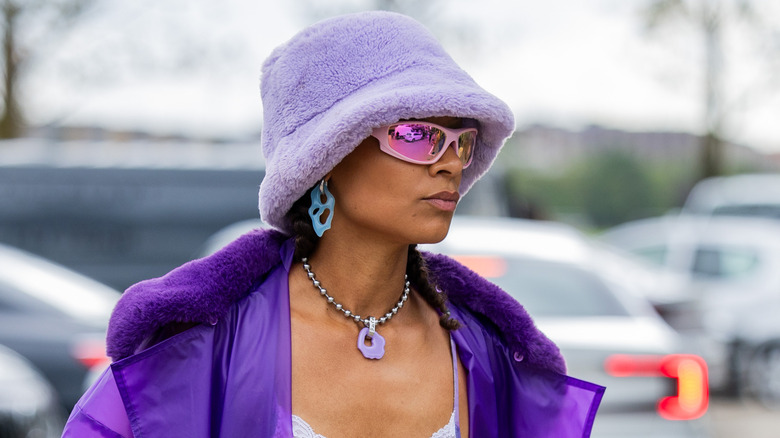 Christian Vierig/Getty Images
Bratz dolls love their accessories — especially hats. The dolls tend to rock countless fun, bold hat looks, as these accessories were the perfect finishing touches to the sexy, dauntless Bratz outfits. Therefore, you'll take your Bratz-inspired look to the next level if you sport a cute bright bucket hat with your ensemble.
Make a statement with your footwear
There are no limits regarding shoes for a Bratz doll — as long as the shoes aren't dull. If you want to dress like a real-life Bratz doll, wear the loudest, most exciting shoes that make you feel confident. From sexy tall boots or printed sneakers to sky-high heels, there are endless options — you might just want to save the neon pink heels for Barbie.