OPI's Best-Selling Pink Nail Polishes Are Perfect For Your Barbiecore Manicure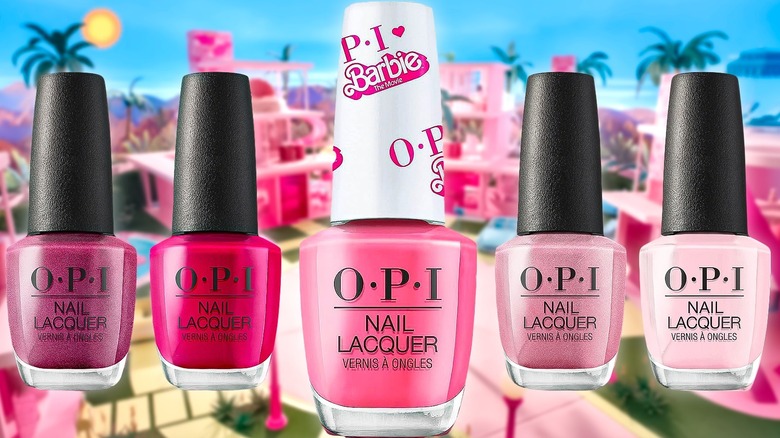 Static Media
Bright pink OPI classics are ideal for that Barbie vibe
Is anything more quintessentially Barbie than a loud, effervescent pink? Capturing powerful energy and embodying the spirit of Barbiecore, bold pink shades are an ideal match for your Barbie manicure. Happily, OPI has several best-selling nail polishes that more than fit the brief.
For a confident, radiant pink that excels in summery Barbie looks, you can't go wrong with OPI's ever-popular "Strawberry Margarita," pictured above. Not quite neon, it's a saturated, eye-catching shade that would look perfectly at home behind the wheel of Barbie's dream car. Or, if you're looking for a classic, all-purpose pink for your Barbie manicure needs, best-seller "Aphrodite's Pink Nightie" is a pearlescent, mid-tone pink that ticks all the boxes.
Either of these hues would elevate your Barbiecore ensemble on their own, but they're also fantastic to add a pop of vibrance to a more detailed manicure. Not sure where to start? Social media offers plenty of nail inspo for these looks. On Instagram, @opi_nordic shows how you can layer "Strawberry Margarita" over a lighter shade in the shape of an adorable princess crown. Meanwhile, user @annabean1983 displays a look that's totally '80s Barbie, created by topping the same shade with a light-catching confetti polish. Nail artist @craftedbyaprince even uses "Strawberry Margarita" to create a stunning, glass-tipped nail effect that you could mimic for a more elegant take on the Barbiecore manicure.
Soft OPI pinks create an understated Barbie look
If the new movie has taught us anything, it's that the title of Barbie can encompass many different personalities and aesthetics. So if you want to get in on the Barbiecore manicure trend with pink nails but don't want an in-your-face look, it's completely acceptable to opt for a softer, gentler Barbie vibe.
OPI's roster of best-selling polishes includes several sweet pinks that can double as neutrals, enabling cute but subtle Barbie manicures. "Bubble Bath" offers a timelessly precious shade evocative of ballet slippers, while "Samoan Sand" serves up a beachy beige-pink you might find inside a seashell. For a more shimmery shade, the OPI lacquer "Princesses Rule!" adds a touch of glitter. As the name suggests, this sugary hue is a fitting choice to channel your inner Princess Barbie. And as the most babyish of pinks, pretty and pale shade "Sweet Heart" brings a touch of refinement to your Barbie manicure, just hinting at the brand's signature girlishness.
With their delicate femininity, all of these shades are trés Barbie without being trés gaudy. Better yet, they can create a great canvas or counterpoint for more aggressive hues of pink. Consider working them into your Barbie manicure as the base for a fun, multi-pink print or color blocking. For instance, the photo above uses "Bubble Bath" as a neutral background for its adorable heart design.
Instagram user @nailedbyceline also provides a great example with her lipstick-print manicure, which uses a "Bubble Bath" base beneath white tips and impressive stamping. The result is a charming look that plays equally well for Valentine's Day or your Barbiecore nail goals. You can even use a pale pink instead of traditional white to put a playful French manicure finish on your Barbie-inspired design.