We Tried 5 Barbie X OPI Nail Colors & 1 Shade Is A Malibu Dream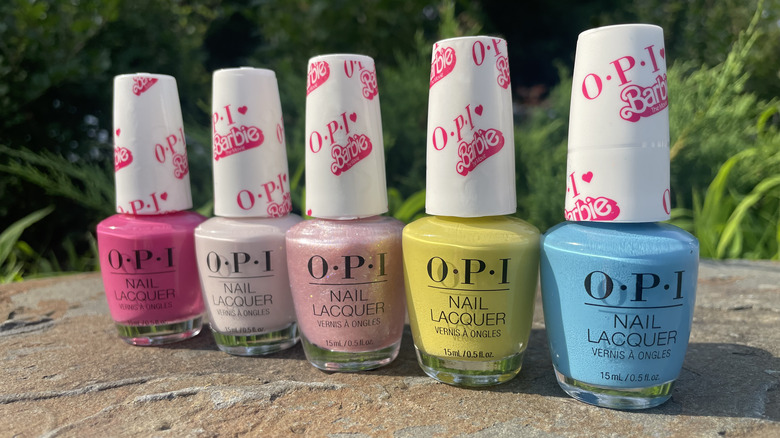 Robyn Song/Static Media
We may receive a commission on purchases made from links.
Counting down the days to Greta Gerwig's "Barbie" movie starring Margot Robbie? So are we. Needless to say, there's a flurry of excitement surrounding the film's release, and several brands have released "Barbie"-themed collections to celebrate. And few are more exciting for nail polish fans than OPI x Barbie — a limited-edition collaboration between the legendary lacquer brand and America's favorite doll. In fact, the bubbly collection has already made a name for itself as the #1 release in Beauty & Personal Care on Amazon at the time of writing, with each shade costing $11.49.
A little nail polish can go a long way to improve your mood, and there's no better shade to wear than one approved by Barbie herself. OPI's full Barbie collection consists of not only lacquers but also press-on nails, including an assortment of playful pinks and other, unexpected colors. But if you can't decide which color to try first, don't worry, doll. After careful testing of five fantastic shades, we've selected the perfect one to wear to the upcoming "Barbie" premiere. So, get ready to practice your best nail painting techniques because these OPI x Barbie shades are bound to be your new go-to summer manicure colors.
Bon Voyage to Reality!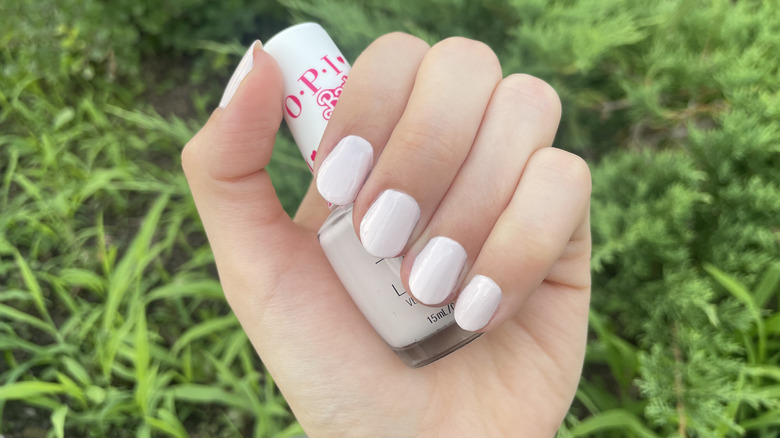 Robyn Song/Static Media
They say you should never judge a book by its cover, and we'd like to add that you should never judge a polish by its bottle. Case in point: Bon Voyage to Reality, a tongue-in-cheek shade that conjures thoughts of how nice it'd be to escape into Barbie's world. At first, we thought Bon Voyage to Reality would be one of the dullest shades in OPI x Barbie's color story, described by the company as a "nude pink crème." Flanked by hot pinks, glitters, and aqua blues, it's easy to underestimate the appeal of this demure neutral. However, this little shade proved us wrong in the best way. 
After viewing it in different settings, it revealed an ultra-subtle, delicate hint of pink, much like a strawberry marshmallow. We found that Bon Voyage, like other crème colors in the OPI x Barbie collection, looks its best after applying two to three coats of lacquer.
As we gazed at our Mattel-inspired mani, we were surprised by how much we loved it. In fact, we'd go so far as to say it's our favorite OPI x Barbie shade of them all. It has just the right amount of pink pigment to keep you entranced: It's subtle enough to be worn as a neutral, but you can still admire its pleasant pink hue if you look close enough.
Best Day Ever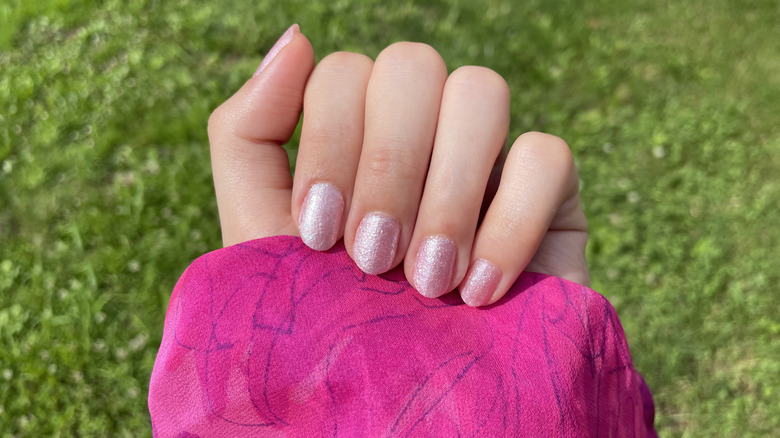 Robyn Song/Static Media
As we sized up its bottle, we had a feeling that Best Day Ever could be our new favorite shade. It's a pale, peachy pink with iridescent micro-glitter and plenty of round glitter particles to boot. If you believe in matching your nail polish to your lip color, Best Day Ever is the perfect color to wear with the sparkly, semi-sheer lipglosses that we see everywhere.
OPI polishes are known for their highly pigmented, silky smooth formulas, and Best Day Ever is no different. Applying it to your nails is a dream, and we were amazed at how pretty it looked after only one coat. Unlike other sheer nail polishes, it has enough pearly pigment and glitter to provide a shimmering, glazed donut effect without adding endless layers. Best of all, we noticed that this color dries exceptionally quickly. After swiping it onto our nails, it was dry to the touch within one to two minutes. It also stands up to tough tasks like dishwashing without showing so much as a scratch — even without using a top coat!
Even if you struggle with at-home manicures, you'll love how easy Best Day Ever is to apply. We tested Best Day Ever in a few different ways and found that we enjoyed it most with only one layer of polish. By adding more polish, you can achieve a more opaque, pearly pink look, but we preferred the crisp, glittering appearance of a single coat.
My Job is Beach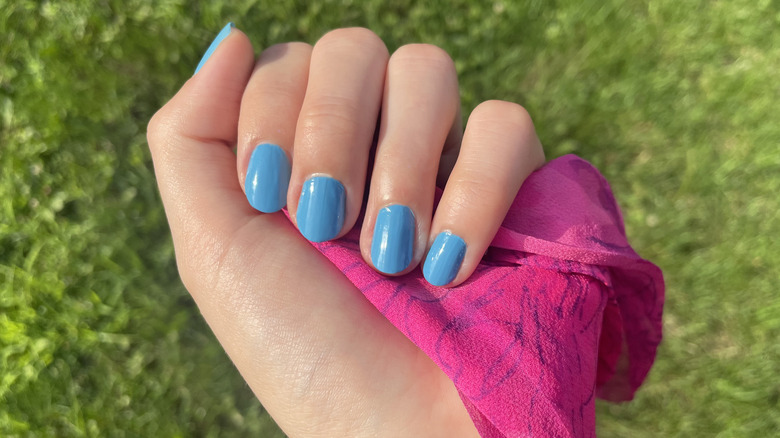 Robyn Song/Static Media
If you're anything like us, you know that part of the fun in selecting your monthly manicure color is reading the name on the bottle. Of course, OPI never fails to amuse its customers with creative product names, and we knew the OPI x Barbie collection would deliver an added dose of joy. This silky shade is known as My Job is Beach, a warm blue crème that evokes visions of Baywatch Barbie or Barbie's Dream Pool. It's an ideal color for those who aren't big on pink but still want in on some of the "Barbie" fun.
It's worth pointing out that there's another blue in OPI x Barbie's color story: Yay Space, an icy periwinkle lacquer. That said, we strongly preferred the opacity and rich, buttery application of My Job is Beach to Yay Space's sheerer finish. Once you start painting My Job is Beach on your nails, you won't want to stop.
We didn't think My Job is Beach would turn out to be one of our favorite shades in the collection, but it quickly grew on us after a few hours of wear. Moreover, it removes like magic, lifting away from the nails in just a few moments. Whether blue is your favorite color or you just want to try something a little different for your mani-pedi this summer, we can't recommend My Name is Beach enough. Why not give it a try and "sea" what you think?
Hi Barbie!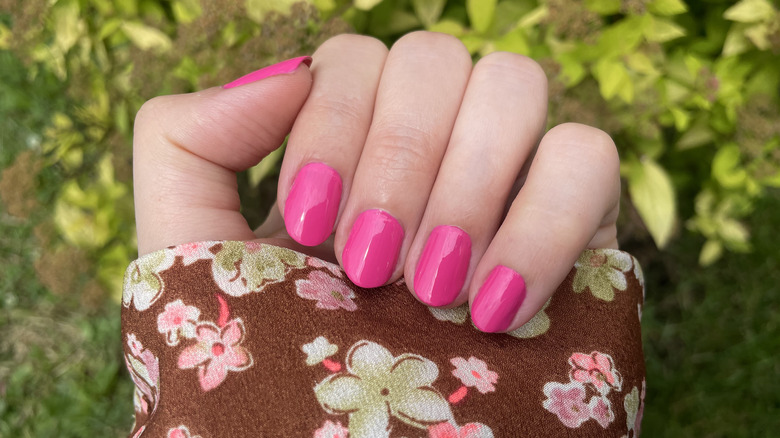 Robyn Song/Static Media
It'd be hard to picture a Barbie-themed color story without copious amounts of pink involved, but just as this polish's name implies, Hi Barbie is perhaps the most quintessentially "Barbie" pink shade of them all.
We'd say Hi Barbie is a cross between hot pink and a deep bubblegum hue; it's not quite as fluorescent as you might imagine, but it definitely isn't understated, either. It's a very bright shade that brings to mind some of Barbie's best fashion moments, from taffeta ballgowns to sky-high plastic heels. This crème lacquer applies cleanly and evenly, and it's impressively chip-resistant even without a top coat. To get the most even coverage and striking pink color, we suggest applying at least two coats of Hi Barbie to your nails. Sans glitter or shimmer, this color is also remarkably easy to take off with an acetone-based nail polish remover.
If you're specifically looking for the best pink nail polish to wear to the "Barbie" movie, you've found it. While Barbie has undergone numerous makeovers over the years, it's fairly obvious that pink has always been one of her favorite colors — and a color like Hi Barbie was simply made for her.
Hi Ken!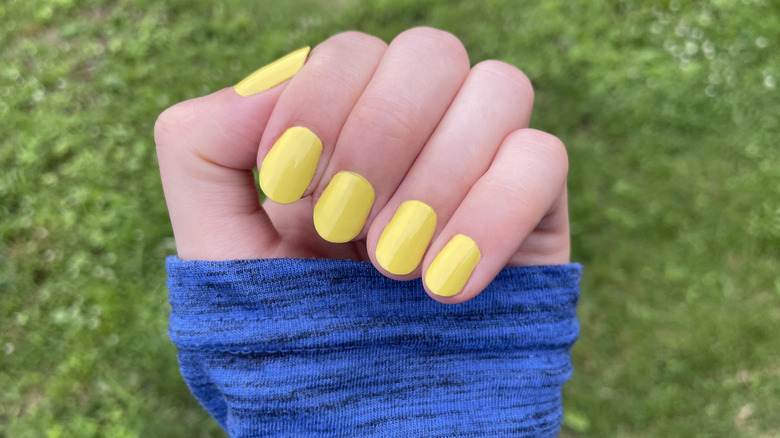 Robyn Song/Static Media
Ken may not get as much of the limelight as Barbie, but thanks to OPI, he does have his own lime-colored lacquer to play with. Hi Ken is a shade we couldn't wait to try — after all, who doesn't love wearing a bright and poppy chartreuse from time to time?
Like white, yellow-colored polishes can be hard to get right on the first swipe. As such, we noticed that Hi Ken was a little streaky while applying our base layer, but the lemony shade leveled out by the second coat. This polish behaves similarly to two other colors: My Job is Beach and Hi Barbie. All three of these colors have a very creamy formulation and dry to a semi-gloss finish. After some experimentation, we found that three coats of Hi Ken provided ideal coverage and chip resistance.
Of all the colors in OPI's Barbie collection, Hi Ken is among the most unexpected. Chartreuse isn't the first hue you'd associate with Barbie and friends, but it reminds us of their striking '80s and '90s fashions. Plus, a flashy color like this is great for nail art, especially when paired with other shades in the OPI x Barbie collection. If you're feeling creative, we think Hi Ken's muted chartreuse is the perfect contrast color to use against Hi Barbie's bold pink in a color-blocking French manicure.