Colorblocking French Nails Brings Sunshine And Color To Your Summer Manis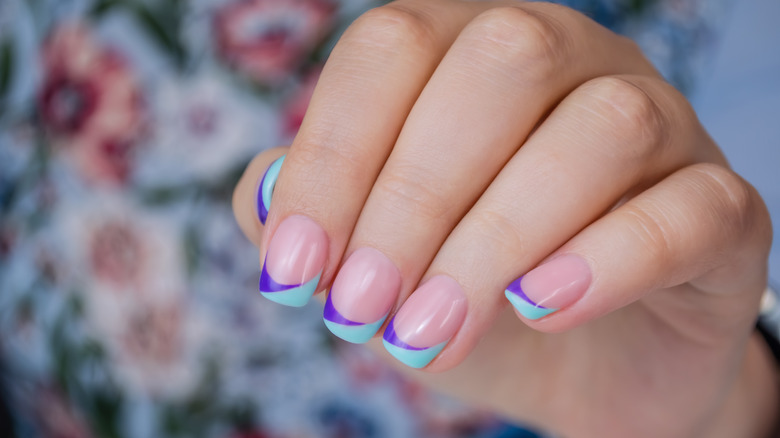 Yuliya Ufimtseva/Shutterstock
Tis the season for color! There's nothing more rejuvenating than an innovative take on a classic manicure. In 2023, the traditional nail style receiving a modern upgrade with a colorful splash is the classic French manicure. 
Originally sold as a natural look with a polish combination of pale pink and subtle white shades, French manicures continue to make waves with updated takes and trends. This summer has already proven to be a magnet for statement-making colors, which makes the introduction of colorblocking French nail designs all the more en-vogue.
As the season epitomizes self-confidence and self-love, it's the perfect time to embrace the colors that bring you the most joy and rock a manicure as bright as the shimmering summer sunshine. This is your moment to emanate main character energy, and colorblocking French nails have the "mani character" energy to star in your very own rainbow-infused manicure renaissance. Here are all of the ways that you can rock these trending summer nails; it's time to make your own splash with a colorblocking twist!
Customize your colorblocking fashion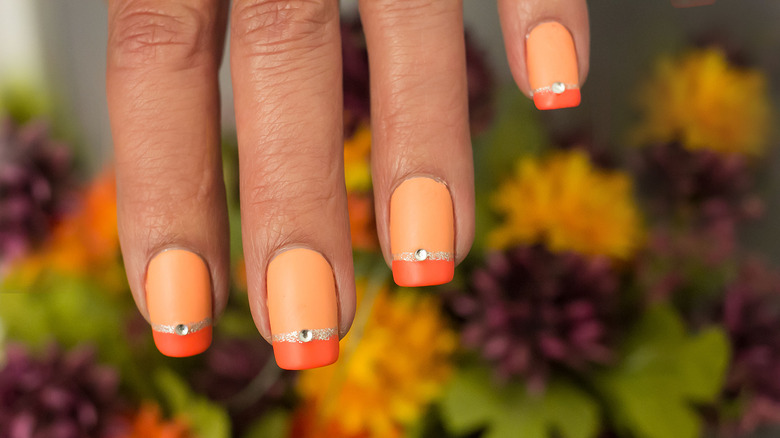 Christina Radcliffe/Getty Images
This summer is your main character era, so give your heart the keys to the steering wheel and indulge in a colorblocking French manicure that brings you the sensation of sunshine in a bottle of nail polish. Colors like orange, peach, and coral are season staples, and you can add additional elements like glitter, rhinestones, or whatever makes you swoon with summery self-love!  
Combine colorblocking tips with a classic base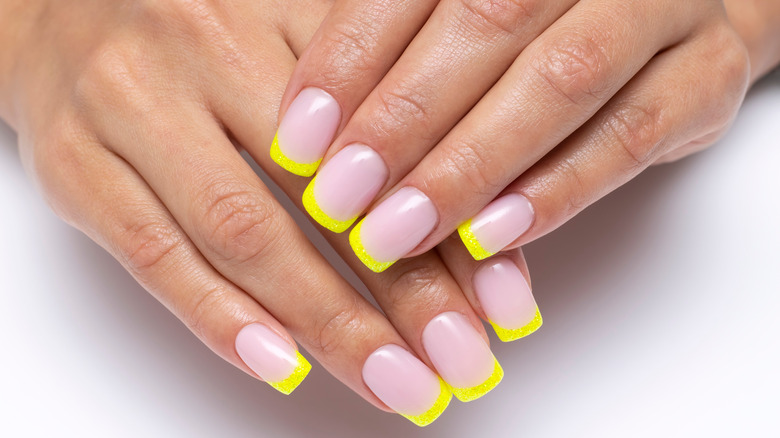 Dina Shuba/Shutterstock
Just because modern manicures are making waves doesn't mean that tradition is tossed out completely. In fact, you may choose to team up brightly colored tips with traditional elements of the classic French manicure for a stunning merging of vintage and contemporary. Unleash your creativity through the use of concurrent trends like neon nails, metallic manis, and pastel palettes. 
Ombré palettes make for colorblocking opulence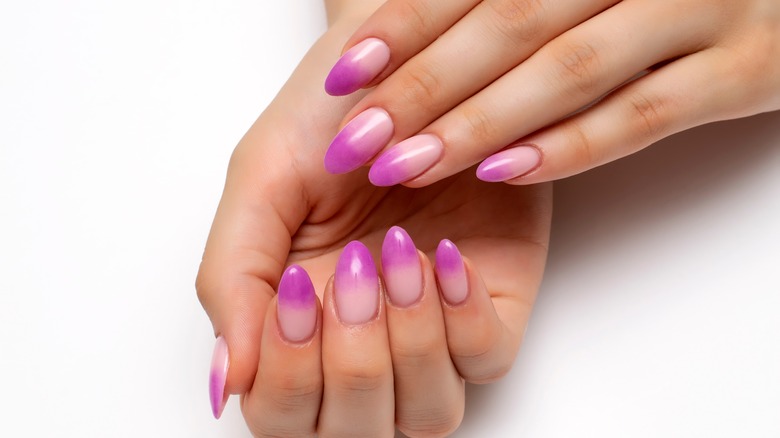 Dina Shuba/Shutterstock
Almost like a mystical creation, ombré styles present a variety of hues of the same color scheme in what appears to the eye as one swipe of the magic polish wand. Rather than having a firm barrier between the two colors, incorporating ombré artistry allows the colorful shades to seamlessly sync for the perfectly polished colorblocking French manicure.
Luxuriously lambent looks are limitless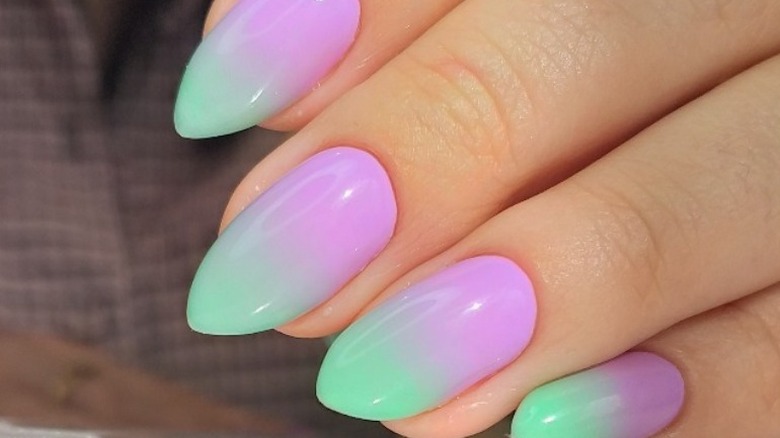 Kornovan Yuliia/Shutterstock
Although traditional ombré palettes adhere to hues of a single base pigment, this summer's colorful nail trends are all about innovating traditional styles with modern alterations. To add a marvelous twist of colorblocking style to an ombré French manicure, dip your toes into adventurous color combinations that are nothing but traditional — in all of the best ways! 
Explore dual colorblocking tips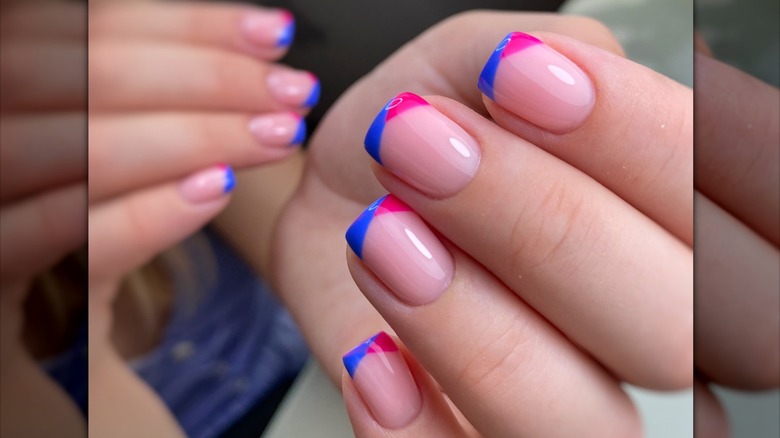 Vetrova-Noskova/Shutterstock
For a spectacular take on the trend, explore the wonders of dual colorblocking. As you select two — or more — shades matching the colorful desires of your summer goals, use the respective tones of polish to paint a dual composition on the tips of your French styling. To achieve small-scale designs, Maniology recommends taking advantage of nail stamping tools and techniques. 
Get pumped up with colorblocking patterns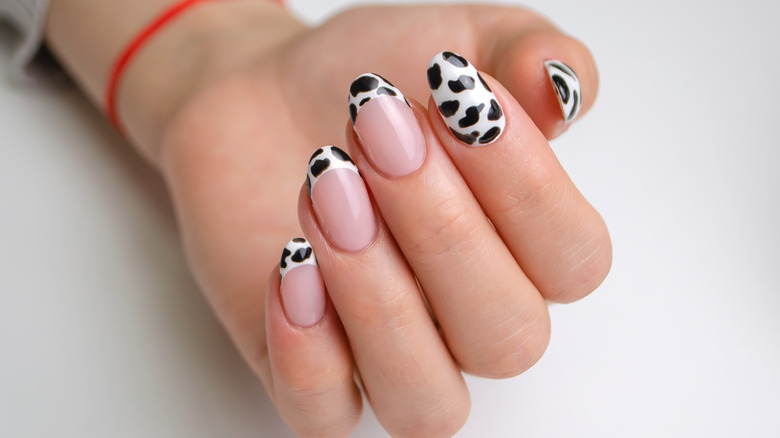 Yuliya Ufimtseva/Getty Images
Should the summer sun evoke adventure within your soul this season, you might be drawn to even more elaborate embellishments on your French tips. Bright colorblocking combinations continue on a creative trajectory with the implementation of patterns, designs, and much more. Yes, this means donning French tips with anything from polka dots to animal prints for colorblocking methods that know no bounds. 
Unfold palettes across your hand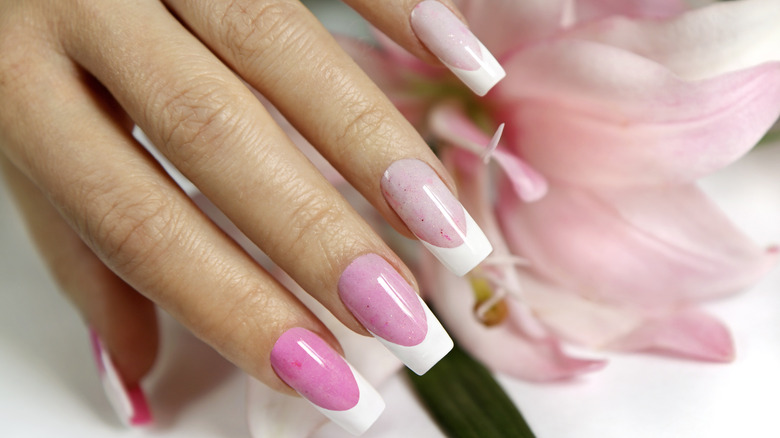 Marigo20/Getty Images
You can tell stories across your French-styled manicure by painting scenes across each hand, assembling respective designs and colors on each nail as acts or chapters in your narration. Examples include ombré palettes which unfold across your hand, unique designs painted beneath solid-colored French tips, and embellishments evoking theatrical elements, though the possibilities are as endless as your exhilarating summer endeavors. 
Mix it up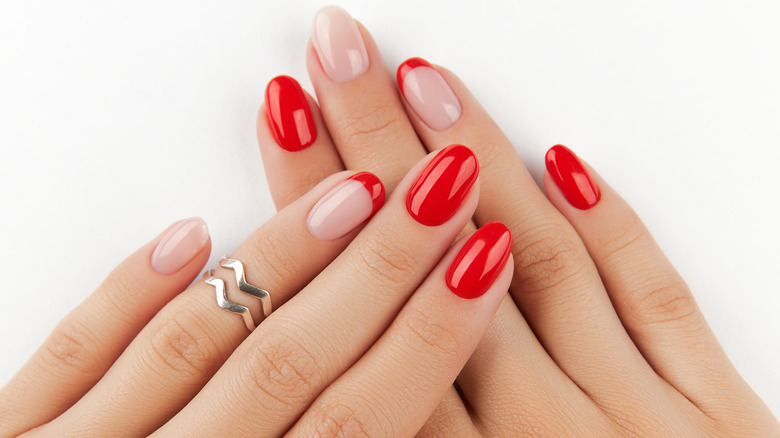 Darya Lavinskaya/Shutterstock
For an elevated encore to your out-of-the-box colorblocking French manicure, make a splash with a melting pot of styles and colors. Colorblocking French tips mix seamlessly with variances of fully painted nails, so reserve the French manicure renaissance for select nails and embellish others with infusions of estival colorblocking elements.