Loewe Is Officially The Number 1 Brand Of The Moment - Here's Why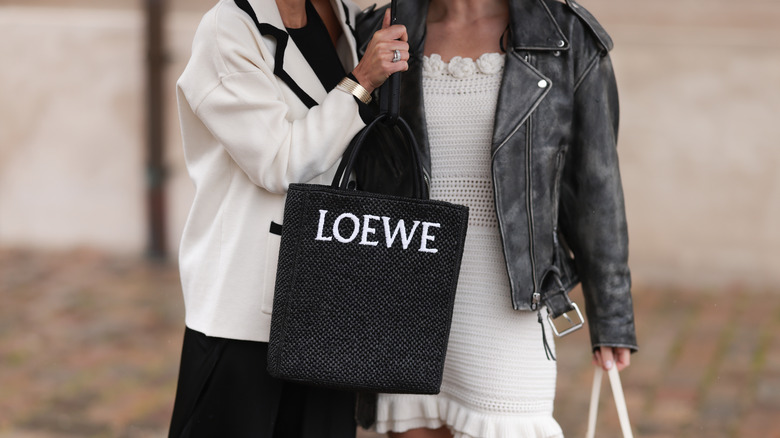 Jeremy Moeller/Getty Images
When discussing historic high-end designer brands, most people refer to the classics such as Chanel and Dior. While these two luxury brands have a history and reputation, they aren't the only historic fashion houses. One luxury brand with the same amount of history is starting to rise in popularity. Loewe, the Spanish-founded brand, is LVMH's oldest fashion house, but it wasn't always as popular with the masses as it is today. With more people purchasing luxury goods than ever, the scale has moved toward newer trendy luxury brands. With this expansion of luxury knowledge, Loewe has re-entered the space in a big way. For the first time in its history, the brand has nabbed the top spot on Lyst's Insights, making it No. 1 for Q2.
Loewe's rise is no surprise to anyone who has noticed the brand's increasing number of trendy pieces. Loewe has become known for its luxury designs, particularly its iconic puzzle bag designs and effortless summer basket bags. The Spanish brand has come a long way since its founding in 1846. Counting on high-profile ambassadors including Taylor Russell and Taeyong, the brand has no shortage of exposure among stylish celebrities. Becoming more and more popular each season, the brand's astronomical rise has no end in sight.
Inside the rise of Loewe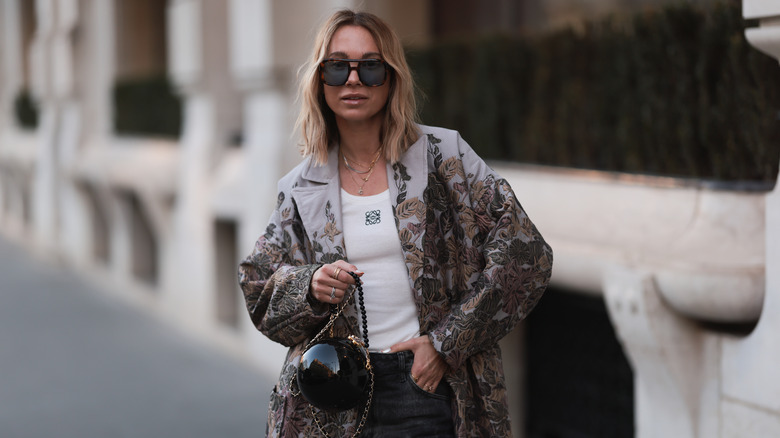 Jeremy Moeller/Getty Images
Loewe has seen its fair share of popular items and trends in its long history. However, the brand's latest success is from its innovative and trendsetting designs, which spawned a new era in quiet luxury. For Q2, Lyst attributes Loewe's No. 1 spot to various factors such as its infamous raffia tote bag and logo tank. While Miu Miu and Prada released similar logo-infused white tank tops, Loewe's minimalist design won over fans. Another reason for Loewe's rising popularity is its proclivity among celebrities and style influencers. The brand even created custom looks and pieces for Beyoncé's Renaissance World Tour.
Heralding the rise of the brand is British-born designer Jonathan Anderson. Since September 2013, Anderson has attempted to bring the Spanish brand into the modern era to compete against other well-known luxury brands. By pushing the boundaries of design, craft, and tradition, the designer has successfully made a historic brand new again. With modern vibes and innovative design, Loewe has also gained the interest of celebrities including Rihanna, who wore a Loewe ensemble during her Super Bowl show, and royals such as Spain's Queen Letizia. While Loewe has already managed to steal the hearts of many fashion lovers, the brand still has plenty more in store.
The future of Loewe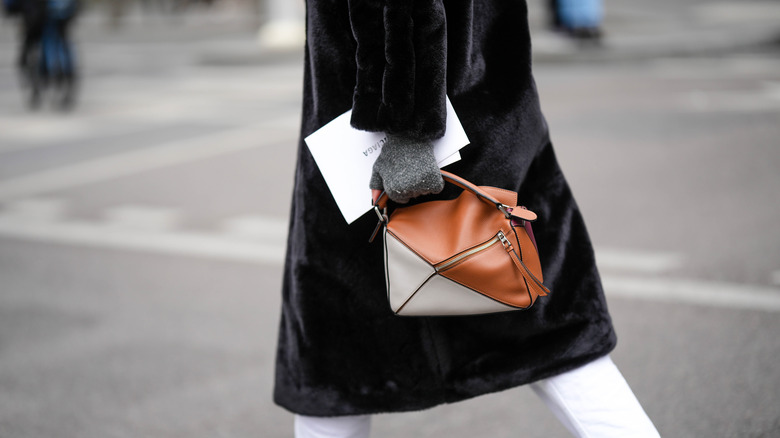 Edward Berthelot/Getty Images
For fans of the luxury brand, Loewe's No. 1 spot on Lyst's Index only marks the beginning of a new era. Because trends such as quiet luxury have only grown in recent seasons, there seems to be no limit to the brand's growth. With a focus on craftsmanship over trends, Loewe is well-positioned to create a sector in the market for those looking for timeless high-quality goods. With the prices of luxury goods (and all goods) rising, more consumers seek products that last beyond one season. Via Elle, Jonathan Anderson highlights the need for brands to cater to this need. "Because media is going so fast; the consumer is digesting and spitting it out. They will build it up and break it. I think this is why continuity is becoming more and more important. And actually, there is nothing more exciting than the low profile-ness of something." 
Loewe's high quality introduces itself as an innovative alternative to traditional brands such as Versace or Celine. The brand has also set itself apart by opening locations that cater to its exclusive clients. With a brand-new location in New York, Loewe is becoming well-known as a high-end but attainable brand. The future for Loewe remains bright, with hero products including the brand's basket bags which return each summer as the season's must-have item.