Is The Viral Prada Tank Type Worth The Hype - And The Price Tag?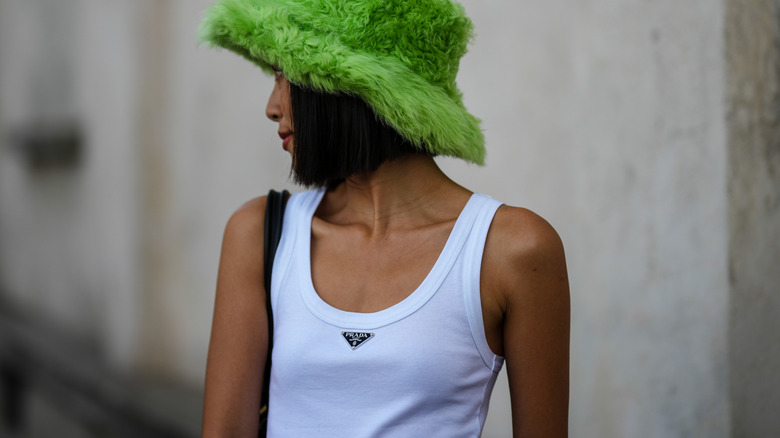 Edward Berthelot/Getty Images
Logomania is a trend we are seeing across all of fashion. In other words, people are feeling the need to not only have luxury items but to also show them off. Luxury fashion has always been more logo-centric than traditional brands, as most people burst with excitement to wear a brand name, such as Balmain, across their shirt. Like with any trend though, how many logos we want to show varies by season. This season, logomania is back and in full swing.
Advertisement
Wearing a brand's logo not only shows that a person is able to afford that specific brand, but it also provides a sense of belonging. The item itself doesn't even have to be high-fashion to be considered luxurious if it has a logo on it. We have even seen t-shirts and tank tops give status and belonging to people just because of a simple phrase on the front. "Logo T-shirts are an easy way for brands to be recognized and for customers to be associated with them," says Net-a-Porter fashion director Lisa Aiken to The Business of Fashion.
In fact, a simple white tank top featuring a small Prada logo is making waves in the fashion world as it goes viral on social media. With a whopping $995 price tag, why is this basic piece becoming this season's must-have?
Advertisement
Why is the Prada tank top trending?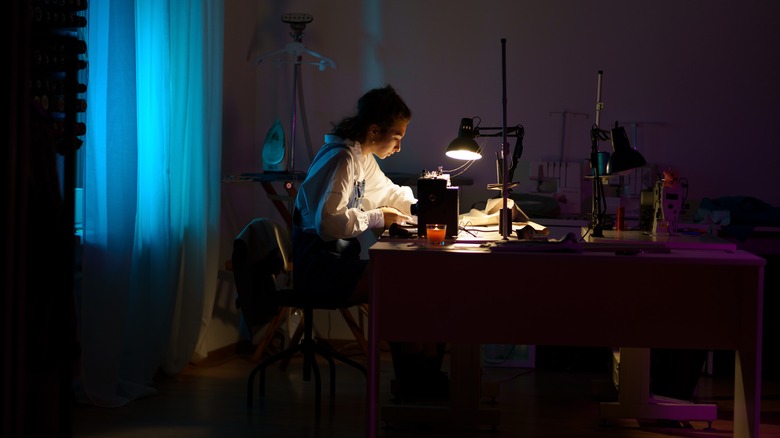 DimaBerlin/Shutterstock
As far as tank tops go, the Prada top is pretty standard. It is made from 100% cotton, has thin straps, and features a scoop neck. Besides the small triangle Prada logo on the front, it looks almost identical to the ribbed tanks at Target. So why the fuss?
Advertisement
Designer fashion has always been a controversial topic, mostly because of the price point. When asked about why his pieces are so expensive, Lanvin designer, Alber Elbaz, tells Glamour "I took all the bones out, and I stitch, and to get there, you know, it took me forever. It took me six or seven dresses to make one. And it's time and it's money and we are not doing it in offshore countries — we pay 65% taxes in France! It is so much work." Most designer clothing is made by hand and in small batches ensuring perfect proportions, but many can agree that this is not the case with the Prada tank top.
After all, the tank's popularity is heavily influenced by the number of celebrities wearing it. Charli D'amelio is just one of the hundreds of influential figures that have been seen wearing the tank on Instagram. "The appeal for most consumers is the instantly-recognizable designer plaque on the front. As history shows, logos on clothing or accessories can be an indicator of societal positioning. And nothing says high status quite like a $1,000 basic," says fashion editor Shelby Hyde to Yahoo Life. 
Advertisement
Get the look for less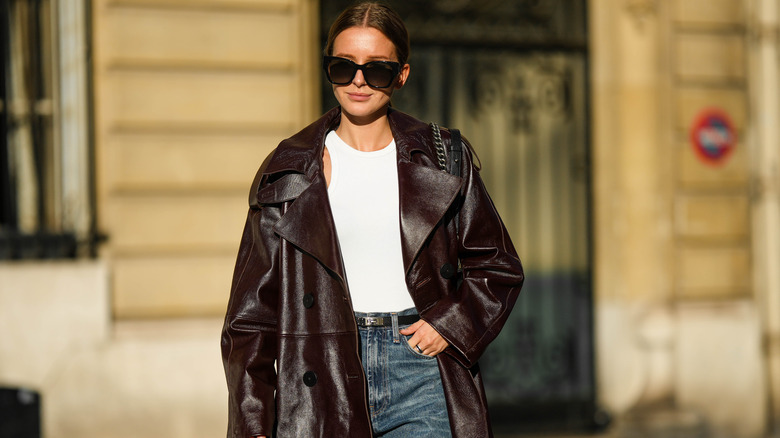 Edward Berthelot/Getty Images
Let's face it, not everybody is willing to drop $995 on a basic white tank. Luckily, there are other ways to get the look without the hefty price tag. To some, a designer piece doesn't always mean it's fashionable, which we can see by how fashion bloggers, such as Sophie Donoghue on Instagram, can make a basic white tank from their local department store look top-tier. There is no doubt that the minimal and model-off-duty looks are trending, but there is no need to go over budget to achieve them.
Advertisement
If you're looking to achieve the vibe that the Prada tank top gives off, you can gain inspiration from how Instagram user, Stylesnatcher styles hers. Simply layer a basic white tank with a black leather jacket on top, pull your hair back into a sleek bun, and throw on a leather skirt for a minimalist high-fashion look for a fraction of the price.
Another look similar to the impression the Prada tank gives off is by pairing a basic white tank top with tan sweatpants and colorful sneakers. Luckily, Instagram influencer Dinekaa shows us how the look is done while accessorizing with layered jewelry and tiny sunglasses, leading to an overall luxe-looking result.