FashionTap: What Happened To The Brand After Shark Tank?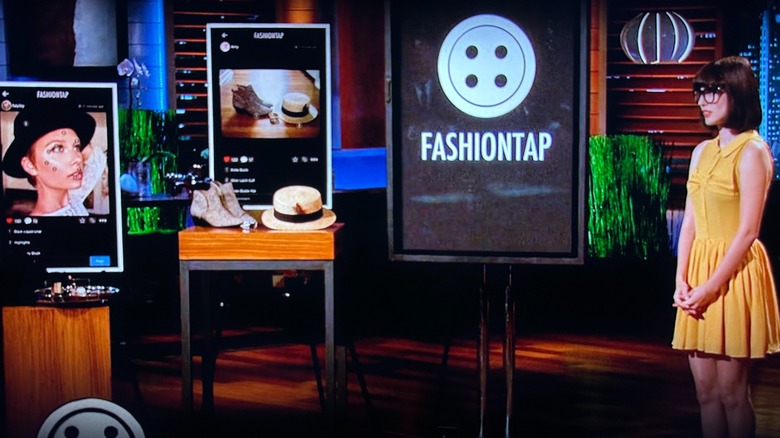 ABC
Entrepreneurs who dare to step into the famous Shark Tank on the cutthroat ABC business reality show of the same name better be willing and able to negotiate if they want the chance to walk away with a lucrative deal. This rather difficult lesson was learned by Amy Roiland of FashionTap when she appeared in Season 7, Episode 26 of "Shark Tank." Rather than approaching the show's panel of wealthy investors with an open mind, Roiland had a very specific deal in mind and struggled to even consider any other outcome.
FashionTap — a social media app meant to bring fashion influencers, brands, and consumers together in one place — was founded by fashion blogger Amy Roiland as a way for social media users to quickly and efficiently purchase clothing, accessories, or other beauty products with a click of a button. By weaving together brands, influencers, retailers, and shoppers, Roiland sought to establish a social media app focused solely on fashion.
However, Roiland ended up walking out of the Shark Tank not as smiley as she was when she walked in, as the Sharks were not convinced that the app would be much different than more established social media networks, like Instagram, which were already working on incorporating similar features. In the end, Roiland strutted away from the monumental opportunity empty-handed. But did FashionTap ever get its big break? Where is FashionTap today? 
FashionTap's Shark Tank pitch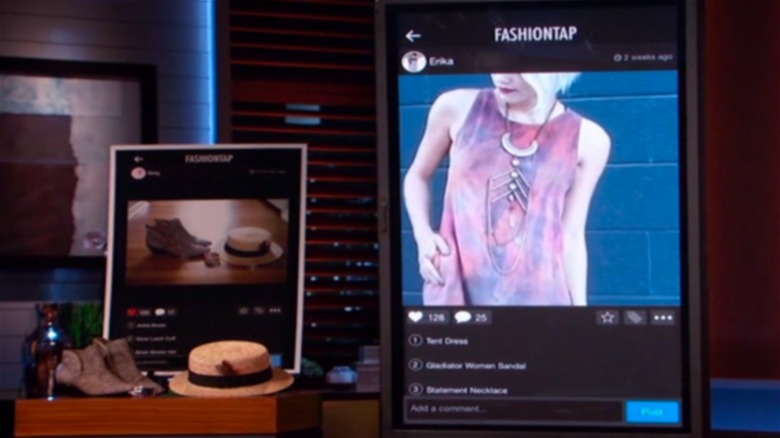 ABC
Amy Roiland, a successful fashion blogger, asked the Sharks to invest $100,000 in return for 10% equity in FashionTap, an app for fashion bloggers and influencers to post photos of products with direct e-commerce and affiliate links. During her pitch, Roiland revealed that she had worked with large brands like Free People as a fashion blogger and felt confident that not only would her app be different than any other social media app but that she could land accounts with big-box stores.
Most of the Sharks disagreed. Investor Chris Sacca informed Roiland that he was an Instagram investor and that the network was already functioning as a fashion network. Mark Cuban showed significant interest in the app but was unsatisfied with Roiland's answers about how she planned to grow the app's audience. One by one, all the Sharks dropped out of the running except Barbara Corcoran.
Corcoran offered Roiland the $100,000 she was asking for in exchange for 25% equity in the company. Roiland — who had revealed earlier during her pitch that she only owned 33% of the company — declined. When asked to make a counteroffer, Roiland replied that she "really wanted to just go with the $100,000 for 10%." At the other Shark's urging, she began to realize her mistake and consider negotiating, but it was too late. Corcoran dropped out, and Roiland left the tank without a deal. 
FashionTap after Shark Tank
After Amy Roiland presented her fashion app idea on "Shark Tank" and failed to close a deal with an investor, she continued to attempt to develop the app with her small team and promote it on social media. Shortly after her episode of "Shark Tank" was recorded, but before it aired, she sat down with Chaparral Films for a YouTube interview. She explained, in detail, her journey from fashion blogger to fashion app developer and insisted — just as she had on "Shark Tank" — that Instagram was in no way a fashion app and doesn't compare to the specialized app she was producing.
Unfortunately, beyond the soft launch of the app that had occurred before Roiland appeared on "Shark Tank" (and resulted in 6,000 downloads), there is no evidence that FashionTap ever launched as a fully functional app. Without a Shark to guide and finance the endeavor, the idea eventually faded off into obscurity. Even if the app had launched, it would have faced major trouble when Instagram launched its own direct shopping function — just as the Sharks had predicted it would. 
Is FashionTap still in business?
FashionTap, the app, never officially launched and therefore was never really in business. There is no way to know how many downloads the early version of the app received after the 6,000 reported by Amy Roiland during her "Shark Tank" pitch, but the odds of such a small network ever beating out Instagram are extremely slim.
According to a December 2022 Shark Tank Recap, which is a "fan-made" site that provides episode recaps and updates, it seems as though Roiland attempted to "get retailers interested in her app for several more years, but she finally shut down the platform in 2018."
There has been no activity on FashionApp's Twitter page since 2017, and though the brand's LinkedIn page is still available, the only post it contains is one from 2023 promoting Roiland's fashion blog. It seems that the FashionTap app founder has found her way back to her original passion, fashion blogging and brand ambassadorship, which is what inspired her to develop the app in the first place.
Outlook for FashionTap founder, Amy Roiland
Regardless of the outcome of her foray into app development, Amy Roiland's fashion blog, A Fashion Nerd, seems to be thriving. Roiland — now a proud mother — appears to spend her days traveling, modeling clothes and accessories, making brand deals, and ushering her daughter into the lucrative world of online fashion influencing. She appears to have worked with major brands like Forever 21 and H&M, in addition to countless indie and boutique brands, since she started her blog in 2013.
In addition to her many impressive brand deals, Roiland designs and sells decorative vegan leather camera straps, presumably marketed toward other bloggers and influencers who feel the need to carry their cameras everywhere they go, so they can always be ready for the perfect shot. Moral of the story: Don't be afraid to try something new, but don't be afraid to return to what you know and love either. As Roiland proves, every experience has value — even the ones that include a not-so-happy "Shark Tank" ending.