The Camp Counselor Look Is Bringing Back All Kinds Of Summer Nostalgia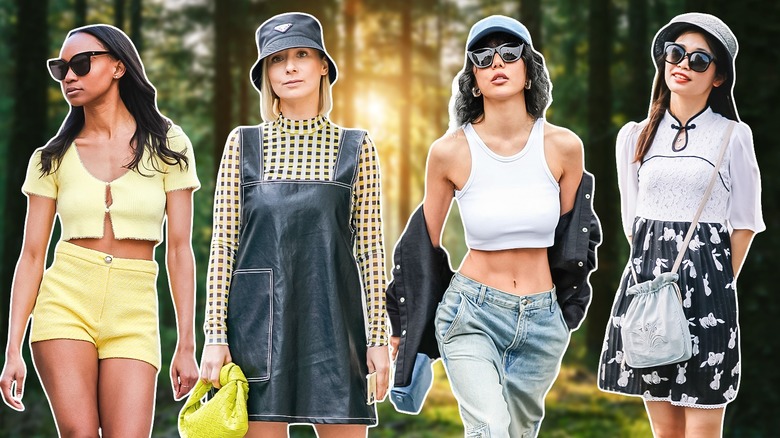 Static Media/Shutterstock/Getty
While many people are already counting down the days until Halloween, summer lovers can rest assured that there are still many days of warm weather left and time to rock the camp counselor trend. Why would you want to look like you work at Camp Cucamonga, you ask? The answer is simple — it's a laid-back aesthetic that takes you back to the days you were running around in shorts, jumping in lakes, and roasting marshmallows over an open fire.
Chances are, you already have many of the clothing items you need to dress like a camp counselor. And before you balk at the thought of dressing in oversized T-shirts and cargo pants, you can totally make this look fashion-forward (all year round!). The key is to mix and match retro items with current styles, as well as play around with silhouettes. So grab your whistle, dig through your closet, and take out anything that reminds you of your childhood summers.
Graphic T-shirts are a camp staple
If you were a camp counselor, you probably had to adhere to the given uniform, but as an adult, you can still bring summer camp vibes with a retro-looking graphic tee. Lucky for you, these shirts never go out of style, and we think they look good at any age. Bonus points if it has a positive message that'll bring a smile to everyone you pass.
Retro sneakers give '70s vibes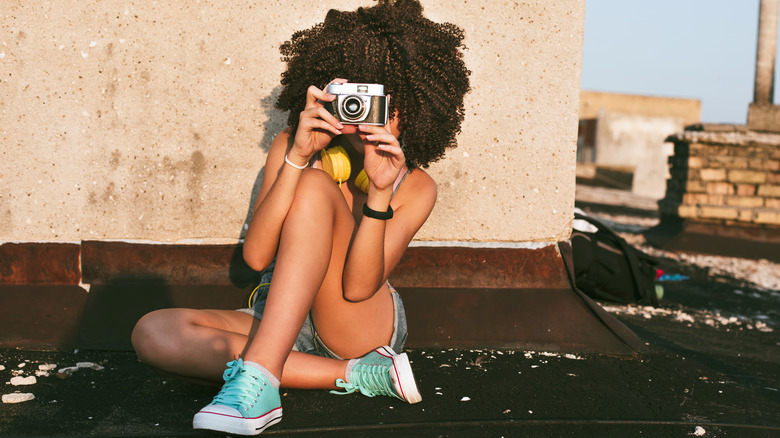 Portishead1/Getty Images
You can't skip rope or play dodgeball without a good pair of sneakers, and we're digging this modern robin's egg blue color on this vintage-style pair. Some denim shorts and a spaghetti-strap tank complete this camp counselor outfit. Don't forget to slip on a pair of no-show socks to prevent your feet from chafing and sweating while you're having all that fun.
Ringer tees are a blast from the past
Ringer T-shirts were everywhere in the '70s, and it looks like they're here to stay. They regained popularity in the early aughts, and the 2004 movie "Napolean Dynamite" flaunted the iconic "Vote for Pedro" tee. Usually worn form-fitting by men and women, they have that certain retro look that brings a sense of nostalgia. Pair yours with high-waisted flared pants or a pair of short shorts with knee-high socks, and your camp counselor uniform is complete!
Tie-dye days at camp were rad
No summer camp is complete without a specially-made-by-you tie-dyed T-shirt to take home. From choosing your favorite colors to getting your hands dirty with the dye, it's an experience kids never forget. Of course, adults can wear the tie-dye trend too — and counselors have to get in on the fun. If you don't have one, there are plenty of DIY options. All you need is a blank white tee, fabric dyes, and a few rubber bands. Let the dye soak in a plastic bag for six to eight hours, and rinse the shirt with cold water until it runs clear.
Denim cutoffs are timeless
You can't go the whole summer without a good pair of denim cutoffs — ask any camp counselor. They're easy to wear with anything and are also a great easy cover-up to slip on over your bathing suit. Ones in Bermuda length are functional yet trendy and go well with a long-sleeved striped shirt that'll keep your arms from getting sunburned.
Cargo shorts are great for camp hikes
Speaking of functional pants, cargo shorts are another must-have for busy summer days. Instead of carrying a fanny pack, stick your valuables and essential items in your many pockets. If you're an actual camp counselor, the storage space can be useful for keeping snacks and your compass during hikes. Not at summer camp? Dress up your cargo shorts with a cute crop top and platform sneakers.
Oversized sweatshirts for cool summer nights
There's nothing cozier than an extra-large fleece sweatshirt; you'll need one for those sunset camp activities. Make your oversized sweatshirt a fashion choice for a night of star-gazing or singing songs around the campfire. You can go the retro way with a vintage logo or choose a simple plain one for a timeless feel. Keep the camp counselor look going with a pair of biker shorts and some high-top sneakers.
No camp counselor outfit is complete without dolphin shorts
Super short athletic shorts, known as dolphin shorts, were made popular in the 1980s and somehow became a camp counselor aesthetic. Add a cut-off T-shirt and a plastic visor to complete your throwback '80s-era look. While these shorts may not be as functional as cargo pants, we love that the cheeky hemline makes our legs look longer as we dance to Debbie Gibson songs.
DIY friendship bracelets help you remember your camp buddies
Just like a tie-dyed tee, making yarn or lanyard-braided bracelets was a fun, laid-back summertime activity. Make your own and one for a friend during your downtime while listening to some relaxing tunes. Think DIY jewelry is just for kids? Taylor Swift's Eras Tour brought friendship bracelets back into the spotlight, and many Swifties are flocking to craft stores to make their own. It's no wonder they're a hit at summer camps: You can still rock jewelry without worrying about damaging a valuable bauble.