The Fascinating History Of Schiaparelli, The Most Avant-Garde Luxury Brand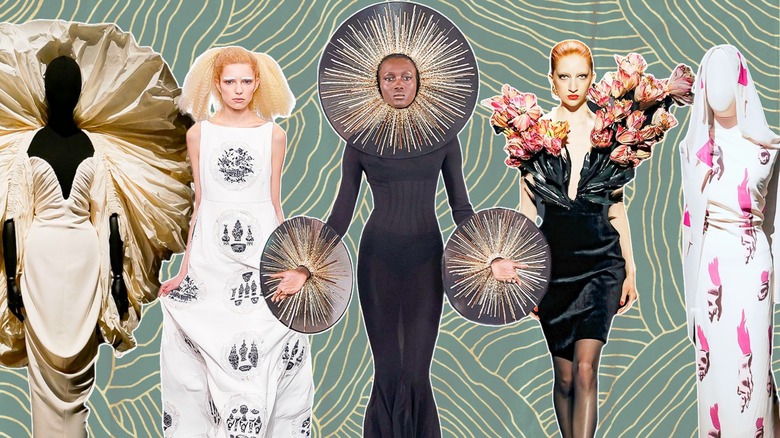 Static Media / Shutterstock / Getty
In the fashion industry, there's no haute couture without Schiaparelli. Schiaparelli has made history as one of the most innovative houses, considered the pinnacle of avant-garde fashion and the place to be during Haute Couture Week in Paris. While it may not have the same repertoire as other brands like Christian Dior or Chanel, Schiaparelli is iconic for those who appreciate their craftsmanship and imagination. Unlike other brands like Jil Sander and Comme des Garcons, which appeal to minimalists, Schiaparelli thrives off of out-of-the-box creations.
While Schiaparelli may not have the type of celebrity brand ambassadors other houses do, it's still a favorite amongst those looking to make an impact on the red carpet. Notable examples include Bella Hadid at Cannes, Beyoncé at the Grammys (both in 2021), and Cardi B at Paris Fashion Week in 2023. Each of their looks managed to create a stir at their respective events, further cementing the brand's legacy as one of the most iconic and influential. While the current state of Schiaparelli is over-the-top designs, its history is equally as fascinating as its present. From its elusive and complex founder to its constant comparison with other luxury brands, there's nothing simple about Schiaparelli.
Who was Elsa Schiaparelli?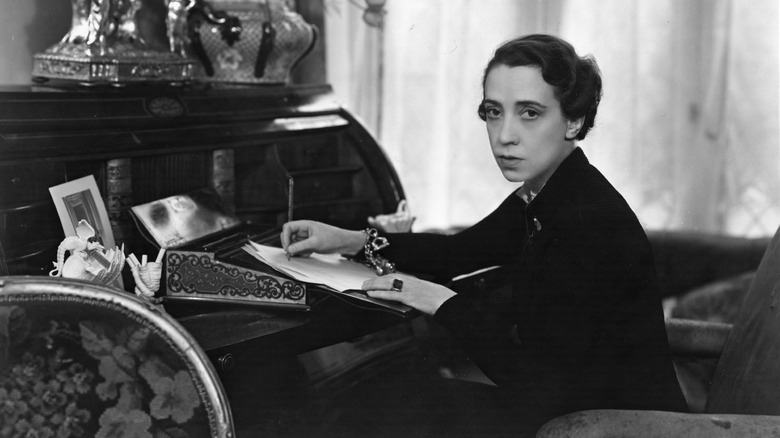 Sasha/Getty Images
Part of Schiaparelli's achievements can trace back to its founder, Elsa Schiaparelli. An icon in her own right, Schiaparelli is known for being ahead of her time both on and off the runway. The Italian-born designer founded the legendary brand in 1927 and became known for her surrealist approach to fashion. From exploring the mix of culture and politics with fashion and the prominence of trompe l'oeil style, there was nothing plain about the designer.
After just a year of working from her apartment, the designer opened her salons, ateliers, and offices dedicated to the flourishing business. At the beginning of Schiaparelli, the designer chose to mix haute couture with sportswear such as swimsuits and knitwear. This unique combination made an impression on American manufacturers, who quickly offered licensing agreements. Schiaparelli's success as a designer correlated with her constant desire to rebel against the status quo. By becoming one of the most prominent designers during the early 20th century, Elsa Schiaparelli did her work with a lot of creativity and imagination.
Post-war Schiaparelli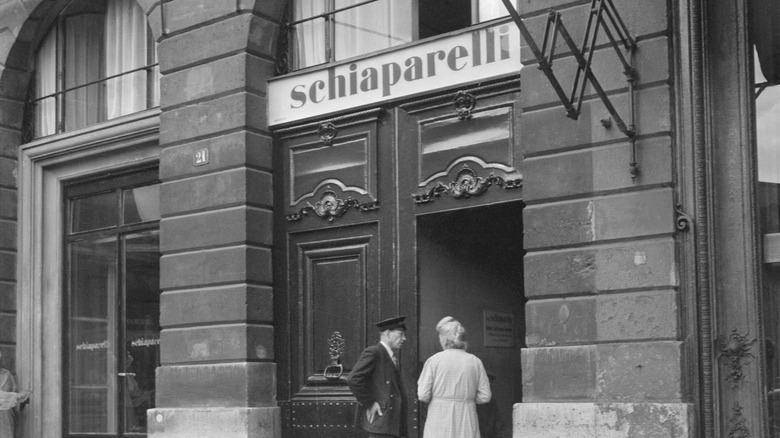 Bettmann/Getty Images
Unlike other fashion house founders, Elsa Schiaparelli refused to give up the normalcy of her business during World War II. Constantly moving between France and the United States, Schiaparelli raised many questions about whether she was a spy. In one of the last collections before the beginning of the war, the Siren Suit included large pockets that fit integrated bags for anticipated air raids. Staying true to herself, Schiaparelli didn't let the war affect her desire to unleash unique creations.
After the war, Schiaparelli, among other designers, was tasked with bringing the luxurious and avant-garde haute couture style back to France. Schiaparelli released numerous collections, all with a theme, including the Constellation Collection. Innovations at this time included the expansion into fragrances, eyewear, and the establishment of oversized jewelry. All of these factors increased the popularity of Schiaparelli as an innovative brand that pushed the boundaries with each collection. Shockingly, in 1954, Elsa Schiaparelli closed her fashion house and dedicated the rest of her life to her autobiography, family, and hobbies. For decades afterward, Schiaparelli was nothing more than a memory and muse to upcoming designers.
The return of haute couture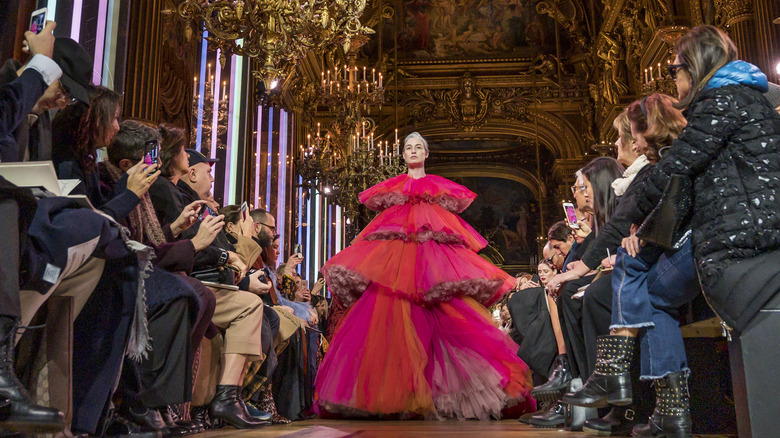 Peter White/Getty Images
After 58 years of being shut down, Schiaparelli announced their triumphant return to haute couture and reopened their main atelier in France. In 2006, creative director and entrepreneur Della Valle bought Schiaparelli and spent the following years staging the comeback of the once iconic brand. Along with the newly appointed ambassador Farida Khelfa, Valle spent years searching for the perfect designer to follow in Elsa Schiaparelli's footsteps and bring the brand into a new era. In 2013, after decades of no Schiaparelli, Marco Zanini was appointed creative director. He presented the first Schiaparelli Haute Couture collection under the new ownership the following year.
While there was plenty of speculation as to which direction Zanini would take Schiaparelli, he made it clear that he would take inspiration from the great Elsa Schiaparelli while avoiding any ill attempts at copying the famed designer. In an interview with W Magazine, Zanini stated, "To me, her bold gestures are not for the sake of irony or being funny but to really mark the individuality of the woman — her smart way of thinking, her flair to stand out in an exquisite kind of way. Most people think about the lobster dress or the shoe hat. Those elements are part of the heritage of the house, but they don't speak about her overall work or taste." After one year at the helm, Zanini stepped down from the post and made way for a new creative director, Bertrand Guyon.
The current state of Schiaparelli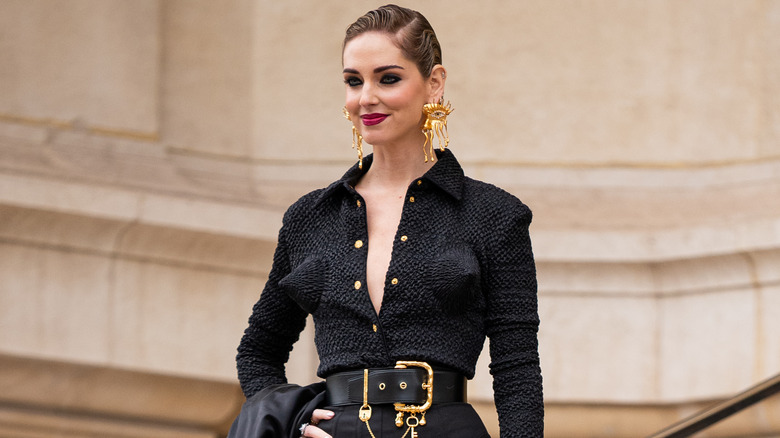 Claudio Lavenia/Getty Images
In 2019, the creative director position changed again, and the reins of Schiaparelli changed to the hands of Daniel Roseberry. After Guyon's departure, Roseberry took over and brought surrealism to a new level. One of the few Americans at the helm of a French company, Roseberry has successfully turned the brand into the go-to for celebrities and artists looking for something extraordinary. On examining the founder's work, Roseberry told Sotheby's, "I think her work has this free-wheeling intelligence that feels so ahead of its time. It wasn't just about beauty, or of the 'line' of a dress. It was about a concept, an idea, a notion of reality. She would take this notion and bend it to her will."
Nowadays, Schiaparelli is known as the brains behind some of the most extravagant looks. From Kylie Jenner's lion dress to the gold-cage dress shown in the Haute Couture Spring/Summer 2022 collection, there is much to look forward to with Roseberry at the helm. Working with gold hardware, molded leather, and denim, the creative director has found new ways to bring Schiaparelli's concept of surrealism to life. It's highly unlikely we'll need to worry about another house closure because, with the brand's current trajectory, it remains as relevant as when Schiaparelli herself spearheaded it.