Buying Barbie's Heart Necklace From The Movie Is Less Expensive Than You Might Think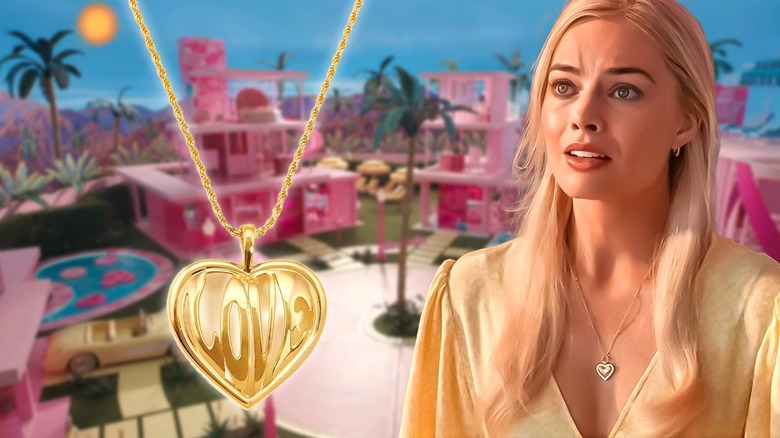 Static Media
We may receive a commission on purchases made from links.
Besides wearing pink, which is the most obvious way to take fashion inspiration from the "Barbie" movie, there are many ways to dress like Margot Robbie's Barbie character, such as wearing the iconic heart necklace she wore in the film. Aside from getting Margot Robbie's pedicure from the "Barbie" movie or scoring Barbie's pink Birkenstocks before they sell out, you can purchase the beautiful heart necklace Robbie wore in the film for around $200 from Missoma. That seems like a fair price to wear the same jewelry item as Margot Robbie's Barbie character.
The famous necklace has a length of 26.6 mm, a width of 19.7 mm, and a depth of 5.6 mm. Plus, it weighs 8.97 g and has a total length of 560 mm with extensions at 520 mm and 540 mm. Thus, the necklace appears noticeable, but not too heavy or overpowering and sits at the perfect length between your clavicle and bust area on your chest.
The necklace seems to be worth the investment
You can purchase the Missoma Ridge Heart Charm Necklace from the "Barbie" movie for $206 online at the time of writing. Of course, $200 is nothing to sneeze at, and no one should feel ashamed about not having that much money to spend on an accessory. By no means should you feel the need to drop the $206 you put away for groceries or a car payment on the necklace. However, if you have the extra money, why not treat yourself to the jewelry piece since it's literally Barbie-approved? After all, we expect most jewelry celebrities wear in movies to cost thousands of dollars, or at least $500, so we're happy to see that everyday people can buy the necklace that Margot Robbie wore as Barbie for less than $250.
If purchasing, you have a choice of an 18ct gold or silver plated. Moreover, the necklace has a near-perfect rating with 4.9 out of five stars at the time of writing and a 94% recommendation rate. One happy reviewer even wrote, "Gorgeous necklace which feels extra special after spotting it on Barbie. Perfect to wear everyday and on special occasions," as this necklace can help you add a touch of Barbie glam to your everyday life.
More affordable similar options
Again, while $206 isn't ridiculously expensive, especially for something chosen for a movie, it's not cheap, either. So, we found some similar-looking necklaces with even lower pricetags so anyone can add that Barbie-inspired touch to their outfits. For instance, the Demi-Fine Collection Sunburst Heart Necklace is available for only $55 at Pura Vida. Like Barbie's necklace, this piece features the ridge design on the heart pendant and comes in your choice of gold or silver plating. Plus, it has a perfect five-star rating, and shoppers seem to adore the accessory, writing, "I wear this for nice events, it's very special."
Another similar choice is the Ribbed Heart Pendant Necklace/Gold-Filled, selling for around $60, depending on the size you choose, at Midori. It also features a gold-looking heart pendant with line designs, making it a fun alternative to the Missoma necklace that Margot Robbie wore in "Barbie." Finally, anyone looking for a super affordable option should check out the PAVOI 14K Gold Plated Cubic Zirconia Heart Necklace, available on Amazon for less than $15. While this Amazon's Choice item doesn't feature the ridge design, it's still a gold-plated heart and has 4.4 out of five stars with over 6,000 ratings at the time of writing.