How To Get Margot Robbie's Pink Pedicure From The Barbie Movie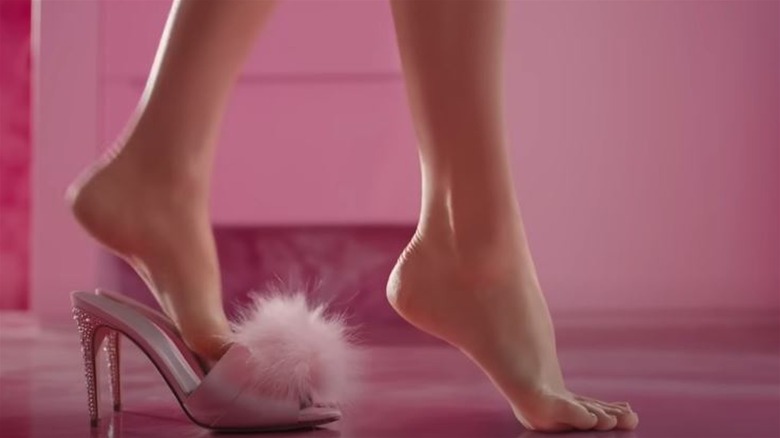 Warner Bros.
Ever since the release of "Barbie" in theaters on July 21, 2023, the classic pink pedicure has officially been revived. In what is quickly becoming an iconic scene that will go down in movie history, Barbie's permanently arched feet fall flat, signifying her transition into the real world. The doll's feet, of course, needed to have the perfect signature pedicure that could serve her as a doll and also transition seamlessly into reality right along with her.
If you (along with the rest of the world) have been feeling drawn to all things pink since actress Margot Robbie began unveiling all her promotional Barbiecore looks, don't worry, we've got you covered. Throw on your vintage shades and your iconic chevron swimsuit — we've put together a guide to achieving the perfect Barbie-inspired pedicure for you to wear to your next Dream House pool party, which includes making sure your feet are hydrated and choosing the proper pink polish. Pink convertible and adoring Ken sold separately, of course. 
Select your pink polish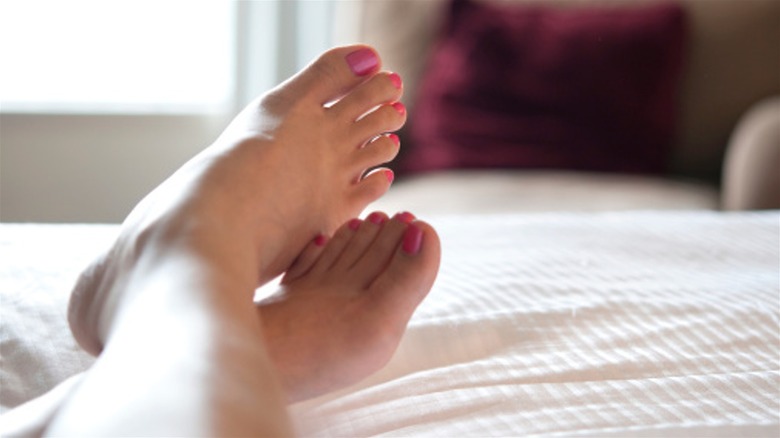 Ceneri/Getty Images
In the "Barbie" movie, the classic pink pedicure featured at the beginning of the film was created using a Glossify gel polish in a shade called Naked. As you might expect, after the success of the film's opening weekend, the nail polish has sold out on Glossify's website. However, there are many dupes for the shade available everywhere, from your local drugstore to Amazon. If you're a gel polish babe, check out AIMEILI gel polish in the shade Rose Nude or VENALISA gel polish in the shade Nude Pink.
If you'd prefer to stick to traditional polish to eliminate the risk of gel polish allergies, you can still rock a Barbie-inspired pedicure. Try OPI's Bare My Soul or Essie's Topless & Barefoot. Whether you opt for regular air-dry polish or a gel pedicure, be sure to use a high-quality base coat and top coat. Always remove gel polish from your skin immediately and ensure the gel is fully cured on your nails. 
Make your feet shine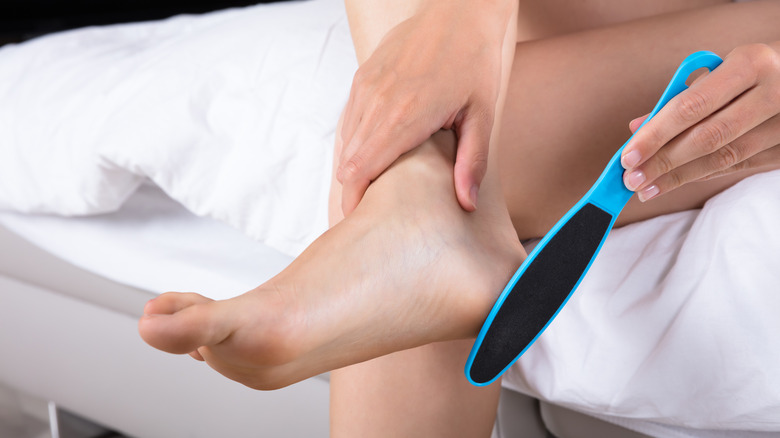 Andreypopov/Getty Images
Before you debut your new Barbie-pink pedicure, you'll want to be sure that your feet are looking their best. If you notice any rough patches, cracks, or callouses on your soles, use a foot file to remove them. If the level of dryness, cracking, or peeling seems excessive, consider treating your feet to a peeling mask before you paint your tootsies. These masks may require you to soak your feet for up to an hour. Within a week, the dry skin will begin to peel away and reveal new, baby-soft skin underneath.
Once any dry, rough, or cracking skin has been removed with a file or a peeling mask, it's time to moisturize. Consider applying a foot cream containing urea and salicylic acid for deep moisturizing and gentle exfoliation at the same time. Wear a thick layer of your foot cream under socks while you sleep once or twice a week to transform your feet into soft, Barbie-like perfection. Combine with your nude pink polish and slay away.