Country Couture: How Western Fashion Got So Feminine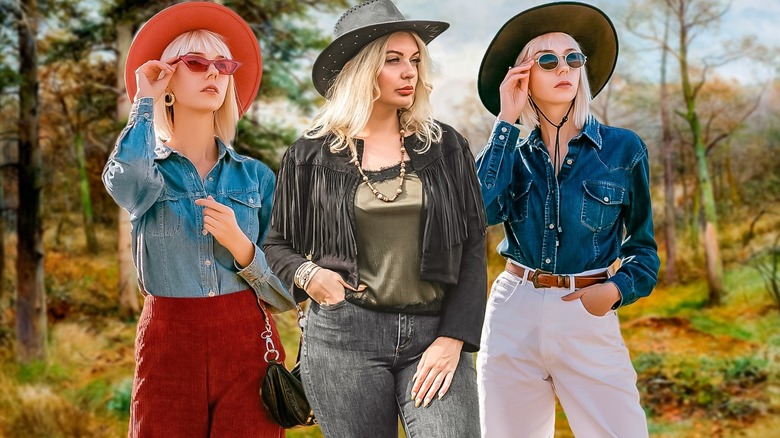 Static Media / Shutterstock / Getty
Although many know Western fashion only through costumes and gimmicky looks, it's the latest trend. From the runway to the "Barbie" movie, everyone has been rocking cowboy and country fashion at its fullest. We've also seen how certain celebrities, like Beyoncé and Taylor Swift, have embraced the country fashion trend, and made it feminine in their own unique ways. However, these Western-inspired trends are far from the movie costumes you've seen before. Glamorous and girly updates make cowboy pieces easier to slip into your wardrobe. 
From classic country pieces to garments with a Western edge only to Barbiecore cowgirl boots, there are plenty of items to choose from. Colors, silhouettes, and accents quickly make a regular country piece into a high-fashion street-style article. 
Adding some femininity into the country world has always been challenging for those looking to merge both styles. Thankfully, the versatile country couture trend is all about letting you express your girly side to the fullest.
Classic cowgirl boots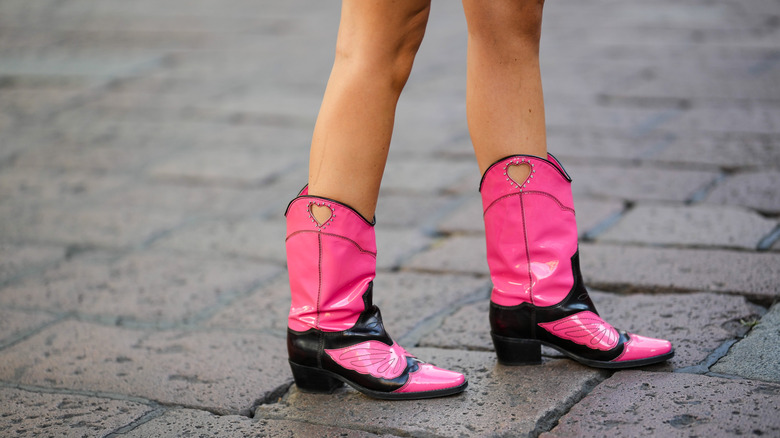 Edward Berthelot/Getty Images
When anyone thinks of Western fashion, the thought automatically goes to cowgirl boots. With pink hues and embroidered designs, this classic country staple has gotten a serious feminine remix. Since cowgirl boots re-entered the fashion trends, finding a pair that matches your style is pretty straightforward. From shiny metallics to vibrant hues, there's a boot for every unofficial cowgirl.
Trendy florals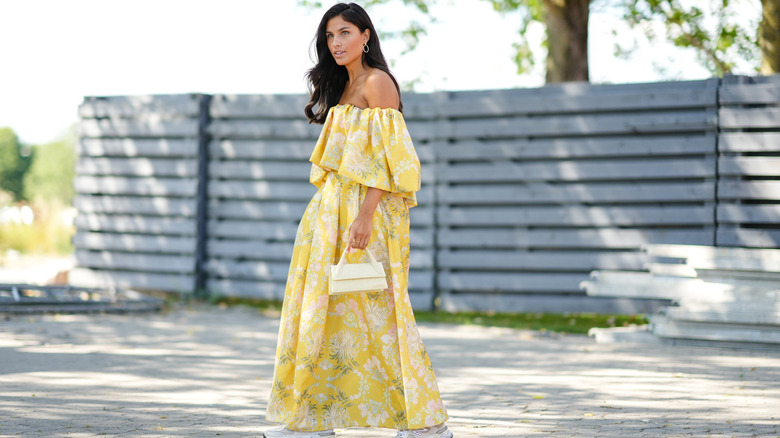 Edward Berthelot/Getty Images
Floral prints are not unique. This classic pattern is a staple in most closets, but it's essential for those who embody their inner-country girl. However, feminine country trends aren't just about your ditsy floral prints. Since we saw Taylor Swift rocking Oscar De La Renta's Fall/Winter 2021 collection, we've been obsessed with chic embroidered and oversized floral prints. No more settling for typical patterns; it's time to let your flowers bloom with larger-than-life zoomed-in floral appliques that make the piece stand out.
Bedazzled denim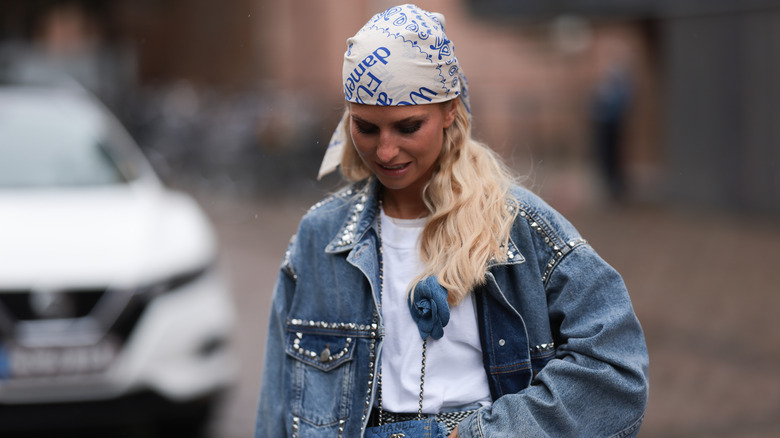 Jeremy Moeller/Getty Images
Florals aren't the only ones getting a remix with this trend; denim is also seeing a significant upgrade as brands want to add more glam to their Western pieces. While denim pieces are classic, a few sprinkles of bling elevate them effortlessly. Embellished denim jackets and embroidered denim jeans lead this trend by making your favorite pieces more unique. For those wanting a less shiny option, you can always opt for an embroidered applique denim piece like those shown during the Blumarine Spring Summer 2022 show.
Trendsetting cowgirl hats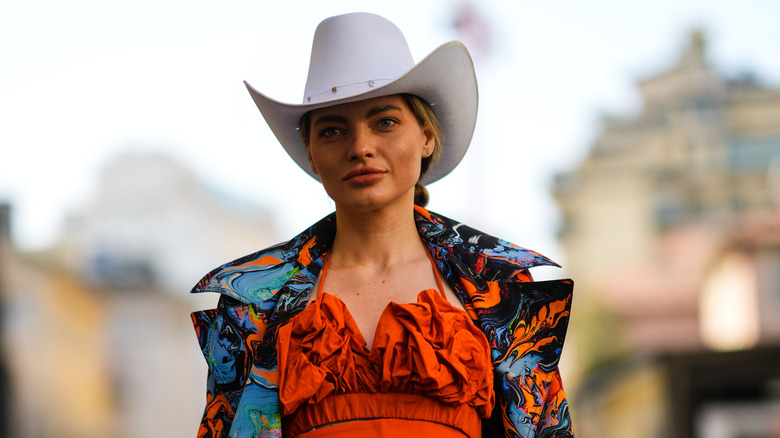 Edward Berthelot/Getty Images
Another Western piece getting a glamorous change is the cowgirl hat. While cowgirl hats may seem like a niche accessory saved for those looking for a specific look, these newer ones are anything but costume-like. You can get a more subtle Western touch by subbing out the typically decorated cowgirl hat for a solid-colored hat with chic accents. Add gems or chains to your hat for a hint of high fashion. For a celebrity-inspired look, you could add some bedazzled accents, a piece we've seen previously by Beyoncé on her Instagram.
Chic plaids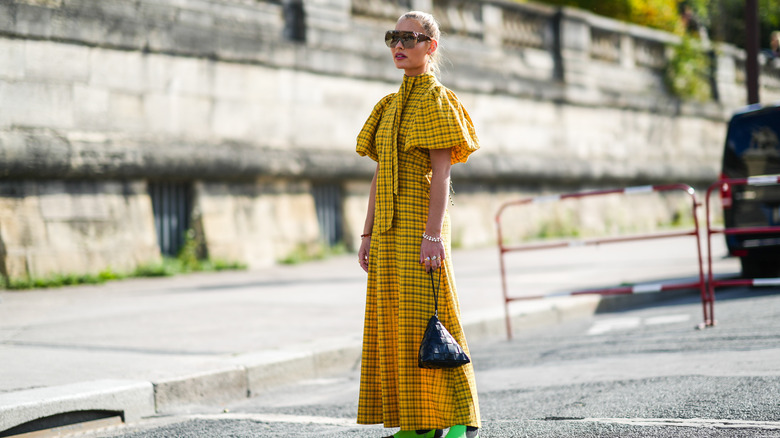 Edward Berthelot/Getty Images
Plaid isn't just for preppy fashion or layering button-downs. With the glamorizing of Western style, plaid has become an unexpected chic touch for any look. The key to rocking this print to its fullest potential is allowing it to shine. Instead of plaid flannels, opt for statement plaid maxi dresses. Add unexpected twists to your plaid, like ruffles, embroidery, or accents, to make the pattern high fashion.
Bandana mania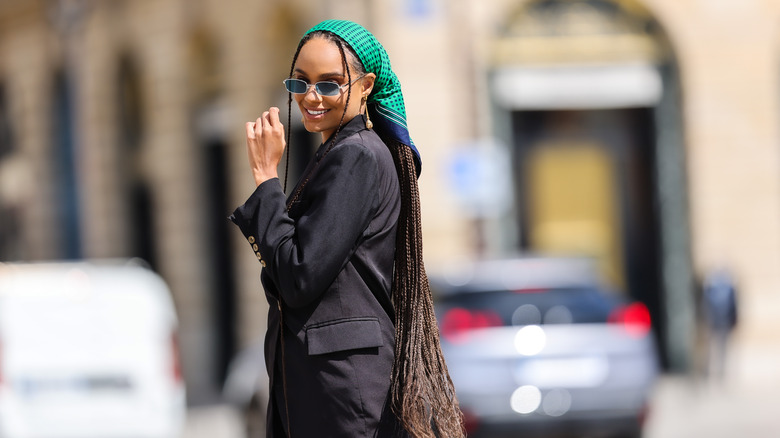 Edward Berthelot/Getty Images
Once the accessory of choice for '90s artists, the bandana has become a must-have touch for your country couture look. Opt for bandanas in rich colors or images that dazzle and look intentional, rather than the typical paisley print. These stylish bandanas give you a fun, girly touch instead of the rustic finish they once did.
Lace and embroidered couture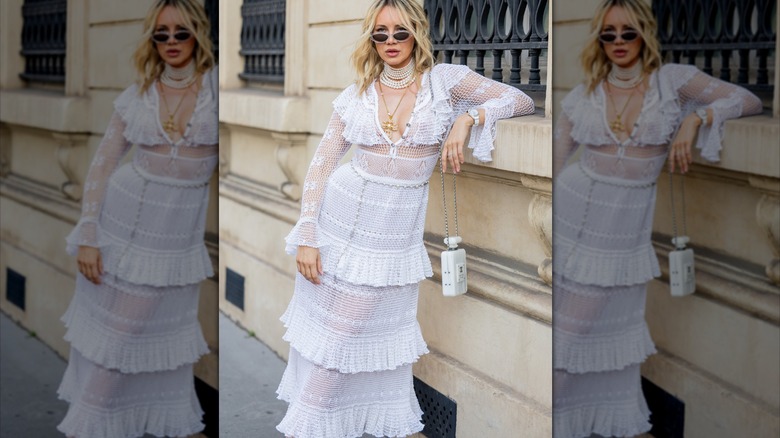 Christian Vierig/Getty Images
If you're a fan of frolicking in the countryside, you can bring this same vibe to your looks. Intricate lace and embroidery is an easy and feminine way to get the Western feel to your closet. With these delicate materials, you can easily invoke the sense of an airy country style. Opt for a prairie style dress or tiered layers and fringe to really cement the country couture look.