The Fall 2023 Pedicure Trends For Your Last Chance To Show Off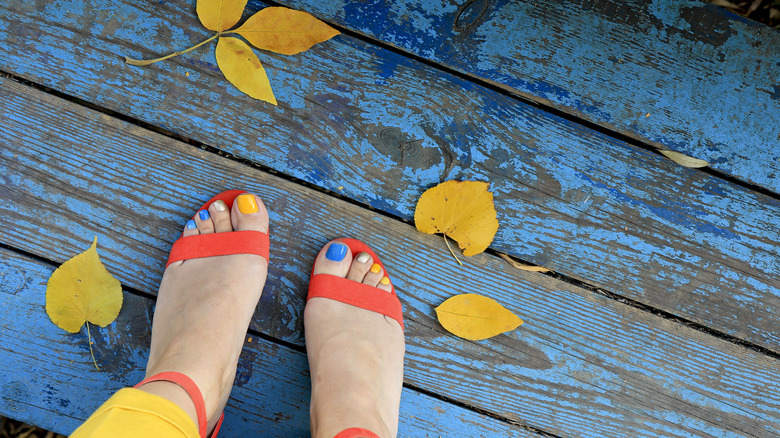 Marigo20/Getty Images
Fall is around the corner, but that doesn't mean we have to give up on our pedicures just yet. The transitional season still allows us to break out the open-toe shoes every now and then, so why not take the opportunity? There are plenty of nail color options to choose from, and now is the time to experiment before it gets too cold. 
New York City editorial pro Jin Soon Choi explained to Vogue that, when it comes to picking colors, she uses the world around her to find the best nail shade for fall. "I love looking at nature for inspiration — and with the changing colors of the leaves, it's the perfect season for this," she told the publication. "Fall reminds me of earthy neutral shades, like the tonal browns, and an evening fall sky with nocturnal blues." These colors look amazing in pedicures and are perfect for tying your fall outfits together. 
Cream French
Those who are a fan of the French tip will love it with a cream base. This design allows people to embrace a lighter toe, while still wearing a gorgeous fall color. To create this look at home, use a cream base or a soft white, and then use white nail polish to create the French tip we all love. 
Dusky purple
Purple has been the cool summer 'it' shade, and it's not going anywhere for the fall. Instead of picking out lavenders and brighter tones, we are looking into muted purples that work perfectly for the cooler months. Try to find a purple with a gray undertone to get a dusky shade that looks great on anyone.
Dark teal
If you want a pop of color without your nails reminding you of the summer pedicure trends, try a jewel tone, like teal. Teal is a beautiful color that is striking without being too bright. If you want a pedicure that looks great when the sun pokes through that autumn gray, look for a teal nail polish that includes light shimmers. 
Harvest orange
If you're someone who loved neon orange nails in the summer, harvest orange is the perfect counterpart for fall. This shade is a darker orange that is reminiscent of the leaves' changing colors. Like orange neon nail polish, the hue brings out the warm tones in your skin without it being too much.
Dark red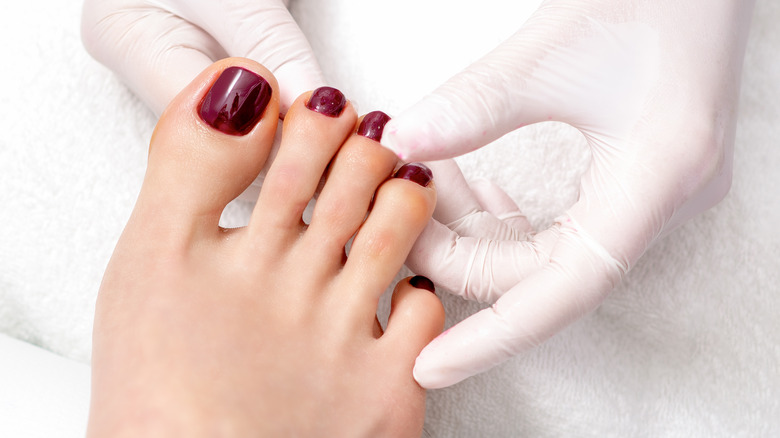 Michelle Aleksa/Shutterstock
A dark red is a great look, especially if you want to embrace a color that embodies '90s grunge. Depending on your personal preference, a dark red can range from crimson to deep burgundy. This color is great because it fits all seasons, but looks especially wonderful in the fall.
Witchy black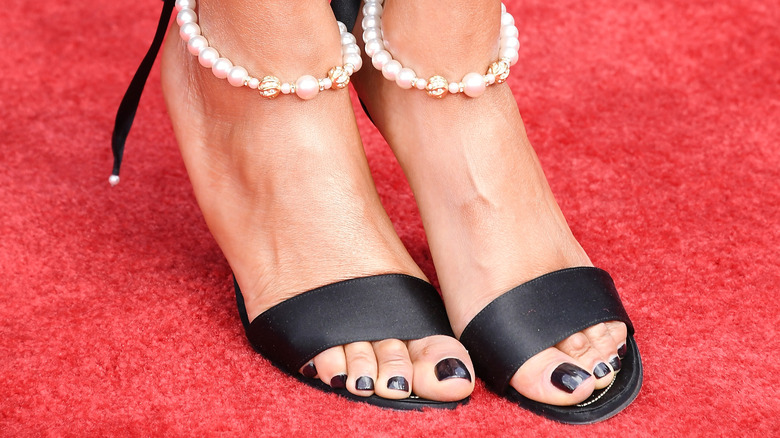 Steve Granitz/Getty Images
If you want to end sandal season with a bang, black nail polish is your color. Black is beautiful and allows you to add a vampy edge to any outfit you create. It's a great color for those who like to do their nails at home because it's opaque, so you don't have to worry about a streaky application.