We Tried The Setting Spray Made Viral By Beyoncé & Our Renaissance Was Short-Lived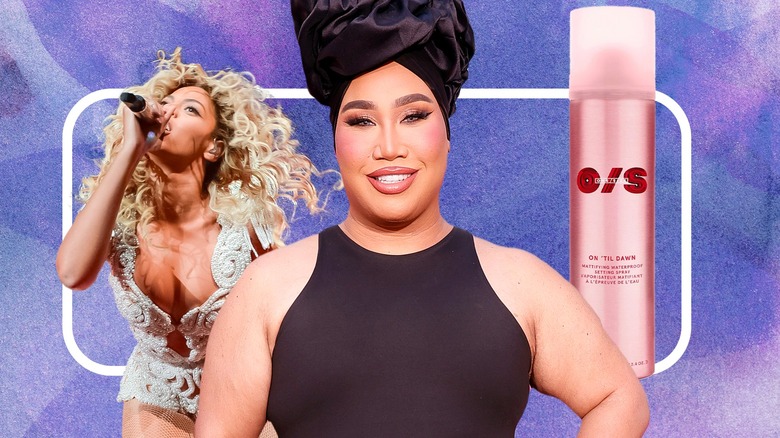 Static Media / Shutterstock / Getty
We may receive a commission on purchases made from links.
As if we couldn't love Beyoncé more, the queen of R&B absolutely delivered for her fans during a torrential downpour in a Washington, D.C., stop of the Rennaisance World Tour. She not only paid $100,000 to keep the Metro stations open an extra hour so that concert-goers could head home safely but also performed for over two hours in the pouring rain — and managed to keep her makeup intact while doing so. 
So, what was her secret? Her makeup artist, Rokael Lizama, revealed on Instagram that the setting spray ensuring that Beyoncé's makeup didn't budge was none other than Patrick Starrr's One/Size On 'Til Dawn Setting Spray, which retails for $32. Following this, Starrr shared a TikTok video of his text exchange with Lizama, with the latter singing praises for the setting spray. "OneSize spray come thru!!!" Lizama wrote alongside videos of Queen Bey singing in the rain. "I AM SCREAMINGGG," Starrr replied.
As soon as news of Beyoncé's setting spray secret broke, fans rushed to buy the setting spray. Naturally, we couldn't be left out of the loop, and we managed to get our hands on a bottle. Pretending to be one of Beyoncé's backup dancers, we put on a full face of makeup, complete with false lashes, and tested out the product — and we weren't disappointed.
One/Size's On 'Til Dawn Setting Spray held up in the summer heat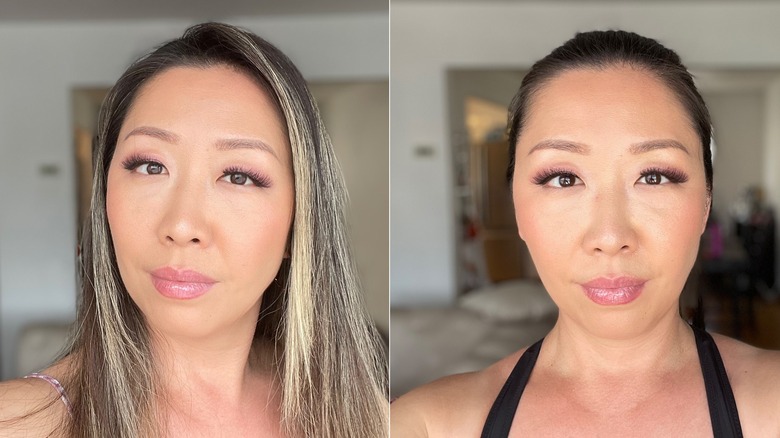 Jessica Choi/Static Media
There's nothing more frustrating than spending time on your makeup only to have it melt off in blazing-hot weather. We're sure Beyoncé has many tricks under her studded sleeves when it comes to keeping her makeup intact while sashaying on stage, and we were pumped to see if the On 'Til Dawn Setting Spray would protect our beat face from the sun. According to One/Size's website, the waterproof and smudge-proof setting spray promises to keep makeup fresh for 16 hours. The ingredients, which include witch hazel and tocopheryl acetate (a form of vitamin E), aim to "absorb oil" and "tighten pores."
After applying our makeup and sealing it with the setting spray, we went out for a jog in 80-degree weather since we couldn't test it out on stage in front of millions of fans like Bey. Our false lashes flapped in the wind as we imagined ourselves in a glam exercise video from the '80s, making sure to work up quite a sweat. The results? Our makeup looked just as perfect as when we first applied it. Our foundation didn't bead up, and even our blush remained poignantly pink — and it wasn't because our heart rate was up. The next step? To see how it held up after a water test.
Our makeup didn't fare as well as Beyoncé's after getting doused with water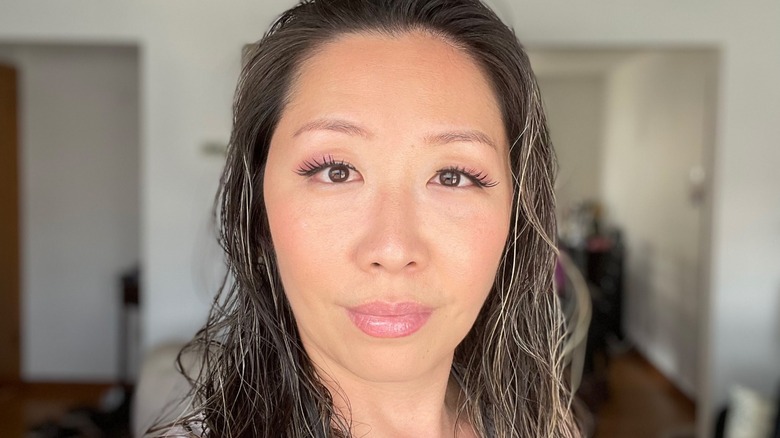 Jessica Choi/Static Media
For the ultimate test, we doused our face to see if the On 'Til Dawn Setting Spray would hold up under excessive moisture, too. Although we couldn't sing the whole set list of the Rennaisance World Tour, we sang "I'm That Girl" and "Flaws and All" while standing under the shower to give the spray sufficient time to work its magic. We're not sure if it was the makeup or the setting spray, but our eyes did sting a bit and were a bit red upon exiting the shower. We allowed our face to air-dry so as not to disturb the makeup and then inspected the results.
While much of the foundation was still on, we could see some of it beading on our face, and our skin didn't look as smooth. A bit of the blush and eyeshadow was still noticeable, but our eyebrows were completely gone. We have to get Rokael Lizama's secret for making Beyoncé's lashes stay put in the rain because ours were dangling off a bit, but that wasn't the setting spray's fault. What was most surprising was that our lip color, which was just a combination of liner and gloss, stayed completely put. Of course, the products you use and your application have much to do with your makeup staying power, but we think, at the end of the day, that Patrick Starrr's One/Size On 'Til Dawn Setting Spray is worth the buy if you want to look fresh. Just maybe stay out of the rain if you can!