Sofia Richie Grainge's Favorite Perfume Is Just As Quiet Luxury As Her Wardrobe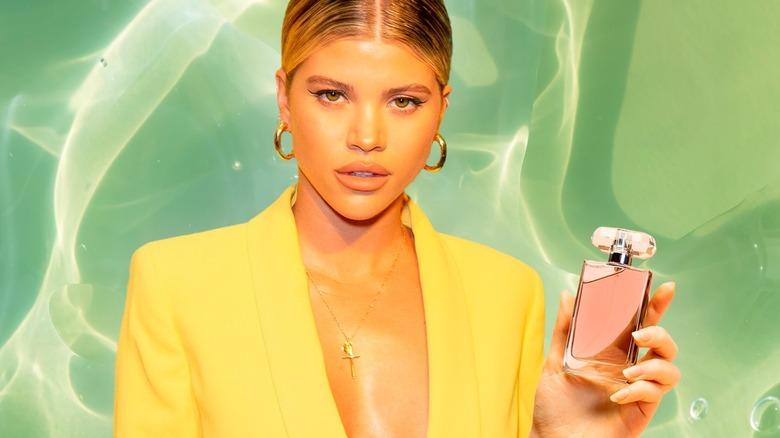 Static Media/Shutterstock
We may receive a commission on purchases made from links.
Sofia Richie Grainge's personal style is all about on-trend fashion choices, so it's no surprise that her perfume preference is also a win. For a summery scent that can help you amplify the warm-season vibes, take a cue from Richie Grainge, who goes to none other than Jo Malone. As seen in a video posted on TikTok, the socialite prefers to layer perfumes to achieve the perfect scent.
Jo Malone, formally known as Jo Malone London, is a British lifestyle brand renowned for everything from cologne to scented candles. Cut to May 2023, and Richie Grainge teamed up with Jo Malone to promote the brand across social media. On TikTok, Richie Grainge's ever-growing following has become enamored with her "GRWM" ("Get Ready With Me") videos. It's in one such video that Richie Grainge explains how to create "the perfect dinner date scent."
In less than 30 seconds, she spritzes English Pear & Freesia and Nectarine Blossom & Honey from Jo Malone. Then, smelling "summery and delicious," Richie Grainge is ready to head out the door in her head-to-toe quiet luxury aesthetic, including her scent. 
How Sofia Richie Grainge embodies quiet luxury with Jo Malone
Sofia Richie Grainge has become the face of the quiet luxury phenomenon. "Quiet luxury, the term, it sounds really nice, so I'm not knocking it," she told Who What Wear in an interview. "But [my stylist] Liat Baruch and I started working together properly about three and a half years ago, and when we met, our word was 'timeless.'" 
With that in mind, is it any wonder that she turned to Jo Malone? The company has become renowned for the timelessness of its products, as well as its synergy with the quiet luxury aesthetic. The packaging and bottling of Jo Malone fragrances are not fussy or flashy; they're simply elegant, and you could easily see them fitting in nicely in a New England mansion. However, their simplicity doesn't mean the manufacturer cuts corners in the quality department, with the brand's fragrances often being touted as long-lasting. This is important, too, as the quiet luxury aesthetic is, well, luxurious despite being subdued.
When Richie Grainge originally teamed up with Jo Malone back in May 2023, the company instantly knew its partnership with the socialite was a match made in quiet luxury heaven. "We knew we really needed to get the It Girl, and we got her," Joia Zanet, the vice president of marketing for Jo Malone London in North America, told Glossy. Quiet luxury staples like linen pants and expensive sunhats would never be the same without a spritz of an expensive-smelling fragrance.
What people have to say about Sofia Richie Grainge's favorite perfumes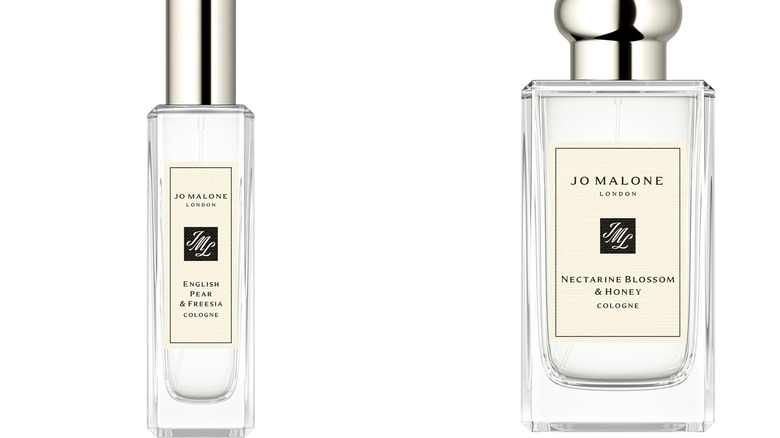 Sephora
In order to determine if a scent truly matches your vibe, you likely have to try it in person first — and that's just what Sofia Richie Grainge's followers did after she showed how she applies Jo Malone perfume on TikTok. Rather than just sticking with one, she notably layered two different perfumes: the English Pear & Freesia Cologne and the Nectarine Blossom & Honey Cologne. What's more, these scents capture the subtle elegance of quiet luxury brilliantly. "Ohhh she's doing pear and nectarine together! I never thought about mixing scents!" commented one TikTok follower. Another TikTok user simply said they "can't wait to try the perfume," demonstrating the selling power of the quiet luxury icon.
Out of five stars, the Nectarine Blossom & Honey Cologne has an average rating of 4.6 stars from reviewers on Jo Malone's website. The English Pear & Freesia Cologne has the same rating on its product page, with reviewers remarking on its high quality and subtle sweetness. As for the Nectarine Blossom & Honey Cologne, one reviewer raved that they can't stop smelling their wrists. "I feel very special when I'm wearing it and walk down the street with a smile on my face!" they wrote. If that isn't quiet luxury, what is?