The Best-Selling Red Lipstick In Paris Is Surprisingly Affordable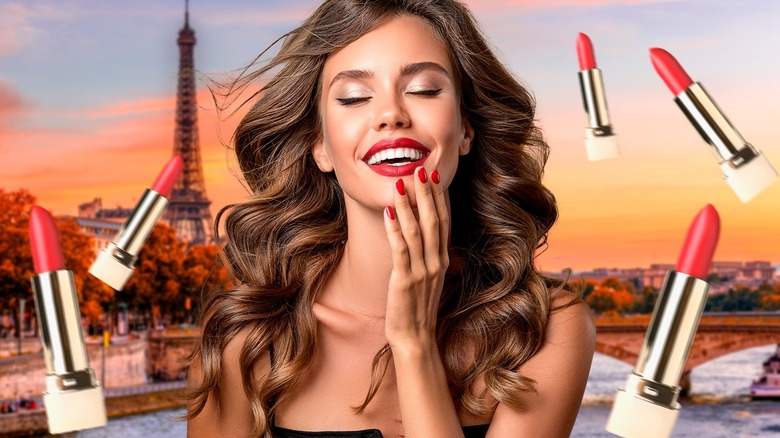 Static Media/Shutterstock
We may receive a commission on purchases made from links.
France has long been considered a bastion of chic fashion and good taste. Whether we're eagerly emulating the effortless style of a French bob haircut or taking cues from French fashion influencers, this Continental culture is a master of setting lasting trends. Of course, cosmetics are no exception, and beauty enthusiasts eagerly keep one eye on Paris for the emergence of the next holy grail products. But what's the best way to achieve a French-inspired lip look? If you want to follow in the footsteps of those oh-so-fashionable Parisians, should you simply default to the most luxe lipstick available?
To find out once and for all, TikToker @SarahPalmyra decided to conduct a beauty investigation of her own. In her viral video — currently boasting over 1.2 million views — Palmyra visits a Sephora in Paris and asks an employee about their best-selling lipsticks. Surprisingly, the worker doesn't lead Palmyra to any of the high-end collections we might expect French beauty lovers to favor. Rather, she reveals that Parisians apparently love Sephora's own-branded lippie collection — making your next European makeup look not only achievable but affordable.
Always Red is the preferred lipstick at Sephora in Paris
Eager to get your hands on a Parisian staple? Drumroll, please. It turns out that the fan-favorite shade revealed in Palmyra's TikTok video is the Sephora Collection Cream Lip Stain Liquid Lipstick in Always Red. Described by Sephora as a "classic red," this matte shade displays a bright and balanced hue. Further touted to be weightless, transfer-proof, full-coverage, and with a long-lasting formulation, it's no wonder that this product would become a popular go-to lipstick. As Palmyra says in her video's voiceover, "Love how pigmented and long-wearing it is. It looks so good and it's really universally flattering, so I can see why it's the best-seller."
In a response video to the Paris-approved color, TikToker @erinduganjurchak notes that the shade is a red that's "not too blue, not too orange — really gorgeous." On the Sephora product page for Always Red, reviewer Moniboo comments, "I love this product. Each time I wear it, I feel transported back to old Hollywood." And reviewer GeorgetownLaw adds, "Automatically makes your face glow and melanin-friendly."
As for the all-important price point? Sephora's Cream Lip Stains typically retail for around an affordable $15. So not only can you easily grab an all-rounder like Always Red, but you can build up your lipstick stockpile with multiple colors without breaking the bank.
Other Sephora shades to round out your lippie collection
A classic red lip is perfect for most occasions. But if you're looking to introduce a little diversity into your lipstick collection, Sephora's Cream Lip Stain comes in a whole host of different hues to meet your every need.
Looking for a few girlier shades? Pink Cashmere is a soft and delicate hue with a slightly cool finish, making it ideal for understated daily wear. Meanwhile, Flaming Flamingo — true to its name — is a supersaturated hot pink that would be a fantastic match for any '80s-inspired Barbiecore makeover.
The Sephora Collection also includes plenty of sumptuous earth tones. Autumn Wind is a shade of warm, deep brown that looks gorgeous and natural on melanated skin tones while creating rich contrast on lighter skin tones. Or, to achieve a darker vibe, Pretty Auburn offers a brown with a slightly cooler undertone.
And for an all-purpose plum to complete your moodier ensembles, try the Sephora Collection Cream Lip Stain Liquid Lipstick in Burnt Sienna, which offers '90s-worthy purple undertones. Or, to really pump up the drama, try Sephora's matte black lippie in the shade Night Bird.
Long story short? It seems like this Paris-approved lipstick comes in almost any hue you could wish for. From classic reds to more daring shades like the vibrant turquoise of Sea Queen, Sephora's signature collection encompasses a vast range of long-wear colors — empowering all your French-inspired makeup looks and beyond.