Here's How To Find Your Correct Belt Size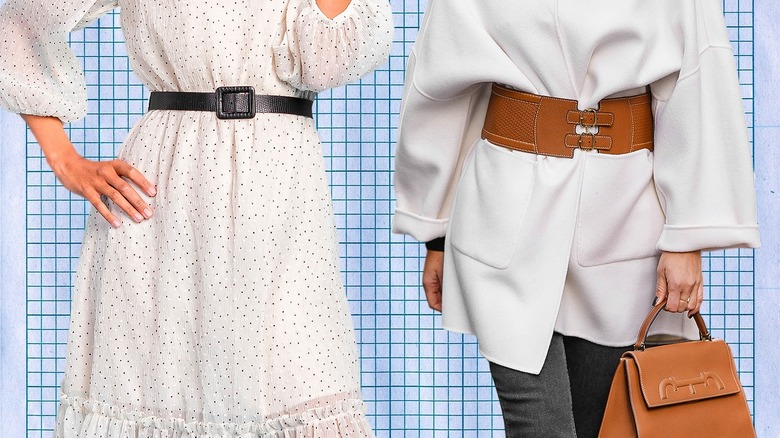 Static Media / Shutterstock / Getty
A belt is one of those underrated fashion accessories that pulls well above its weight. Whether you are planning to wear a belt for its functional purpose — to hold up your pants or looped skirts — or as a vibrant accessory to liven up an outfit, you may have figured out the right belt for you. However, we are sure you also want to know the correct size to buy.
Interestingly, it is the style and use of the belt that will determine how you measure its size. For a regular belt worn with pants, the size must correspond to the area of the body where you wear those pants. For something to cinch in your dress or shirt to show off your waist, you need to measure that part of the body.
The simplest way to find your correct belt size is to measure the area with a flexible tape measure. Alternatively, you could follow the age-old rule of going up two inches from the waist size of a well-fitted pair of pants For a 36-inch waist, for example, you should invest in a 38-inch belt.
How to measure a belt to wear with looped pants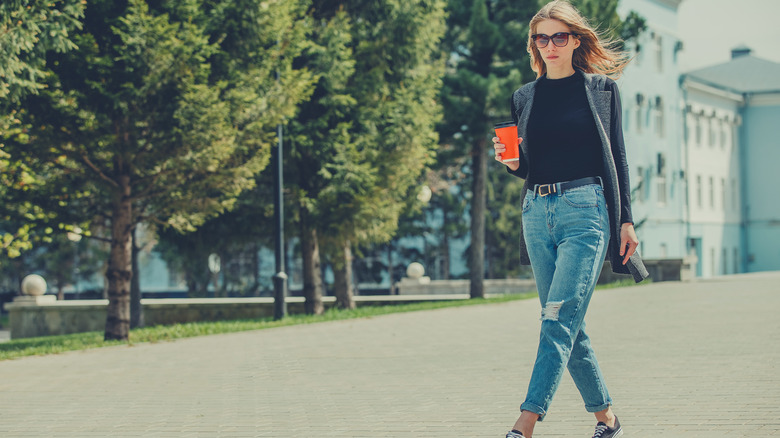 Tatiana1987/Getty Images
Another traditional way to measure a belt size is to measure a belt you already own that has a satisfying fit. For this, you need to lay the belt down on a flat surface and measure it with a tape measure. One end of the measuring tape should be at the hole that you most frequently use on the belt and the other should end where the buckle's prong begins. You can then round off the inches to the closest number.
However, bear in mind that this method is not always the most accurate one to follow. Obscure Belts highlights that the sizing and length of a belt can differ based on the quality and type of leather that is used to make it. Leather that is lower in quality is more prone to becoming stretched out over time and skewing your belt measurements in the future. This can also happen with certain kinds of stylish belts such as those made in a braided format. Hence, this procedure may not be the most accurate way to measure your belt size.
You could go to a professional tailor and have yourself measured for a belt size — that is likely to offer very accurate results. Just be sure to wear well-fitted pants when you go for your appointment.
How to measure a fashion belt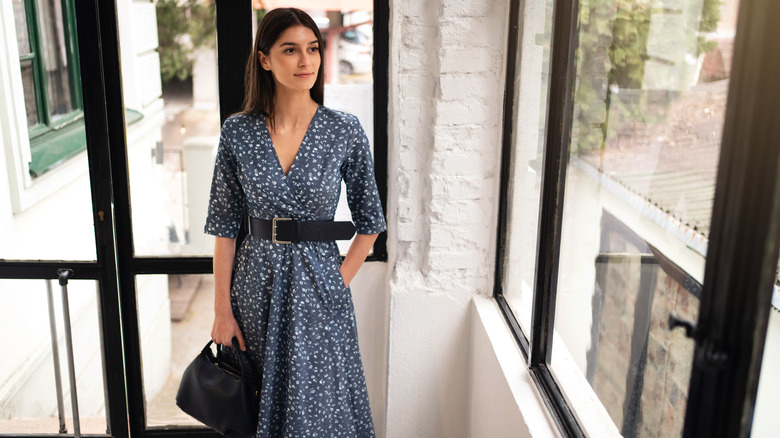 Srdjanpav/Getty Images
A lot of fashion belts come in generic sizes such as small, medium, large, or more. For these belts, the standard procedure is to follow the sizing chart of the brand you are planning to buy the belt in question from. Your purchase decision will depend largely on the look you choose to go for. For slouchy and oversized belts that bring back a Y2K vibe or chain belts that hang attractively off the size of your waist, you may want to go several sizes up. If your purpose is to use the belt almost like a corset, you may want to size down.
If the size chart is leaving you confused, you may want to rely simply on the tape measure before investing in a fashion belt of your choice. A flexible tape measure can be looped around the area where you want to wear a belt. However, don't fret if you don't have a flexible measuring tape available — you can use any kind of ribbon, cord, or thread to achieve the same result. After measuring yourself with this makeshift device, use the stiff tape measure to mark out the exact inches you need. Armed with this advice, your belt shopping task is sure to become easier.