Which Comes First: Blush Or Concealer?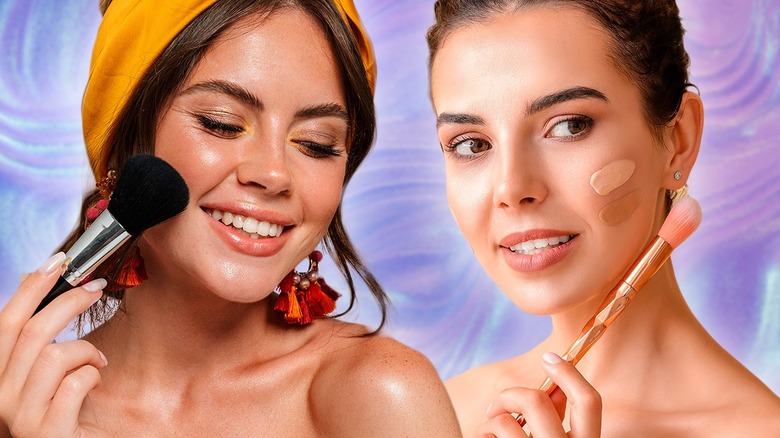 Static Media/Shutterstock
Applying makeup isn't as easy as picking up a wand or brush. For makeup wearers, it's a matter of knowing the order in which to apply different cosmetics. While it might not seem important, the proper order of products is vital for a beautiful look that lasts all day. Incorrectly applying your products can lead to your makeup sliding off, not showing up well, or caking throughout the day. Although factors like ingredients and formulations can affect the order in which you use your products, there's a consensus on how they should be applied.
Two of the most divisive steps include concealer and blush. We've seen how some leave blush last while others use concealer to diffuse a pigmented blush. Since both are vital for a flawless look, you should know the different results you can get when applying blush or concealer first. By altering the order of these two products, you can get various outcomes that might not be ideal for the look you desire.
How to avoid common makeup application mistakes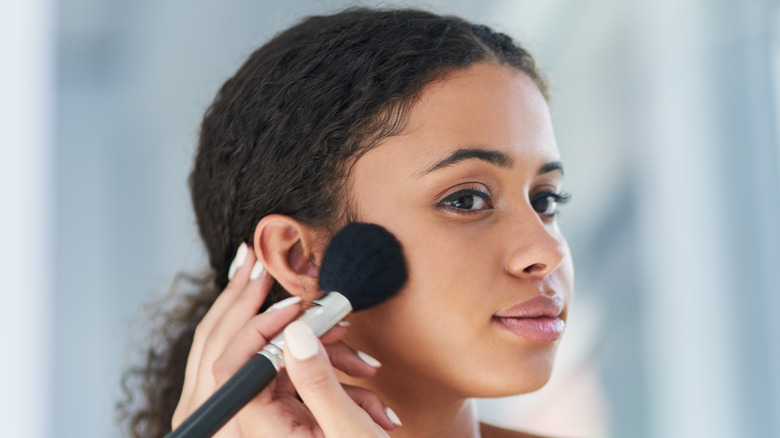 Peopleimages/Getty Images
The proper order of applying blush and concealer typically depends on the look you are trying to achieve. Wearers usually use concealer first, followed by other products, including blush. This method allows your foundation and concealer to create an even base to place the blush on top. Combining your blush with other products, like bronzer and highlighter, allows this outer layer of makeup to blend easier for an even finish.
It might be tempting to use concealer last to help diffuse an overly-pigmented blush, but covering up your blush can leave a cakey finish. If you're looking to diffuse blush, opt for a lightweight setting powder that gives you a more airbrushed finish. Leaving your blush last also gives your cheeks the appearance of a healthy, flushed glow. When applying blush and concealer, you'll also want to be aware of the formulas that you are using. You want to avoid mixing contrasting formulations, like liquids and powders, since this can alter how long your makeup lasts throughout the day.
How to properly apply concealer and blush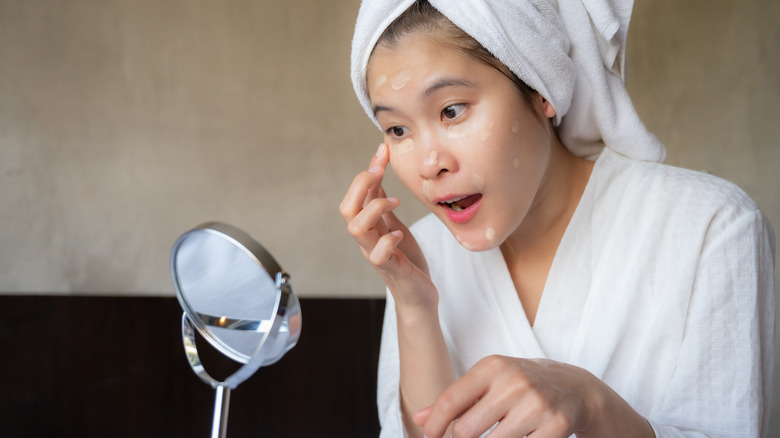 Boyloso/Shutterstock
Now that you know the best way to apply your blush and concealer, it's time to put them into use. When applying concealer, you want to start with an even base. Once you've applied your skincare products, primer, and foundation, you will have a consistent texture to work with. Not only will this improve your finished look, but it can extend the longevity of your concealer. You'll want to go layer by layer when applying concealer — adding a little bit at a time will prevent a cakey look and give you more natural coverage.
Depending on your type of blush, the next step may vary. Those looking for a matte finish will find better luck with powder blushes, while those looking for a dewy finish will love a liquid or cream blush. No matter what formula you use, you want to avoid applying blush like you would apply contouring makeup. This outdated practice will create a harsh look that makes the blush too apparent. Instead, concentrate the application onto the apples of your cheeks and slowly brush it upward. Soft and subtle strokes upwards will give your face a flushed, natural tint without overwhelming it. Use a fluffy brush, fingers, or a beauty sponge to get a dispersed effect with your blush to avoid concentrating in one area.