'Anti-Bride' Is The Latest Wedding Dress Trend, And Anything Goes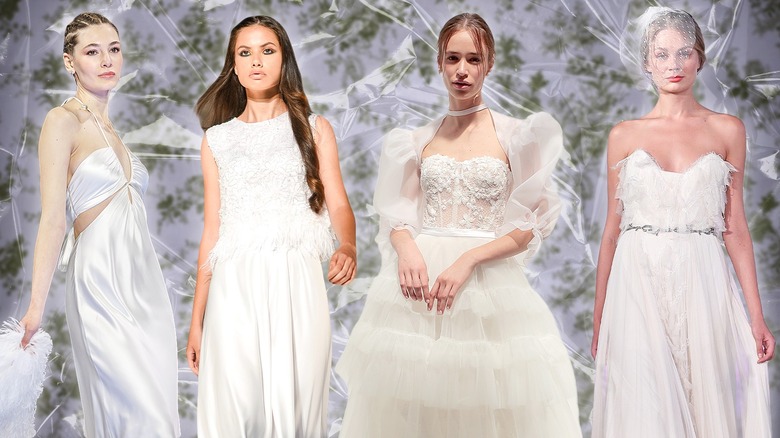 Static Media/Shutterstock/Getty
Bridal fashion may be trending for everyday styles in 2023, but bridal outfits look different in the 2020s than they did in the past. While many brides still opt for long, white wedding dresses, there are now more options available. As part of the emerging "anti-bride" trend, many people in today's society are choosing to wear whatever makes them feel happy on their wedding day, saying goodbye to the pressure to don more traditional bridal frocks. Just look at what some celebrities are doing!
For instance, Emily Browning's viral pink wedding look proves that brides don't have to wear white to look gorgeous on their big day. Moreover, Kourtney Kardashian's short white wedding dress shows that you don't need a classic long gown to embrace bridal beauty. So, why not take inspiration from these two by going a non-traditional route for your wedding look? The anti-bride approach isn't so much about being rebellious as it is about wearing what best reflects your unique style and personality on your special day, instead of conforming to outdated expectations. Thus, if you want to wear something colorful, short, edgy, or casual when you get married, just do it!
Try a pop of color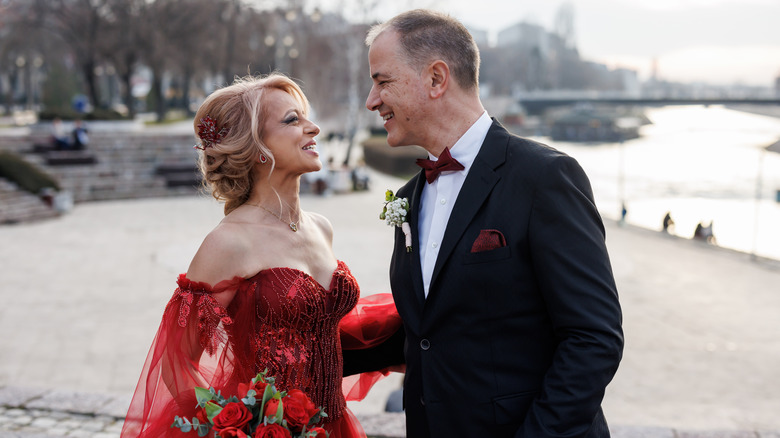 Bojanstory/Getty Images
Do you love pink, red, blue, or another hue? Or are you just not into wearing white clothes? If so, consider rocking a colorful wedding dress! Whether you choose a soft and subtle pastel or a bold, vibrant neon, colorful wedding dresses are just as beautiful as classic white options.
Or go edgy in black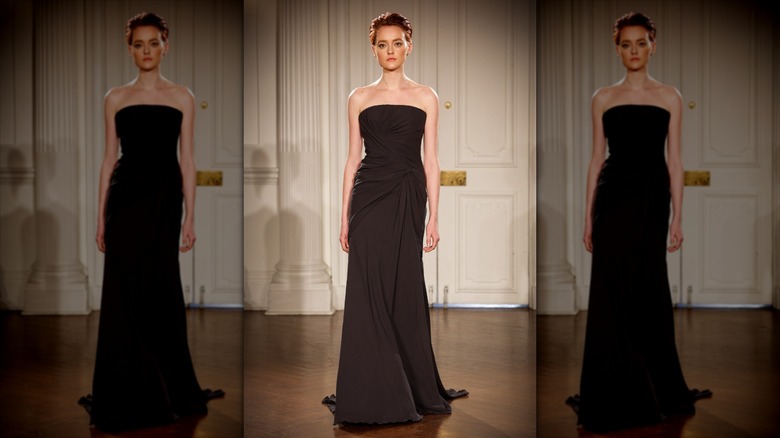 Thomas Concordia/Getty Images
On the other hand, dauntless brides who enjoy goth and punk looks and wear a lot of black should consider wearing a black dress on their wedding day. While black is edgy, it is also a sophisticated and elegant neutral color, making it a non-traditional yet still classy bridal gown option.
Rock a short wedding dress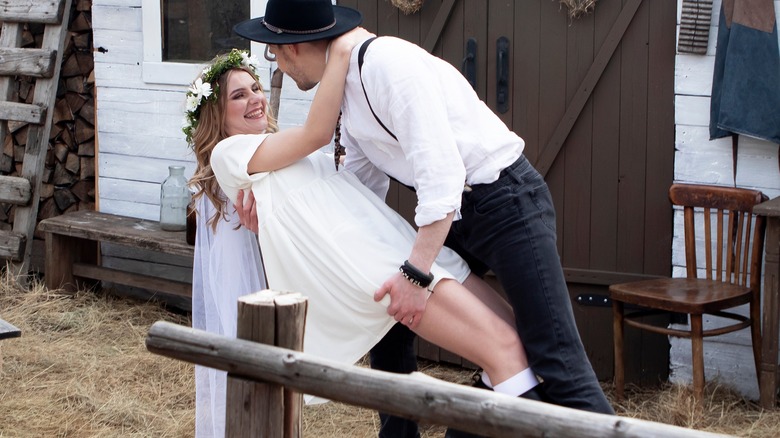 nata_fler/Shutterstock
If you love to dance and were inspired by Kourtney Kardashian's wedding look, you'll likely enjoy wearing a short wedding dress. Short wedding dresses are generally easier to dance in, less expensive, and more comfortable than traditional long dresses, making them a great choice for your big day.
Try a jumpsuit instead of a dress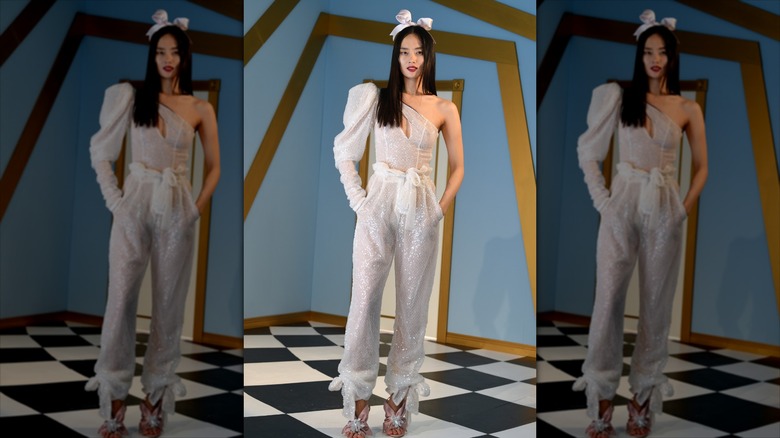 FashionStock.com/Shutterstock
Jumpsuits are an excellent alternative to dresses for work events, nights out, and weddings. If you feel more comfortable or confident wearing a jumpsuit instead of a classic gown, then go for it! Although there may not be as many options as dresses, with a bit of extra shopping, you're sure to find a great jumpsuit that suits you perfectly.
Experiment with sets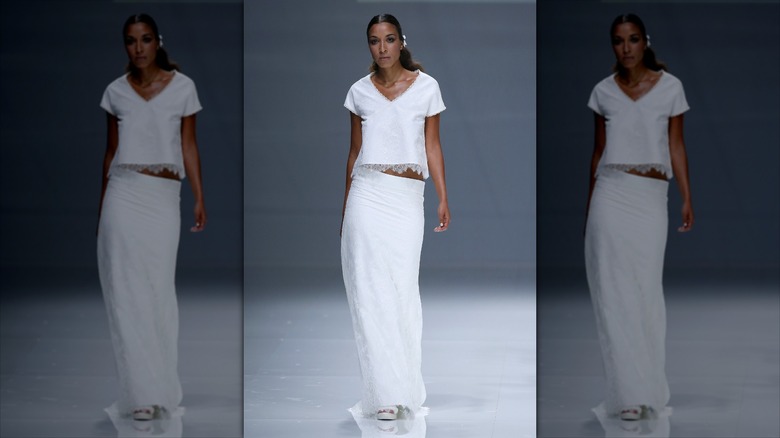 Estrop/Getty Images
If you enjoy monochromatic looks but don't want to wear just one garment (such as a dress or jumpsuit) on your wedding day, a set is a great option. Brides who prefer the classic white look can search for white sets, while those who want something more unconventional should explore sets in other colors.
Show some skin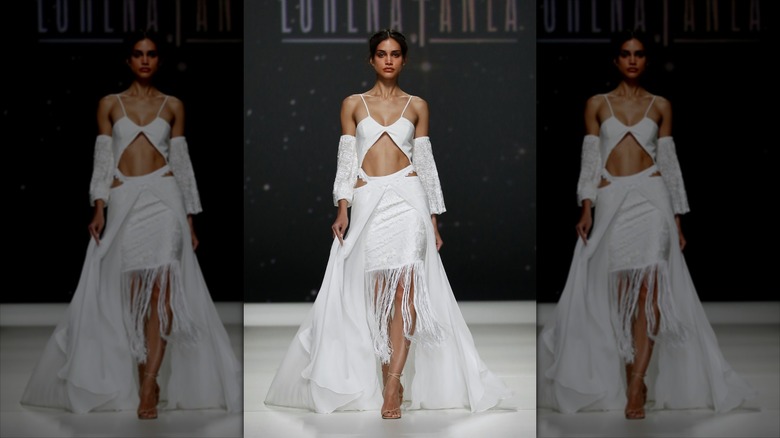 Estrop/Getty Images
There is no limit to how much skin a bride can show on her wedding day. If you feel most confident in garments that show off your figure and like wearing provocative pieces, feel free to go ultra-sexy on your special day. Look for options with cut-outs, lace-up looks, cropped details, low necklines, and anything else that makes you feel good and alluring.
Wear whatever you want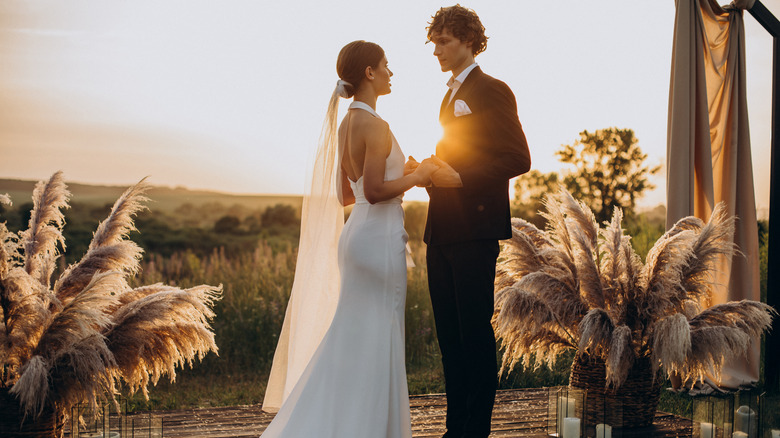 PH888/Shutterstock
The anti-bride trend is centered around the idea of wearing whatever you want to your wedding without societal pressure. Therefore, focus on wearing what makes you feel confident. After all, it's your wedding day, and you should be able to look back on your photos with happiness, thinking, "I'm so glad I wore that!"