The Stunning Style Transformation Of Ariana Grande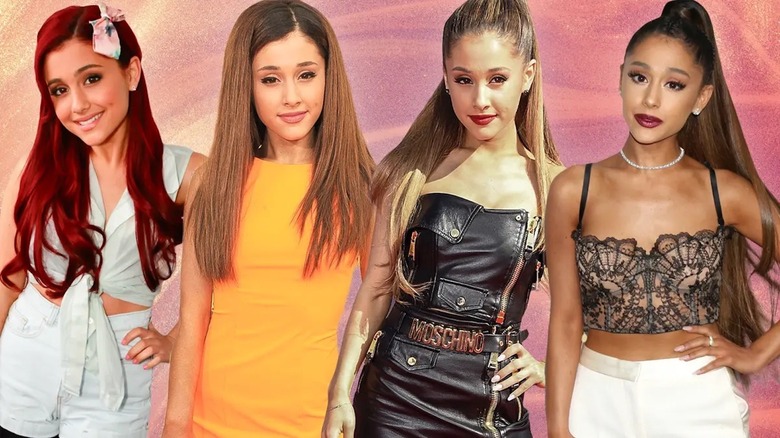 Static Media / Shutterstock / Getty
The conversations surrounding Ariana Grande have been heated, particularly in the early 2020s, with so many people focused on her relationship situation. Now is a great time to shift focus to more positive aspects of her life. Grande's fashion sense, makeup choices, hair colors, hairstyles, and overall way of presenting herself has continually changed and evolved over the years. 
By the time Grande became super famous, she'd already blossomed into a beautiful young woman. The transformation of her style has always been on point without any shocking dips or random bumps in the road. While some music lovers may argue that other singers like Miley Cyrus, Demi Lovato, and Lady Gaga have been through style transformations that are way more obvious, Grande has certainly made changes that are just as significant and noticeable. 
The "Thank U, Next" singer hasn't slowed down from releasing fantastic music for her diehard fans to obsess over. By that same token, she also hasn't slowed down from putting her best foot forward with her outward appearance, aura, and visual aesthetic. Let's take a deep dive into the style transformation of Ariana Grande starting from her earlier days in the Hollywood industry.
2010-2013: Ariana Grande embodied her Nickelodeon character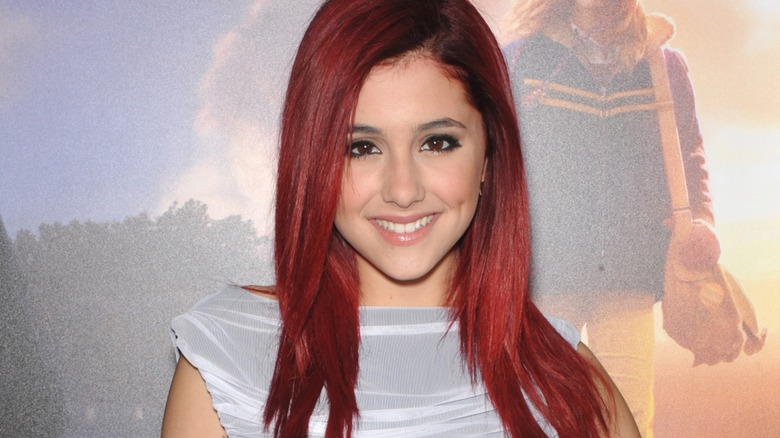 Featureflash Photo Agency/Shutterstock
Ariana Grande played the role of Cat Valentine on the Nickelodeon show "Victorious" from 2010 to 2013. Grande had a pivotal role alongside other actors including Victoria Justice, Elizabeth Gillies, and Daniella Monet. Cat was an incredibly ditzy character who spoke in a high-pitched voice. She loved socializing with her friends and singing whenever she had the opportunity. 
Cat ended up being such a beloved character that she landed a spinoff show called "Sam & Cat" with Jennette McCurdy. While Grande was taking on the role of Cat from 2010 to 2013, she truly embodied that Nickelodeon character. Cat typically wore her bright red, shoulder-length tresses in a half-up, half-down hairstyle. Since Grande's hair had to remain that color while filming episodes for both shows, she rocked the bright red hair color in real life as well. 
Unfortunately, dying her hair was incredibly damaging since she had to do it for so long. Toward the end of her Nickelodeon days, Grande opened up in a Facebook post, writing, "Since people give me such a hard time about my hair I thought I'd take the time to explain the whole situation to everybody. I had to bleach my hair and dye it red every other week for the first 4 years of playing Cat ... as one would assume, that completely destroyed my hair. I now wear a wig on 'Sam & Cat.'" Her clothing choices were kid-friendly, modest, and age-appropriate during this era.
2014: The singer embraced pop star energy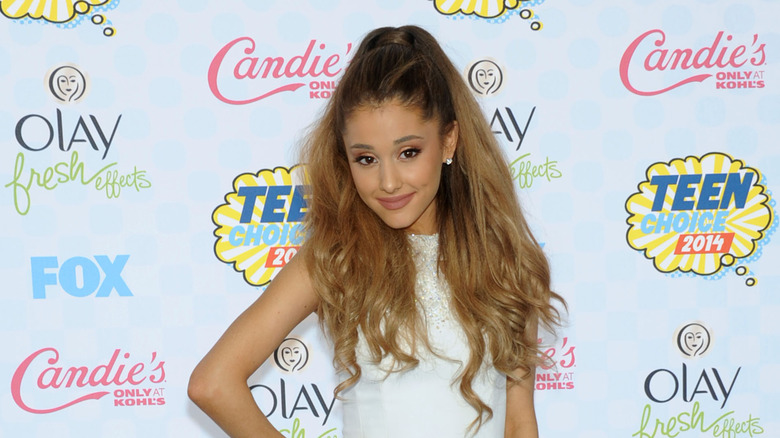 DFree/Shutterstock
Ariana Grande was ready to shed her Nickelodeon image by the time 2014 rolled around. Both "Victorious" and "Sam & Cat" wrapped, which meant it was her time to shine as a full-fledged pop star. This is the year she was finally able to ditch the bright red color and wigs for a more natural-looking honey-blond. Her signature ponytail was thoroughly established in 2014 as she began spending more time embracing her life as a pop star instead of an actor on a children's show. 
In the same Facebook post, she spoke directly to her fans who were starting to get annoyed about seeing her hair in a high ponytail all the time. She wrote, "I wear it in a pony tail because my actual hair is so broken that it looks absolutely ratchet and absurd when I let it down. It's all that works for now (AND I'm comfortable for the first time in years)." Although her signature high ponytail might not have been something she would've done on her own without dealing with seriously damaged hair, it had a positive impact on her recognizability.
Catching a glimpse of Grande meant seeing her iconic ponytail. In terms of fashion, she wore lots of edgy, revealing outfits while performing on stage. The album she released that year was titled "My Everything." The cover art featured the talented singer perched on a stool wearing a tiny black two-piece outfit with a pair of close-toed white heels.
2015: Her hair went dark, but she remained glamorous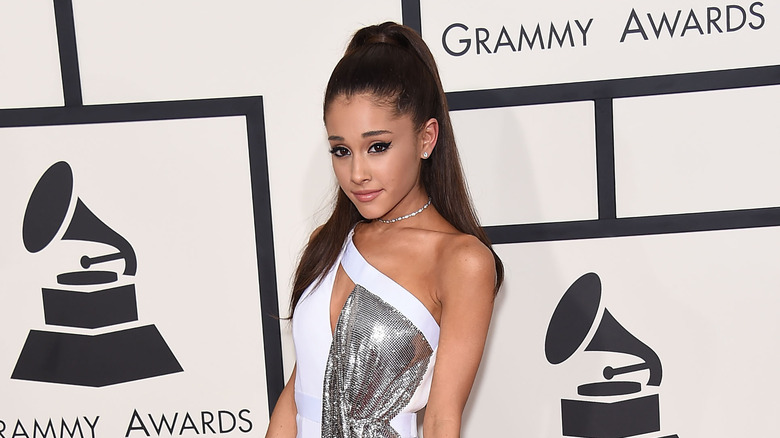 DFree/Shutterstock
By 2015, making hair changes was nothing new for Ariana Grande. Her hair darkened up that year, and she didn't always wear it in a high ponytail. Sometimes, she went for a classic bun at red carpet events. Her fashion sense remained graceful and elegant. At the 2015 Grammys, the singer stunned in a sleek white cut-out dress with a silver piece of fabric over one side of her chest. 
At the 2015 American Music Awards, she looked dazzling in a short dress featuring black lace, a pink overlay, and a floral print. Confidence is key when it comes to the way celebrities present themselves to the world, and this is something a Grande definitely had on lock. When a couple of radio DJs asked her a sexist question during a Power 106 radio interview, she was quick to shut them down. According to Vox, she was asked what she'd pick between makeup or her phone. She clapped back by saying, "Is this men assuming that's what girls would have to choose between?" 
She added, "I have a long list of things I'd like to change ... I think, judgement in general. Intolerance, meanness, double standards, misogyny, racism, sexism. You know, all that sh** ... That's what we need to focus on. We have got work to do ... We'll start with you, though." Nevertheless, 2015 was a wonderful year for her makeup looks with neutral lipstick shades, filled-in brows, and faux lashes.
2016: Dramatic makeup looks were the norm for Ariana Grande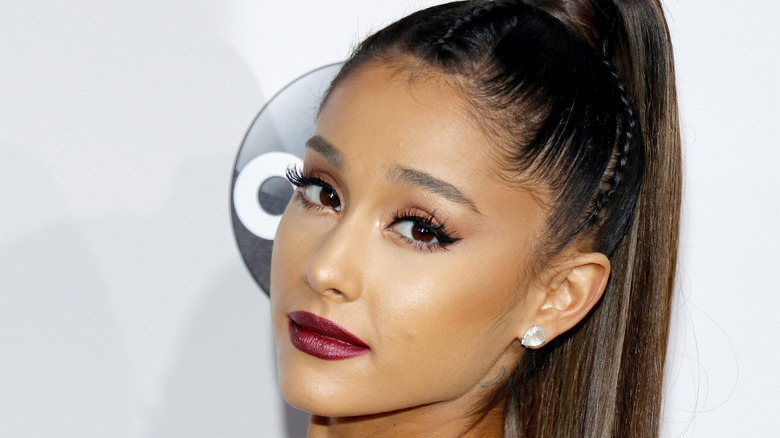 Tinseltown/Shutterstock
In 2016, catching Ariana Grande with a fully beaten face of dramatic makeup was fairly common. Whether the pop star was performing on stage or showing up for red carpet appearances, her makeup was often pretty notable. It was easy to spot her in dark eye makeup and dark lipstick while she was out and about. Her makeup at the 2016 Grammy Awards was show-stopping as she went all out with smokey eyeshadow to go along with her hot red gown. 
At the American Music Awards that year, Grande made sure her makeup paired well with her sultry outfit. Her purple-tinted lipstick was just as dark as her black eyeliner. She wore a lacy corset and white slacks with the utmost confidence. She also released "Dangerous Woman" that year. The album cover featured Grande rocking a leather mask with bunny ears. 
There's no denying that she looked absolutely "dangerous" with loads of edgy sex appeal. She opened up about her signature high ponytail in an interview with Byrdie to clap back against anyone with negative things to say about it at the time. She quipped, "Sh**, you don't like my ponytail? I'm gonna have it two times bigger tomorrow, and higher, tighter, more hair in there, too! Sh**, I'll crimp it! You ain't seen a crimp like this in 20 years!" Her statement reminded fans that her high ponytail wouldn't be going anywhere anytime soon.
2017: The lover-girl era was full of casual fits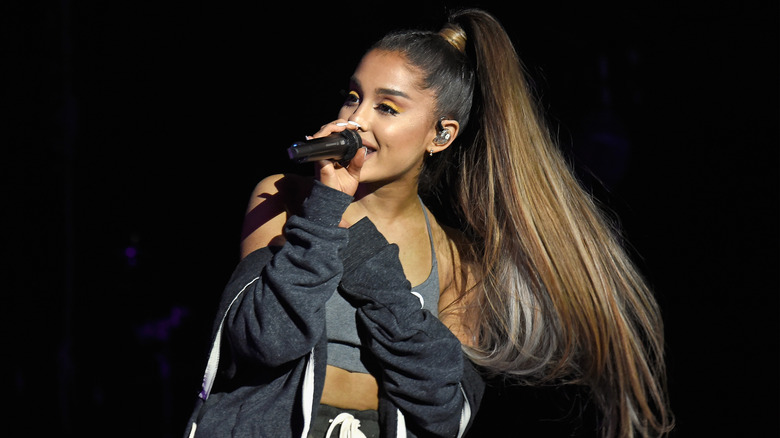 Kevin Mazur/Getty Images
Ariana Grande was deep in her relationship with Mac Miller in 2017, whom she dated from 2016 to 2018. Although she had other serious relationships before Miller with Graham Phillips, Nathan Sykes, Jai Brooke, Big Sean, and Ricky Alvarez, her relationship with Miller was constantly making headlines. One of the reasons was their collaboration on a hit single called "The Way." All this, of course, occurred before their breakup and Miller's untimely passing in 2018. 
In the midst of their romance, a lot of Grande's outfits were comfy and casual. Even a lot of the outfits she wore on stage were laidback. She hit the stage with Miley Cyrus in Manchester to perform a cover of "Don't Dream It's Over" by Crowded House while wearing a white sweatshirt, denim jeans, and boots. For one of her concerts in Charlottesville that same year, she performed wearing dark green cargo pants, a blue crop top, and a black hoodie that was completely unzipped. In plenty of her social media pics with Miller, she wore relaxed and easygoing outfits like overalls, baggy pants, and simple T-shirts.
2018: Oversized sweatshirts and boots were iconic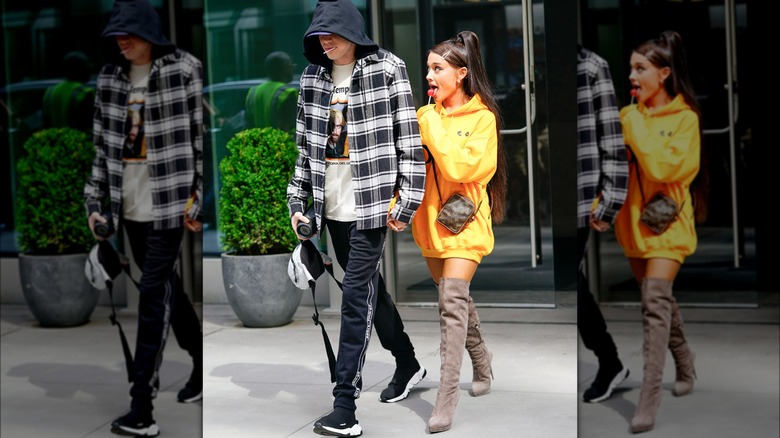 Gotham/Getty Images
While dating Pete Davidson, Ariana Grande was often spotted wearing oversized sweatshirts paired with boots. The iconic look was captured by many photographers at the time. According to Lyst, internet searches for oversized hoodies increased by 130% because of Grande's unbelievable influence. People who saw her casually running errands around her local area were obsessed with her aesthetic. The reason? Mixing something as casual as an oversized hoodie with something as classic as a pair of high-heeled boots creates the perfect balance that fashionistas can resonate with. 
Sometimes, Grande would accessorize her oversized hoodie and boots with a midsection satchel or fanny pack. Other times, she'd accessorize with clear tote bags and silver jewelry. Regardless of how Grande dressed up or dressed down her hoodie/boots 'fit, she always looked incredible. One of the most memorable photos of Grande from 2018 happens to be one where she's wearing a bright yellow oversized hoodie with brown boots while holding Davidson's hand. She simply licked her lollipop while looking up at her former boyfriend, and it caused a massive stir in the world of pop culture.
2019-2020: The age of super-long extensions and baby doll aesthetics
Ariana Grande rocked super-long extensions throughout 2019 and 2020. She bounced around between light hair and dark hair, but it was usually always pretty long. Just think about her look for the 2019 Grammys. She didn't actually attend the event due to a dispute with the show's producers. But still, would that pale blue, strapless Cinderella gown she wore in a series of since-deleted Instagram photos have been just as special without those excessively long extensions? Then, at Coachella 2019, Grande hit the stage to perform some her best music. At one point, she was even joined by Justin Bieber. 
The entire time, the extensions attached to her ponytail were on full display over all her exquisite outfit changes. Her style was on point with tons of two-piece outfits that showed off her toned physique. By 2020, she'd released her album "Positions" with a few music videos that showed off a baby doll aesthetic. The music video for "34+35" includes a super trendy baby doll dress that has tons of fluff over the bodice.
2021: The clean girl aesthetic was Ariana Grande's vibe
Simplicity was everything for Ariana Grande who gorgeously embodied the clean girl aesthetic in 2021. The amount of makeup she wore was minimized and her fashion choices were never exactly over the top. If you've never heard of the clean girl aesthetic, it's simply another popular trend that blossomed on TikTok and other social media platforms. 
The clean girl aesthetic typically means you look like you're fresh out of the shower and effortlessly beautiful without overdoing it with makeup, hair products, accessories, and excessive fashion pieces. The New York Post noted, "It consists of a slicked-back bun, light makeup, a fresh scent and easy-to-wear style staples." In 2021, the majority of Grande's Instagram pictures showed off the clean girl aesthetic with much less makeup than any year prior.
In tons of shots she posted, the singer was looking as barefaced and natural as possible. In one 2021 pic, she's seen squinting at the sun with her dog by her side. In another, she's wearing a cream-colored cut-out dress with a matching blazer to go along with her simple jewelry and white French tip nails. Her eyeliner looks precise, her lips are light shade of pink, and she doesn't have very much eyeshadow, blush, bronzer, or highlighter on her face.
2022: The wifey era was classy and timeless
Is there something about becoming a wife that changes the game when it comes to your entire style? Ariana Grande tied the knot with Dalton Gomez in the spring of 2021, which means she was in full-on wifey mode in 2022. During this time, the bulk of her Instagram pics showcased a classy and timeless vibe. Picnic table pattern skirts, over-the-elbow gloves, and all-white outfits from head to toe were the way to go for the "POV" singer. Grande isn't the only celebrity to cling to a more classic and timeless vibe upon getting married. 
Sofia Richie is another trendsetter who started dressing in a way that honors the "old money aesthetic" after tying the knot with Elliot Grainge. Maturity and modesty became more of a priority for these beauties after getting married. Grande's timeless and classy wedding day apparel featured custom silk platform heels designed by Giuseppe Zanotti. Her Vera Wang wedding gown was inspired by none other than Audrey Hepburn, and it's hard to be more classic than the legendary Hepburn. Although Grande's marriage with Gomez didn't last, as they separated in 2023, her wifey era was definitely worth writing home about.
2023: Ariana Grande is a blond beauty
Late in 2022 and continuing into 2023, Ariana Grande's posts on Instagram revealed that she's gone blond. Since she's playing Glinda the good witch in the newest version of "Wicked," this hair transition makes a lot of sense. In the original "Wizard of Oz" movie from 1939, Glinda wore her blond waves under a crystal-encrusted crown. Once the new musical feature film is finally released in 2024, seeing Grande taking on the persona of Glinda is going to be hugely exciting for her fans. 
We've already seen that Grande dedicates herself to roles when it comes to her appearance. Her time spent dying her hair bright red for Nickelodeon says it all. Now, she's diving in headfirst as Glinda, with reports that Grande is also rocking a new tattoo in honor of her role. Along with her newly bleached blond locks, Grande is showcasing a more effervescent and angelic vibe on her Instagram feed. 
Some of her pics look like she's just about ready to float up into the clouds with a group of butterflies and fairies. It's exciting to imagine how Grande intends to elevate her look as time passes. She's made several upgrades to her appearance over the years, whether it's by coloring her hair, adding tons of extensions, wearing more sparkles, getting new tattoos, or switching up how much makeup she wears. As long as Ariana Grande remains in the spotlight, style changes are bound to continue and inspire.