What To Keep In Mind Before Wearing Your Favorite Sneakers To Work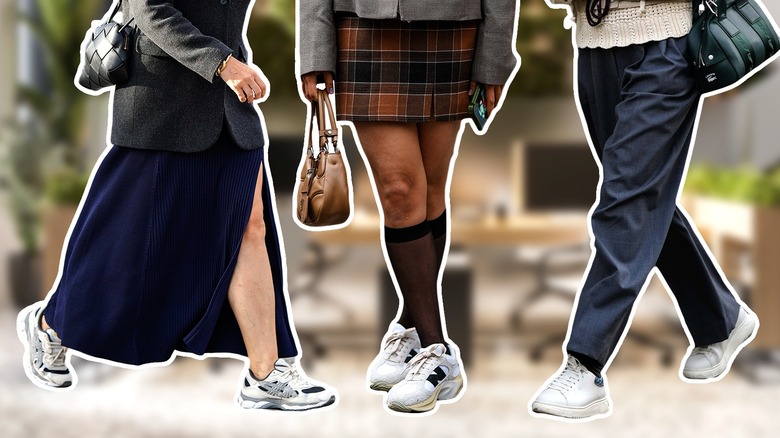 Static Media / Shutterstock / Getty
Once upon a time, business attire was a strict fashion niche hemmed in by very specific rules. For decades and decades, staples like suits, blazers, button-ups, and pencil skirts ruled the corporate roost, while more casual or adventurous garments were frowned upon. But finally, in the wake of changing styles, work arrangements, and attitudes, workplace fashion seems to be undergoing a long-awaited reckoning.
The slow slide into business casual has opened new horizons in what constitutes office-appropriate ensembles. Daring fashionistas are even turning yoga pants into business attire and finding ways to bring miniskirts into the office. And there's good news for sneakers enthusiasts: This experimental, boundary-pushing energy has extended into the realm of shoes. So long, pumps, and step aside, ballerina flats — sneakers are now joining the ranks of work-friendly footwear.
Hold on, though. While the advent of sneakers in the workplace is certainly exciting, picking the right sneakers for an office environment isn't as easy as throwing on your regular gym shoes. Whether you're eager to mix up your work wardrobe with chic and versatile black runners or a pair of good old-fashioned Chuck Taylors, styling sneakers for a professional setting requires a little thoughtfulness to ensure you end up sending the right sartorial message.
Stick to formal sneaker styles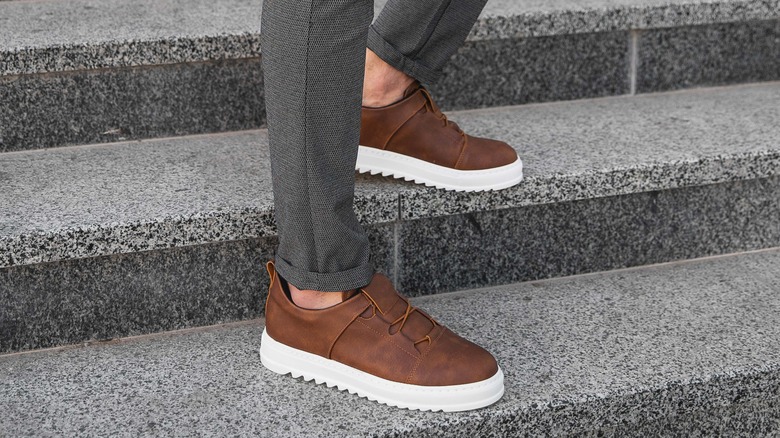 Alex Ageev/Shutterstock
It may seem strange to equate formality with sneakers, which have been quintessentially casual shoes since their inception. But nowadays the width and depth of the sneakers market includes unique styles for all occasions, including dressier shoe fashions that are perfect for exuding a professional vibe.
"For the office, you want to choose sneakers that are smart and reflect minimal flair," stylist Heather Newberger tells Marie Claire. "Premium materials like vegan leather always signify status, while metallics, platform silhouettes, and hints of color bring in more personal style." Newberger expounds that you're also better off with sneakers that have low-profile treads rather than chunky, sporty soles, demonstrating that the shoe is intended for fashion over athletics.
As for style, understated is always a win. Depending on your office environment, it can be tempting to play with bold shades — especially since colorful sneakers are having a moment. But if you're not sure how much you can get away with at your workplace, neutrals and earth tones provide a classy palette that instantly reads as professional. Materials and finishes can also play a huge role. Think about the type of fabrics you might encounter in traditional workwear, and how those could translate into a pair of cool, office-appropriate sneakers. Popular options include uppers that resemble leather, suede, or even wool.
Above all else, don't forget to keep the condition of your work sneakers in mind. To project a competent image, your sneakers should be kept neat and tidy at all times. Clean your sneakers regularly to remove noticeable scuffs and dirt, and don't hesitate to retire them from the work rotation when they begin getting battered or frayed. Save those pairs for your days off and prioritize only the sharpest sneakers in your arsenal for the office.
Don't overlook the importance of comfort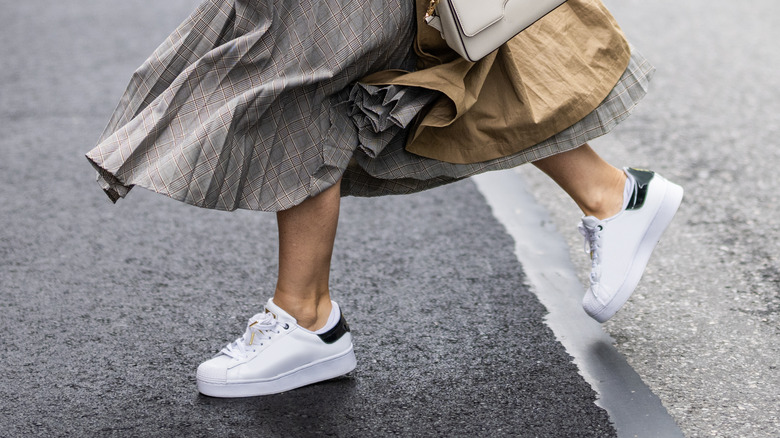 Extreme-photographer/Getty Images
The business shoes of yore haven't always placed comfort first. High heels, brogues, and even some flats have been valued for style over practicality, leaving workers to deal with sore arches, pinched toes, and the bane of heel blisters. So if you're now wearing sneakers to work, you're probably one step ahead in the shoe comfort game already. Still, it doesn't hurt to keep some sneaker tips in mind to ensure the well-being of your precious feet.
When it comes to work sneakers, fit is key. Begin by making sure that your shoes have a comfortable and roomy toe box. Cramped toes are not only uncomfortable but can contribute to ongoing issues like bunions, corns, ingrown nails, and hammer toes (per OrthoInfo).
To endure all-day wear, you also want work sneakers that provide a good cushion without looking like gym shoes. To strike the right balance, you may need to supplement the streamlined soles of your office sneakers with a good orthopedic insole. If your job involves a lot of walking or standing — such as at a standing desk — it may help to have particularly thick cushioning right beneath your heels.
Don't forget about arch support, either. You don't want to risk fallen arches, which can have a lasting and painful impact on your entire skeleton (via Advanced Foot and Ankle Specialists). So pick sneakers that cradle your foot closely. And if your new sneakers need to be broken in with a few hours of wear, try to do this in short increments outside of work. At the end of your workday, you don't want to be left achy and miserable in those new kicks — no matter how sharp they look.