Black Sneakers Are The Most Wearable Shoe Trend To Sport All Year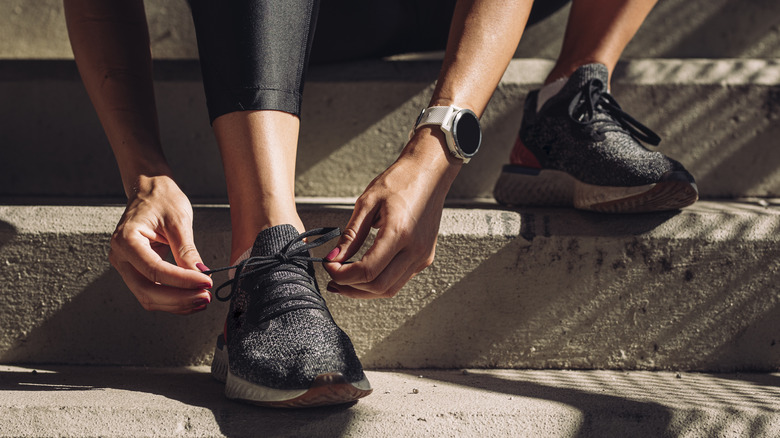 Freshsplash/Getty Images
When it comes to all-purpose, all-season footwear, white sneakers have been ruling the roost for years. Fair enough — a classic white sneaker will never go out of style when worn with the right outfit. But these aren't the only sports shoes perfect for fashions from January to December. No matter your style or the time of year, black sneakers are gorgeous and versatile mainstays that deserve to join white sneakers in your rotation.
When you think about it, black sneakers have all the adaptability of white sneakers, just in reverse. Where white shoes blend in, black sneakers create a focal point. And where white sneakers stand out, black sneakers fade into the shadows. They are like yin and yang, letting you complete any look with just the right amount of subtlety or attention-grabbing tone.
And as for wearability, black sneakers have one notable advantage that makes them even better than white sneakers for year-round use: Black sneakers are a lot easier to keep clean. Versatile, low-maintenance, and gloriously easy to style? It's time for black sneakers to take their rightful place in your wardrobe. If you're not sure where to begin working them into your looks, just explore these easy and imminently wearable ways to add black sneakers to any ensemble.
Impeccably chic for daily wear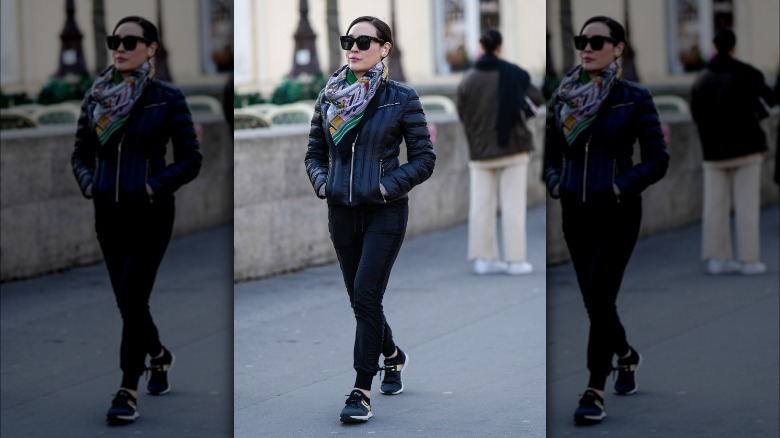 Edward Berthelot/Getty Images
First and foremost, you can't go wrong with black sneakers for your day-to-day outfits. Whether you prefer to rock high-tops, clunky and nostalgic Vans, or a pair of dark running shoes, black sneakers have the versatility to complement any casual ensemble. Unlike bolder statement shoes, there's no need to overthink the perfection of black sneaks. Simply throw them on as you head out for work, errands, or brunch with the girls, and marvel as your outfit comes together.
A natural fit for athleisure combos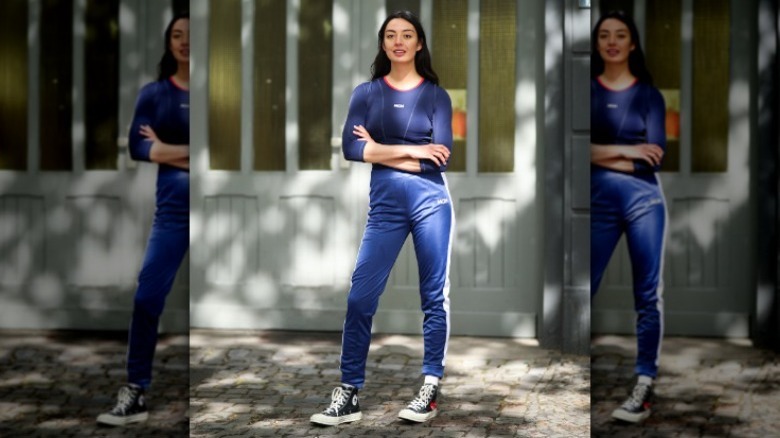 Jeremy Moeller/Getty Images
At their heart, black sneakers of all shapes and sizes were designed for an active lifestyle. So it should come as no surprise that they are the cherry on top of any head-to-toe athleisure look. Sportswear has become a dominant force in fashion, but accessorizing is key to bringing your athleisure sets to the next level. Paired with yoga leggings or a cute and flattering tracksuit, black sneakers seem to say, "I'm ready for action!" In short, they deliver much-needed punctuation for your sporty vibe.
An ideal alternative to heavy boots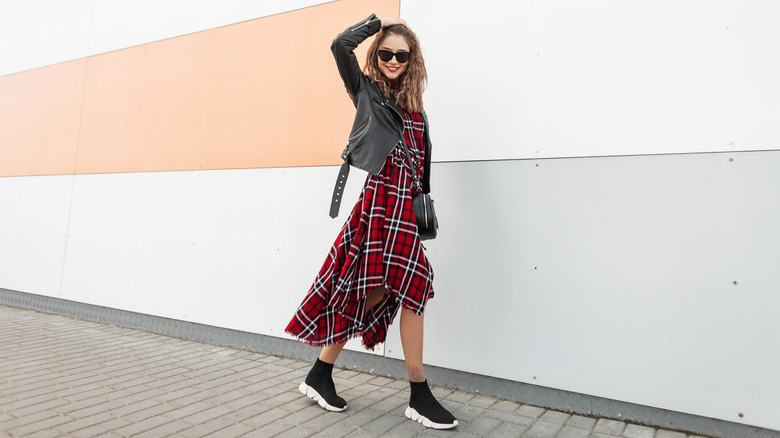 Alones/Shutterstock
If your style tends to skew toward grunge or punk, a chunky pair of black Doc Martens may usually be your go-to shoe choice. But black sneakers are a grunge-acceptable way to don footwear that's lighter, sleeker, and comfy for walking all day long. Especially during warm weather months, it's nice to have a sportier option in your repertoire. Black sneakers maintain your edge while bringing a little bounce to the equation — which is especially crucial for an aesthetic that can feel heavy with details like studs, plaid, and dramatic eyeliner.
With boyfriend jeans for effortless style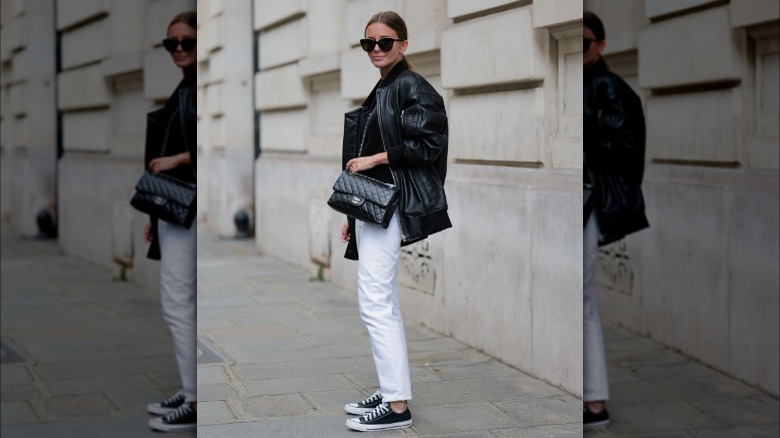 Edward Berthelot/Getty Images
Denim trends may come and go, but it's hard not to love the relaxed fit of your favorite boyfriend or bootcut jeans. The effect is effortlessly cool — which is why it requires equally easygoing footwear. Black sneakers offer a mixture of style and nonchalance that lets you dress your jeans up or down, depending on your mood. Add a luxury handbag for a night on the town, or keep it simple with sunglasses and a basic tee. Either way, the end result will look fresh and intentional.
The finishing touch for any streetwear look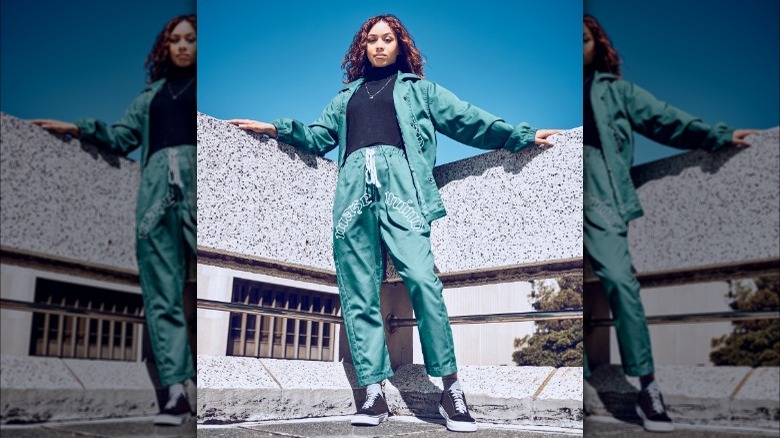 Peopleimages/Getty Images
Next to athleisure, the most natural pairing for any set of sneakers has to be a sharp streetwear vibe. Already, streetwear tends to blur the line between sportswear and high fashion, so a classically stylish pair of black sneaks more than fits the brief. Whether you're going for a baggy silhouette or bodycon to show off your curves, consider accenting your streetwear with black sneakers that feature a strong, eye-catching shape, like skateboarding shoes or super-thick dad sneakers.
A counterpoint to voluminous silhouettes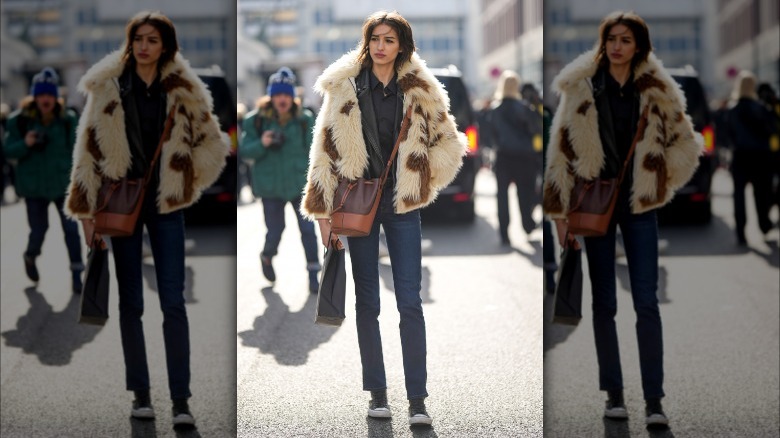 Edward Berthelot/Getty Images
Want an alternative to thick cold-weather footwear? The discreet finish on black sneakers plays well with the volume of winter garb, such as a fluffy faux fur coat or puffer jacket. Because the color and style of black sneaks are so subtle, they blend right into the streamlined silhouette of tights or skinny jeans and balance out the weightiness of heavy layers on top. In warm weather, they're also a sleek companion to the bold outline of an oversized shirt dress or anything with oh-so-trendy puffy princess sleeves.
A shortcut to outfits with attitude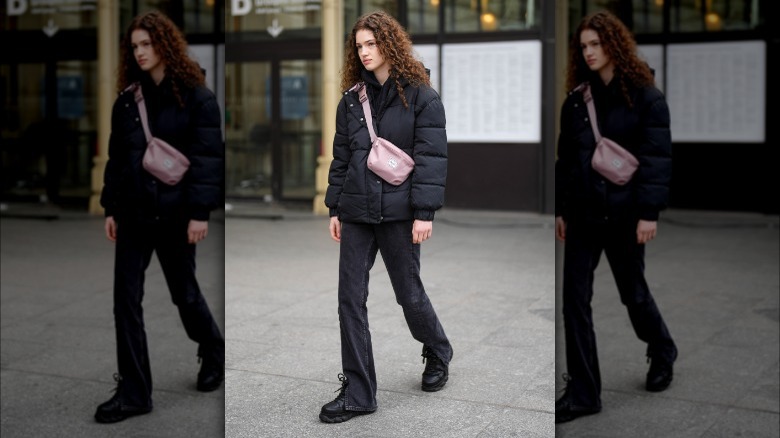 Edward Berthelot/Getty Images
Just because they're called "sneakers" doesn't mean that they have to play second fiddle to the rest of your outfit. Donning a pair of thick, oversized black sneakers infuses any ensemble with instant attitude. Pairing them with an all-black aesthetic will help you instantly put together an impactful monochromatic outfit while wearing chunky black sneakers with lighter colors will draw the eye downward and give your look a powerful sense of grounding.
A sporty addition to avant-garde ensembles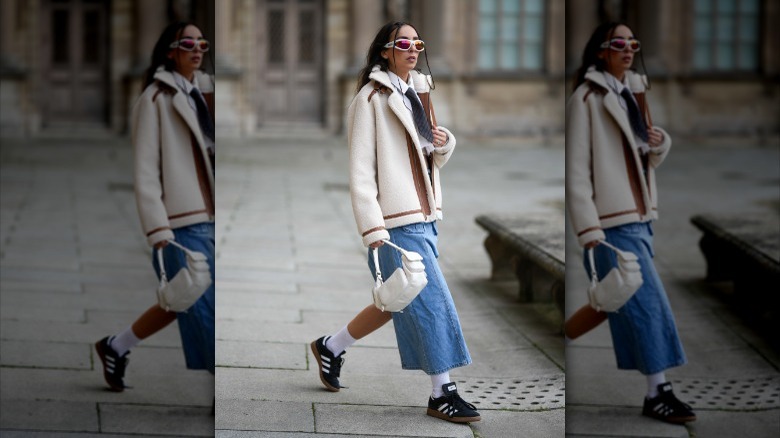 Edward Berthelot/Getty Images
One of the most fun parts of fashion is embracing the eclectic to create your very own brand of style. Like it? Wear it. With a little confidence, you can fearlessly mix and match pieces for an eye-catching outfit worthy of being termed "fashion-forward." But what shoes do you wear with an already busy outfit? Black sneakers are a foolproof way to add understated interest and a sporty edge without taking your look into costume territory.