Is Sephora's Loyalty Program Actually Worth It? Here's What To Know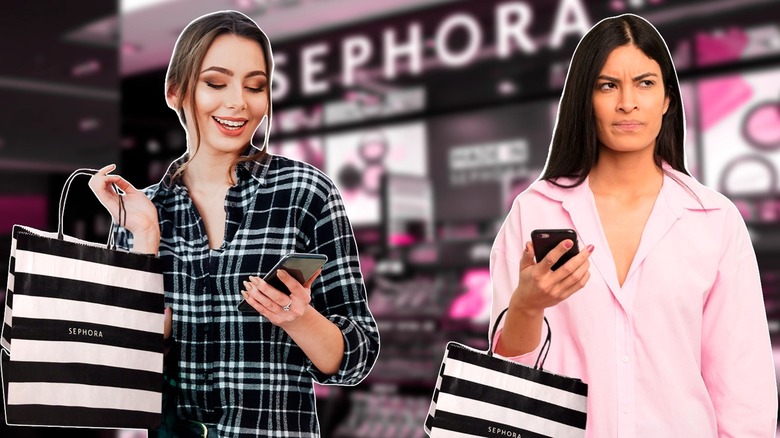 Static Media/Shutterstock/Getty
We may receive a commission on purchases made from links.
When you think about one-stop shops for beauty supplies, Sephora is naturally one of the first names that come to mind. Founded in 1969 in France, the global chain didn't make its debut in the United States until 1998 when it opened a location in New York City. Since then, many makeup mavens have flocked to Sephora stores all over the world (and online) to get their latest lip gloss fix, new beauty routine staple, or trendy item they never knew they needed. As if getting our hands on the latest beauty craze wasn't enough for us to go shopping, Sephora made buying its products even more alluring in 2007 by launching a loyalty program. The Beauty Insider program allows shoppers to earn points each time they check out, though it's unfortunately only available in North America at the time of writing.
Like all rewards programs, there are many perks to being a Beauty Insider. It's completely free to join the program, and the more you spend, the more benefits you get. While there's no harm in signing up for the program even if you rarely buy beauty products, you will have to spend a lot of moolah to get the most out of being a Beauty Insider.
Sephora's loyalty program can get you free swag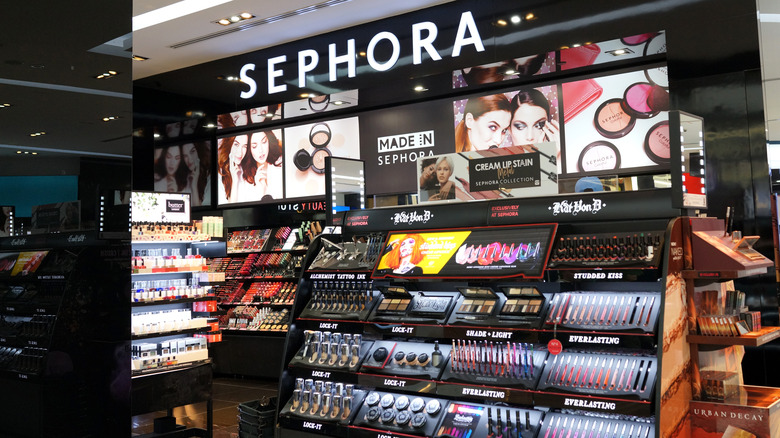 TY Lim/Shutterstock
According to the brand's website, Sephora's Beauty Insider program allows shoppers to earn one point for every dollar spent. While most of the perks are free products and discounts, members get $10 off their order when they accrue 500 points. Furthermore, the program is divided into three tiers: Insider, VIB, and Rouge. All three give you free standard shipping, discounts during special events, and a free birthday gift. The most basic one is the Insider program, which requires no minimum spending. This tier gives you 10% off seasonal events and twice the points during special events. 
Then, you can join the VIB tier if you spend at least $350 a year at Sephora, and you'll get 15% off seasonal savings events, as well as three points for every dollar spent during Point Multiplier Events. Finally, the highest tier is Rouge, which is accessible if you spend $1,000 a year, and it gives you 20% off and four times the points you'd normally get during Point Multiplier Events.
The rewards can be used for product samples and experiences — Sephora app exclusives, unlimited same-day delivery, exclusive events, and even early access to products for Rouge members — but if you have less than 749 points, you must make a purchase to redeem them. However, you have anywhere from 750 to 100,000 points, no purchase is required. VIB and Rouge members can get full-sized products, so there are potential advantages to spending more at Sephora. But is it really worth it?
Sephora's loyalty program doesn't give back too much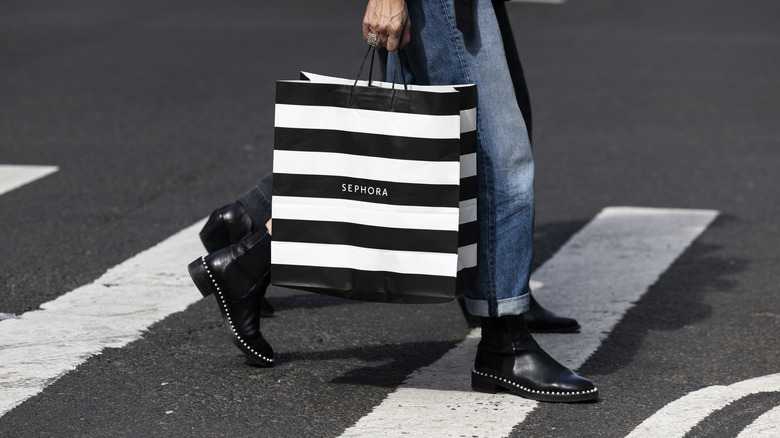 Bloomberg/Getty Images
One of the best things about Sephora's Beauty Insider program has long been its free birthday gift to members — after all, who doesn't like receiving presents for simply being born? However, the beauty retailer announced in May 2023 that members will have to spend at least $25 online in order to get their "free" gift, effective beginning June 1, 2023. One outraged user shared the email announcement Sephora sent to its Beauty Insiders on Twitter and wrote, "Burn Sephora down!" 
Still, while signing up for Sephora's Beauty Insider program is worth it for its bare-bones perks, the VIB and Rouge tiers don't offer enough incentives to warrant spending more. Shoppers get 15% and 20% off their purchases, respectively, but the discount likely isn't enough to justify spending at least $350 for VIB status and $1,000 for the Rouge tier, though this may depend on how often you shop at the beauty store. The Points Multiplier Events give higher statuses more points, but they only occur twice a year, which isn't enough to justify yearning for higher tiers. 
Ultimately, we recommend signing up and accruing points at the Insider tier, as we don't think you should fervently buy products to receive discounts that might not always add back up in your favor. That said, if you naturally reach the higher tiers due to your normal shopping habits, then enjoy it by all means!