6 Ways To Use Lip Gloss In Your Beauty Routine Outside The Ordinary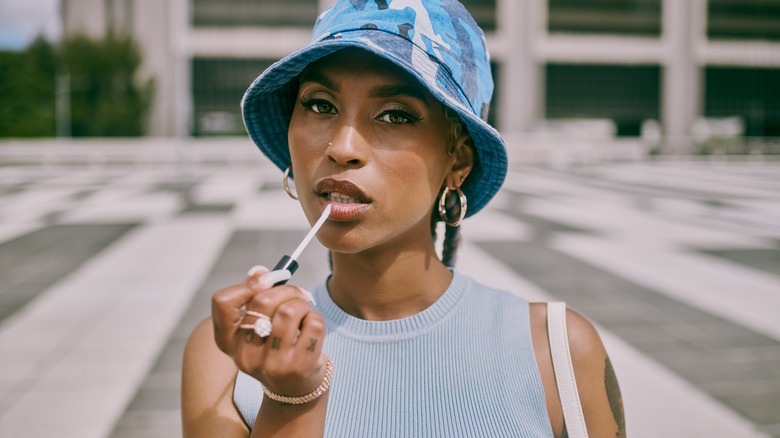 Delmaine Donson/Getty Images
Picture this: You're on a business trip or a solo vacation, which you are very excited about and packed meticulously for. Your outfits, bathroom essentials, and even some handy gadgets for the trip are all in your suitcase, except for your makeup bag. We imagine this is a tough bind you can only remedy by searching for the nearest Ulta or CVS on Google Maps and rushing there as fast as possible. But there's a better alternative. It turns out there's a pretty interesting makeup product that's versatile enough for a makeup look and likely always in your purse. It's none other than lip gloss.
Advertisement
As the name says, lip gloss is applied to give shine, luster, and a bit of color to your lips if that's what you're going for. And it can be used for other parts of your makeup routine too. Improvising and making do with what you have is such a huge part of makeup, like how blush can be used as an eyeshadow or how a swipe of lipstick can give your cheeks a nice flushed look. So, if you're like us and have a good stash of lip glosses with no use in sight, or you're in a bind with no makeup essentials or budget, here are six tested and trusted ways to use lip gloss in your makeup routine. And no, we're not talking about its original lip-luster purpose.
Lip gloss as a highlighter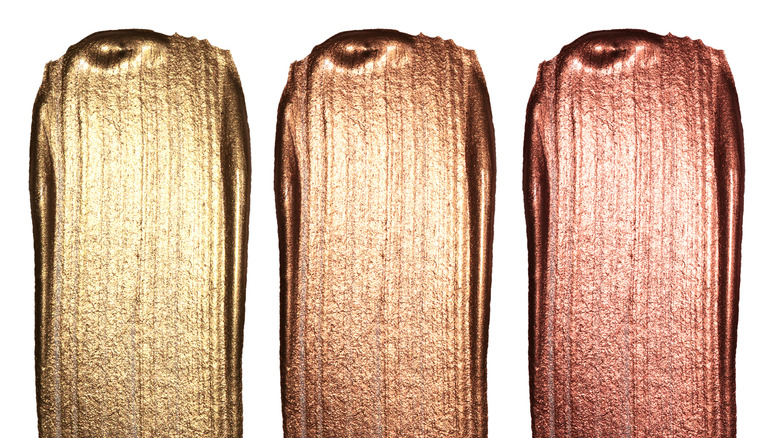 Ninell/Shutterstock
Do you ever randomly remember what makeup was like in 2016? The large beams of strobe-like highlighter on a full face of makeup? With our newfound love for subtle, skin-like finishes, it makes sense why we've dropped that for a more subtle, gentle approach to highlighter. Now we have fewer beamy streaks of shine and more emphasis only on a few parts of our faces. This makes lip gloss the perfect highlighter for that amount of highlight, especially shimmery and clear glosses.
Advertisement
You can apply clear lip gloss on specific areas to highlight them and create a dewy finish. These areas are the highest points of your face, like your cheekbones, the bridge of your nose, and of course, your cupid's bow. Because of its wet look and shine, lip gloss as a highlighter makes it appropriate for dewy makeup looks like glazed donut skin and our favorite, dolphin skin. Also, you do not have to limit yourself to clear gloss. Try shimmery glosses in different tints, like gold or purple, for a more iridescent highlight.
Lip gloss as blush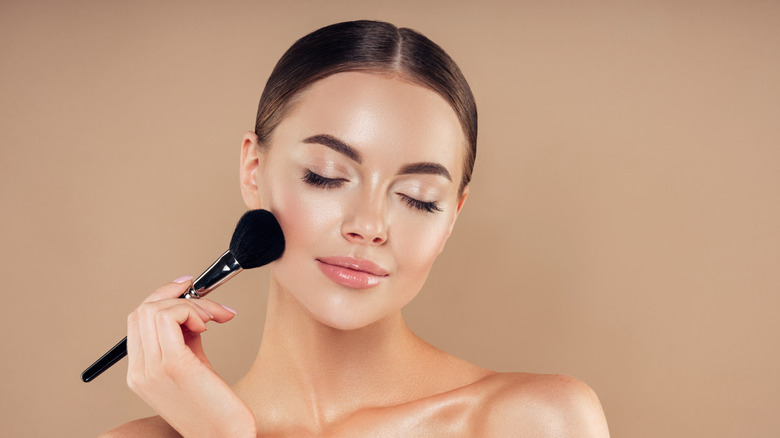 Coffeeandmilk/Getty Images
So maybe instead of clear lip gloss, you're a lover of color, and your makeup drawer is stashed with lip glosses of every shade — a sheer red, a dense purple, even a bright orange, the list goes on. Here's the upside to your never-ending collection: you can use them as blush! Colored or tinted lip glosses contain pigment, which can also give the flushed look blush is known for. But, of course, it all depends on the amount of coverage you're going for. For a subtle glow, try a lightly tinted lip gloss, and for a more intense flush, apply a few layers of a more pigmented gloss.
Advertisement
And just like with highlighter, you can also use lip gloss as a blush if your goal is a dewy, luminous finish. Don't believe us? Even TikTok beauty influencers like SlaybyJess love the quick blush alternative. Just swipe some on your cheeks and buff it into your skin with your fingers or your blush brush.
Wear it with your eyeshadow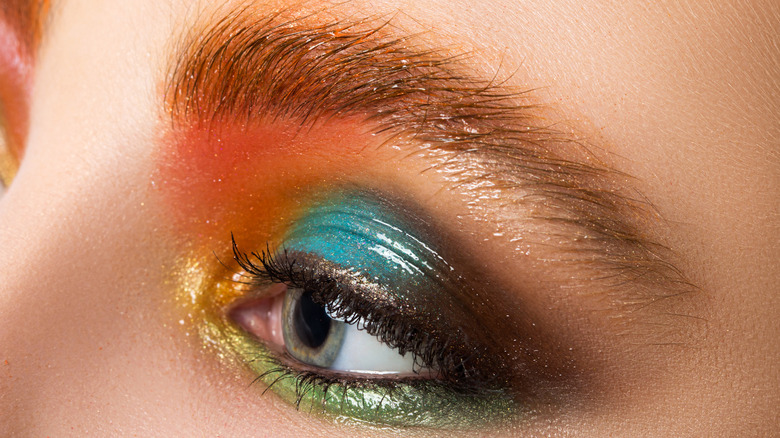 Dutko/Getty Images
Yes, eyeshadow! If you've been in the beauty space for some time, or maybe #BeautyTok, you've probably seen videos of people trying out the glossy eye trend. If you have no idea what that means, it is just as the name says — a wet eyeshadow look on your lids. If you're trying to achieve glossy eyes with no new products than an eyeshadow palette, look no further than your lip gloss. After applying your eyeshadow, preferably cream shadows, celebrity makeup artist Rommy Najor says to use your ring finger or a small, flat eyeshadow brush to lightly pat or swipe a layer of lip gloss on your eyelid, via Makeup.
Advertisement
Some creasing is bound to happen, but you can reduce this by using a light layer of lip gloss and focusing the gloss application a little away from the crease. Again, you are not limited to your clear glosses. Get creative with it and try tinted, buttery lip glosses or actual eye glosses like the r.e.m Beauty Eyeshadow Gloss in Midnight Shadows. Makeup is supposed to be fun, so let it.
Mix it up with some mascara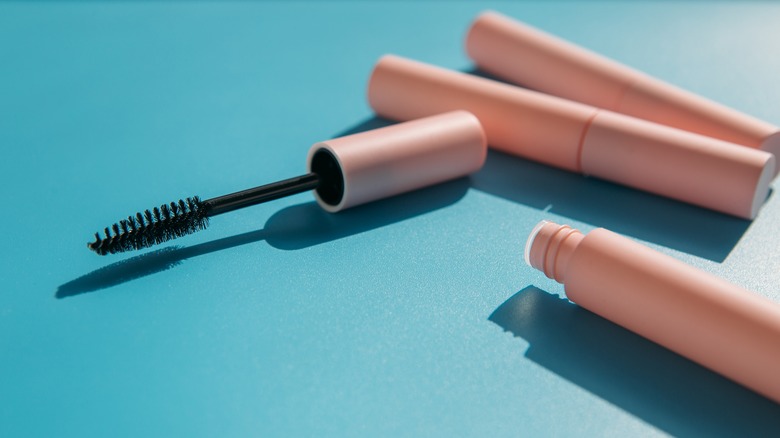 Alena Spasskaya/Shutterstock
We'll admit it: This one initially pushed the limits for us, but the fun part is that it works. Imagine it's almost Halloween again, and you need the perfect spooky yet sultry lip product for your costume. The problem is you can't find any black glosses that are sheer enough for your taste. Well, mixing your lip gloss and mascara might help with that problem. The result? A thin, cherry-like black lip gloss that's perfect on almost every skin tone.
Advertisement
Other than mixing your mascara and lip gloss to make a whole new cherry-bomb-but-make-it-emo shade, you can apply your lip gloss onto your lashes as mascara when you're in a bind. Lip gloss adds more luster to your lashes, making them as noticeable as a few coats of mascara would. However, we're not big fans of this hack, as lip gloss can be sticky and cause the lashes to stick together. My Beautiful Flaws also adds that lip gloss on your lashes will not last throughout the day, so that it might be a tacky alternative.
Personalize your lipstick collection with glosses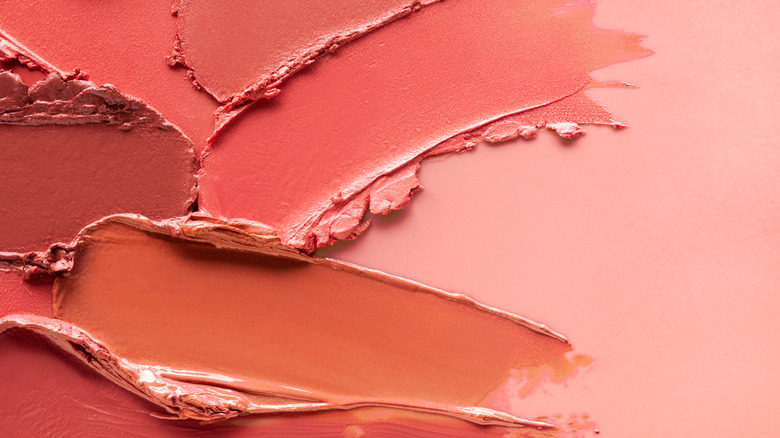 fotaro100/Shutterstock
We can not count the number of times we've seen a makeup look and wanted so badly to recreate it, and we imagine it's the same way for you. Whether it's a pink gloss we saw on a beauty influencer or a nude lip on another, we're ever ready to recreate lip looks. The only problem is we barely have the budget or the space to sustain our every makeup whim. Plus, lipsticks can be on the pricey side. But not to worry, lip gloss can save the day; it only takes a little mixing.
Advertisement
You can create several lip shades by mixing your lip gloss with some blush or eyeshadow of your choice. For example, if you're going for a purply holographic lip look, try mixing glittery purple eyeshadow with your lip gloss. The same goes for any other lip look without breaking the bank.
Wear your lip gloss as eyeliner and brow gel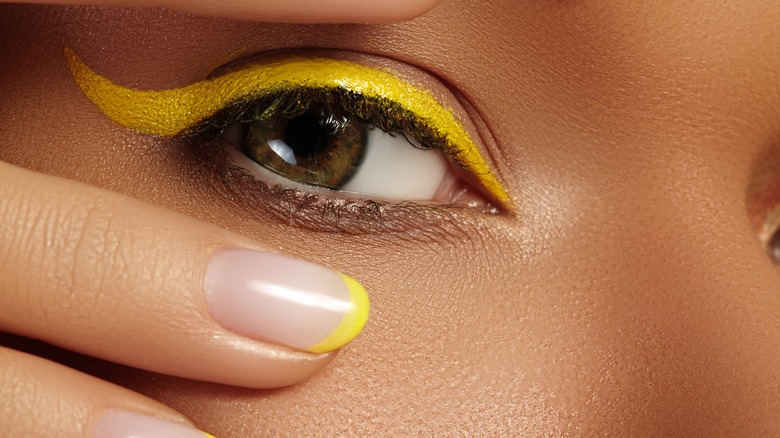 marinafrost/Shutterstock
Just when you thought lip gloss couldn't be more versatile, it comes with another routine-worthy hack. It might be a surprise, but you can use your lip gloss as — wait for it — eyeliner. You can use metallic or shimmery bright-colored glosses for a colorful, pigmented liner. Just dip a flat or liner brush into your gloss, and apply it close to your lash line.
Advertisement
And for more on the eyes, try your lip gloss as brow gel, especially the sticky ones. Using a spoolie brush and light pressure on your hand, you can brush your eyebrows with clear gloss for that laminated brow look. Of course, a brilliant alternative for this is a lip balm that holds brow hairs better and moisturizes simultaneously. But if you're in a bind, lip gloss is a great way to tame your brows.
While it's fun to experiment, it is necessary to note that cosmetic formulations are made for specific body parts for hygiene and health reasons. These tips are best for moments when there are no alternatives, so you might want to slow down on using lip gloss as mascara all the time.