The Diamond Haircut: What Is It & What Are The Benefits?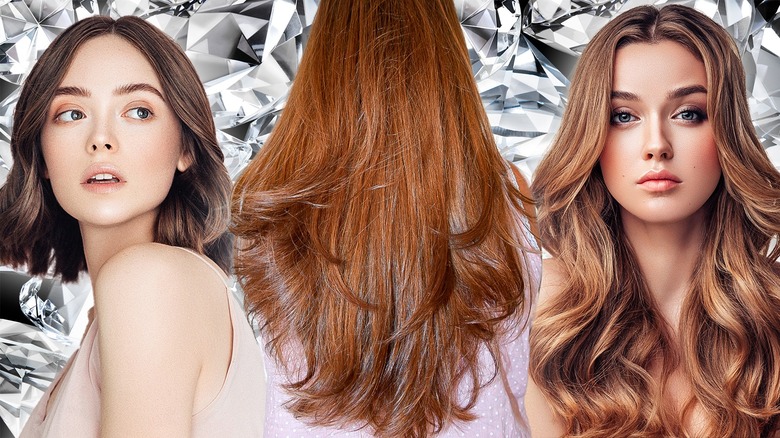 Static Media/Shutterstock
Between the trendy short layered bob and texture-heavy shattered layers, we love haircuts with layers. Of course, there's nothing wrong with the classic blunt bob or silky one-length long tresses, but layers can add more life and excitement to our locks, helping them seem bouncy and fresher. Every hairstyle with layers is beautiful in its unique way, but Michael Van Clarke's diamond dry haircut offers layers that look as dynamic as a genuine diamond's sparkle — the intentionally dry cut embraces movement tailored to each wearer.
"You want your hair to move, and a wet cut designed for bobs is actually causing it to hang lifelessly," Van Clarke told Refinery29. "So often with simple, wet cutting, the client is in the dark. Styling after a wet cut covers a multitude of errors and then the problems fall to the client once they wash their hair at home." Therefore, the hair expert's method of cutting elaborate layers into dry hair based on its natural shape leads to more movement in the hair and caters to each client's specific hair type and need.
Michael Van Clarke makes magic with the cut
Anyone who wants more clarification regarding how the diamond haircut looks with visual examples of the process should check out Michael Van Clarke's TikTok page. For example, the hair expert shared a video featuring a client starting with messy, grown-out curtain bangs and getting a diamond cut. Narrating the experience, the client explained that the diamond cut strategy helps the hairdresser better get to know and work with her hair.
Moreover, the client notes how it's best when hairstylists take their time and focus on the haircut with this technique — as Van Clarke does — rather than trying to force awkward conversation. The results were ultra-bouncy dynamic layers and soft bangs. There's another video Van Clarke posted to his TikTok page working his diamond haircut magic — this time, sharing the benefits of the diamond dry-cutting technique.
"So if you were sculpting something, you want to see it in its natural state ... and that's the same with hair. You want to see what it's doing in order to carve the best, the most optimum shape," he says in the video. "The idea of cutting hair wet and flat ... only really works for one-length hair. It's why a lot of people have their hair cut and then struggle with their hair when they get home. Every haircut we do is individual." By doing the diamond-cutting technique, you not only have bouncier hair, but it makes styling it at home easier since it is tailored to you. 
Diamond haircuts are all over TikTok
Although we can't help but share Michael Van Clarke's videos about diamond dry haircuts, since he created the particular trend, other people are getting excited about the look and sharing their spins on it on that social media platform. For example, hairstylist @thesavvytouch posted a video doing the technique on a curly-haired beauty, proving that this technique works on all hair types, from straight to curly. The TikToker took her time to cut layers into the super curly hair, and the results were "beautiful, luxurious, and what we need," the hairstylist says in the voiceover. 
Moreover, @diamondcutstudio posted a video showing the transformation from dry, damaged-looking long hair to a much livelier diamond haircut. This video also featured a significant change in hair color from what appeared to be faded purple to vivid red, which added to the layers' dramatic effect. Plus, @parbatipoudel301 shared a video of what looks like one of the most voluminous and face-enhancing diamond haircuts we've ever seen! So, are you ready to get the bouncy diamond layered look?