What Is Temu And Are The Deals Legit?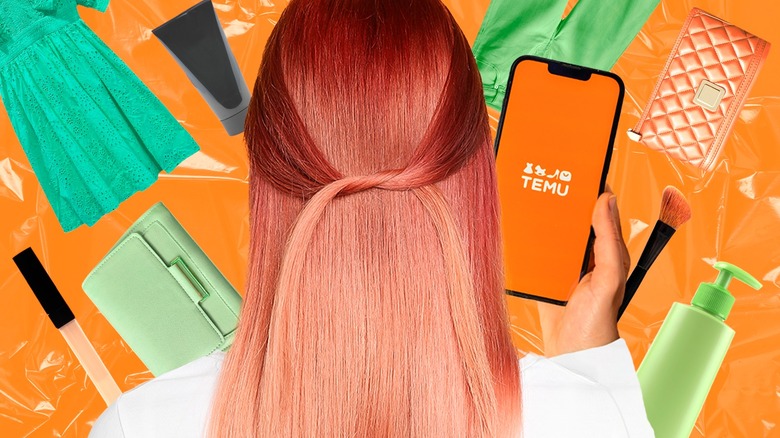 Static Media/Shutterstock
Just after the winter holidays in 2022, Mariah Carey's "All I Want for Christmas is You" was still topping the pop charts. Some fan favorites just never change. In the app world, however, a rising new star was taking over the Apple App Store and Google Play alike: Temu.
According to Time, the mobile version of the shopping site became the most downloaded free application within just four months of its launch. With its bright orange logo and jaw-dropping prices, it certainly captured attention.
Its widespread popularity (and its eventual Super Bowl commercial) might seem to lend it some credibility. Apple also has a history of deleting any listed apps that turn out to be fraudulent ... although they don't always catch them right away. If you've been filling up your cart but are hesitant about swiping your card, there are a few things to consider about this up-and-coming company and the real cost of its deals.
The rise of Temu in the U.S.
Temu's position on the App Store charts at the end of 2022 spoke to its growing, worldwide popularity. The Chinese app made a more prominent impression on American consumers, however, following its purchase of an advertising placement during the Super Bowl. The 30-second spot invited viewers to "shop like a billionaire" and aired during the first and third quarters of the championship game.
The app's entrance into the American marketplace was further aided by brand partnerships between Temu and U.S. influencers. Popular creators have made hauls or tutorials featuring Temu products, including James Charles. His YouTube video "Trying the World's Cheapest Makeup!" garnered over 1.5 million views and included a discount code for the already dirt-cheap products. Many of the makeup items in his beauty routine cost less than a dollar.
While he was just one of many creators to sing the site's praises, some fans were still skeptical. "You should have told your viewers to be careful buying cheap makeup online," one wrote in the comment section. Others raised concerns about the safety of products' cheap ingredients — an especially important concern when buying items for your face.
What can you buy on Temu?
Beyond makeup, Temu's shopping categories include everything from clothing to luggage and musical instruments. While many of the small clothing items and home gadgets don't seem too out of place, the website also has a robust "cell phone" category. Many of the product images resemble the latest iPhone, priced at less than $100 at the time of writing.
The fake iPhones are dubious in terms of tech, but not entirely unexpected. Like its predecessor Shein, Temu seems to take "inspiration" from many name-brand styles and the original work of smaller designers. While Shein's fashion lookalikes have sparked myriad legal controversies, Temu has yet to face the same level of scrutiny. One reviewer tried out Temu's take on a discontinued LEGO kit and wasn't actually too disappointed, per Zdnet.
In general, it seems like Temu would be the ideal marketplace for shoppers who are looking to go on an affordable spree — with the understanding that you won't be getting the quality of the name brands that they resemble. But will they really come at that much of a discount?
Are Temu and its prices legit?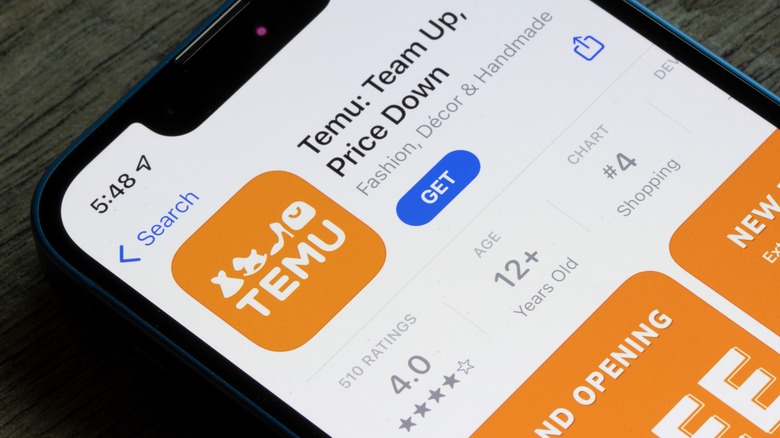 Tada Images/Shutterstock
Temu's endless barrage of products are often listed at shockingly low prices. They seem to constantly be running sales, as well, with low price tags slashed out and replaced by even more outrageous deals. It's natural that a discerning shopper, who grew up in the age of Shein and Wish, may be concerned about the legitimacy or quality of the products.
The answer to if the prices are "real" is . . . complicated. While there haven't been widespread, substantiated reports of credit card fraud through the company, some users have reported never receiving their items, and complained of unresponsive customer service. Others, who downloaded the app after seeing advertisements of great deals, found that prices for certain items were higher in-app (via CBS News).
The reason for Temu's low prices is also complicated and debated. The retailer says its name derives from the idea of "teaming up and pricing down." Temu purports to connect sellers directly to manufacturers in order to offer a wide variety of goods at less expensive, wholesale prices. This may seem like a compelling explanation, but the quality and conditions of the manufacturing warehouses aren't as clear-cut.
Temu's quality problems
You're hard pressed to find an item on the Temu website that has earned less than 4.5 stars. The company's page on the Better Business Bureau, however, tells a very different story. The BBB is a nonprofit that hosts consumer complaints and helps shoppers to make wise marketplace decisions, and Temu has an average rating of 2.5 stars.
While some reviews are positive, others complain of packages not arriving, items being damaged, or the quality being subpar. Some consumers have also used TikTok to air their grievances — with the topic of "Temu fails" garnering over 40 million views. TikTok creator Brad Wilson showed off a pair of "jeans" which turned out to just be a jean pattern printed on thin, cropped leggings.
Of course, you also don't have to look too hard to find shoppers who were perfectly happy with their purchases. At the end of the day, it comes down to what risks you're willing to take (and perhaps what you're willing to overlook).
The ethical cost of great deals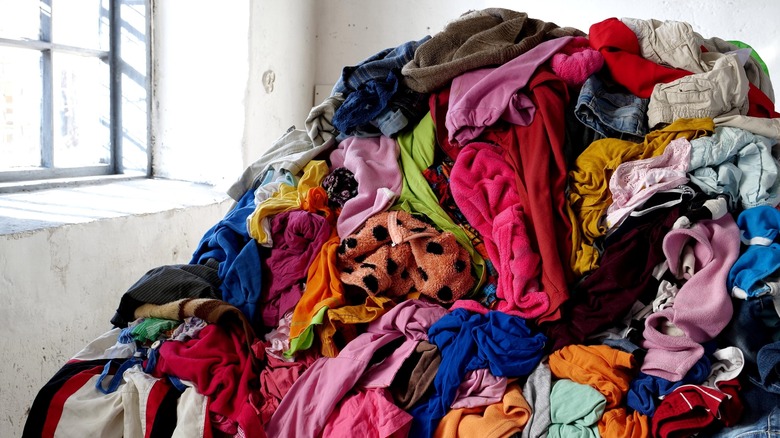 RymanStudio/Shutterstock
The low prices of Temu have naturally caused some consumers to question how the app is making money. Where are they cutting costs to ensure that shoppers get the lowest possible prices? It's worth noting that Temu does not have its own factories — instead, it connects consumers with manufacturers around the world. This means that Temu itself is not running sweatshops or engaging in forced labor. However, the startlingly low prices and the limited transparency or oversight about where these products come from may raise some questions for discerning consumers.
Temu also isn't a great option for those hoping to ditch fast fashion or cut down on consumer waste. You may be willing to risk a product breaking or wearing down quickly for a low price, but the garbage resulting from the low-quality goods and the packaging used to ship a Temu shopping spree prevent larger environmental burdens. While Temu advertises that it practices social responsibility and environmental sustainability, no details are provided about how these missions are fulfilled, per Brightly. 
Is Temu a good shopping choice?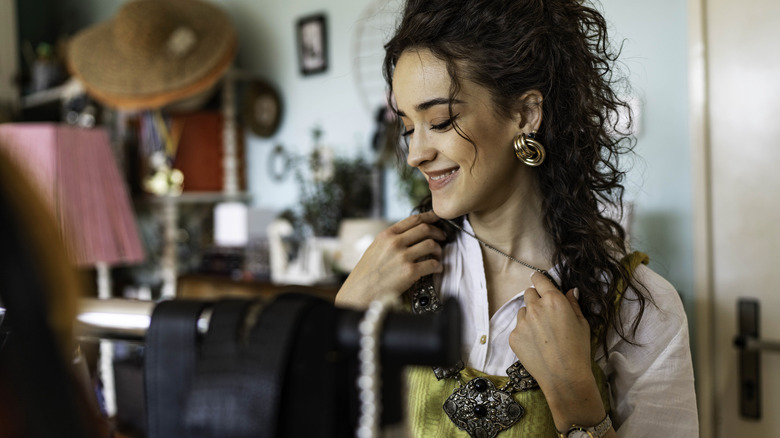 Gorica Poturak/Getty Images
There's no shame in wanting to shop like a billionaire. Influencer culture and the rise of social media has made it easier than ever to feel like you're falling behind, missing out on trends, or not doing enough. Websites like Temu and Shein have also successfully emerged to fill a need for affordable and trendy plus-sized clothing — a fashion market that is too often neglected by mainstream brands.
We shouldn't be too quick to bash or dismiss websites like Temu. However, those who are concerned about the ethics or quality should also know that there are other options. Americans are reported to throw away around 14 million tons of clothing each year, and thrift stores or resale apps like Depop and Poshmark offer discounted goods and cut down on clothing waste. While the app store ranking of Temu might suggest it is a must-have app, we probably don't actually need it ... or its jeggings.