How Barbie's Beauty Looks Have Evolved Over Her 60+ Year History
From her unforgettable beauty looks to her even more impressive list of careers, Barbie is one of the most iconic dolls of all time. Whether she's taking a trip to space, running for president, or just relaxing in the dreamhouse, Mattel has always made sure that Barbie's beauty looks are on point. Often seen with her signature long blond locks, a beautifully bedazzled outfit, and enviably matching accessories, Barbie's influence over the toy world is so great that she's even earned her own Pantone shade of pink.
While Mattel has reproduced Barbie's likeness in many different forms, from life-sized styling heads to makeup kits, the classic doll is usually known for her big blue eyes, pink lips, and sculpted brows. However, Barbie didn't always look the same as the dolls you find on the shelves today. Beginning with her classic ponytail hairstyle as creator Ruth Handler's reimagining of a German doll, Barbie is no stranger to the changing beauty trends each decade brings.
Looking at Barbies from bygone eras is not only a fun way to read up on her long history but can actually tell us a lot about what was in style. The evolution of Barbie, from her humble beginnings at the 1959 American Toy Fair to Malibu Barbie's Cali girl style, has varied but has always been one of vibrant style. 
1959: The birth of Barbie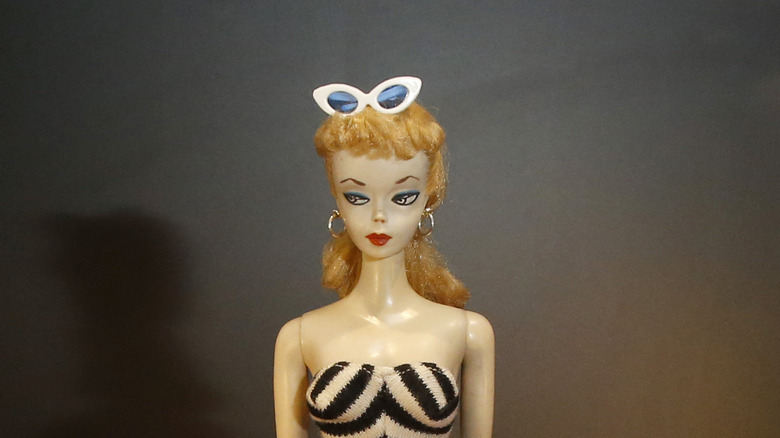 Gabe Ginsberg/Getty Images
Although the Barbie you know today debuted in 1959, she arrived on the toy scene looking a lot different. Inspired by a trip to Switzerland, Handler based the first Barbie around the design of a German doll named Bild Lilli. 
With heavy eyeliner, Cupid's bow red lips, and thin '20s-style eyebrows, the first Barbie was created as a rework of a more mature model. This doll is still renowned in the public eye for her design, however, with the iconic chevron-pattern swimsuit worn by the original Barbie being heavily coveted by Barbie fans and doll collectors alike.
1963: Barbie's many faces
The '60s was a decade of great change, and Barbie was no exception. While the doll's face model stayed he same,  Mattel began to experiment with Barbie's styling and fashions as she worked her way into the public eye. The Fashion Queen Barbie released in 1963 came with three changeable wigs for Barbie to try out. No longer limited to her signature blond look with bangs, this Barbie came with blond, brown, and auburn hairpieces. A doll that is nowadays less well known, Fashion Queen is notable for her style and love of customization. 
1971: Malibu Barbie is born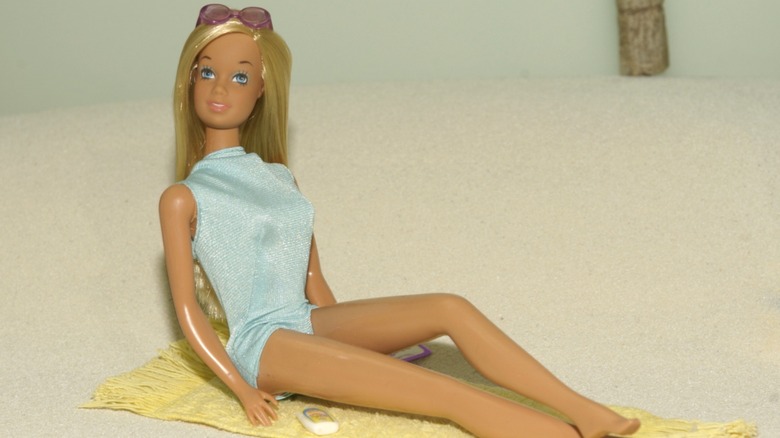 Lawrence Lucier/Getty Images
The 1970s saw the rise of beach culture and a celebration of West Coast vibes. Mattel decided to tap into this with the birth of the Malibu Barbie in 1971. As her name suggests, this Barbie is known for her deep tan (even featuring tan lines for the first time in 1978!), bleached blond hair, and a more casual beauty look. Around this time, Barbie's face mold was adjusted also to have a rounder smile and more visible teeth, giving her an overall happier appearance compared to the Barbie of 1959.
1975: Olympian fashions
 The '70s were also momentous for marking Barbie's first trip to the Olympics. Eager to join in with the build-up to the 1976 Montreal Games, Mattel released Gold Medal Barbie in 1975. Featuring a red, white, and blue striped swimsuit and yes — even a tiny gold medal — Gold Medal Barbie provided a sporting alternative to the doll's usual glamour-oriented looks. 
Complete with more platinum blond hair and a bold blue eyeshadow look, this Barbie both matched the current beauty looks of the time and helped to expand Barbie's world into the rich universe you know today.
1980: The first Black Barbie
As well as being a trailblazer for doll fashion, Barbie has never been afraid of breaking new historical ground. While today's Barbies come in a range of shapes and sizes, Mattel's commitment to diversity began back in 1980 with the public introduction of the first Black Barbie. 
Featuring ornate earrings, elegantly styled hair, and a stunning red gown, this trailblazing doll took inspiration from the bold glamour of Diana Ross. A doll that's 100% glam, the importance Black Barbie holds in the Barbie-verse has earned her the title of being one of Mattel's most iconic dolls.
1983: Aerobic chic Barbie
The '80s brought neon colors, legwarmers, and a love for aerobics that can be seen in Mattel's creations of the era. Inspired by Jane Fonda and Olivia Newton-John, Great Shape Barbie was released in 1983, complete with rainbow legwarmers and an enviable turquoise bodysuit. 
Another doll who wasn't afraid to get physical, Great Shape Barbie came with the classic round-eyed, blue-focused look, as well as funky workout headband. A Barbie that could only have been birthed in the '80s, this doll is another example of Mattel's commitment to keeping Barbie up to date with the latest trends.
1992: Mattel goes Rapunzel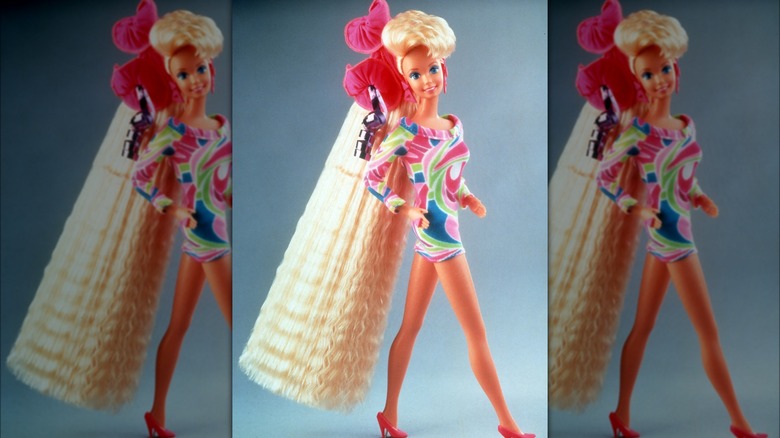 Yvonne Hemsey/Getty Images
Over the decades, Mattel has been responsible for the creation of hundreds of Barbies. However, there are some Barbies that proved to be more popular than others, and one that holds the crown as the highest-selling Barbie doll of all time — Totally Hair Barbie. 
Released in 1992, this Barbie earned her fame for her wide smile, ankle-length platinum blond hair, and funky fashion. Mattel took the popular crimped hair trend of the early '90s and created a doll that proved to be immensely popular, with Totally Hair now being one of the rarest Barbies on the market.
1997: Barbie embraces realistic beauty
While Barbie is often marketed as a doll that encourages ambition and confidence, her body proportions have also been a topic of some criticism. Although the Barbie lines of today aim to represent every child and their unique self, concerns have been raised around the doll setting unrealistic beauty standards.
In November 1997, Mattel decided to act on these critiques. They increased Barbie's waist measurements and reduced her bust. Later dolls such as 1998's Winter in New York Barbie showed that Barbie could both represent realism while still serving luxurious beauty and glamour.
2000: Back to the beach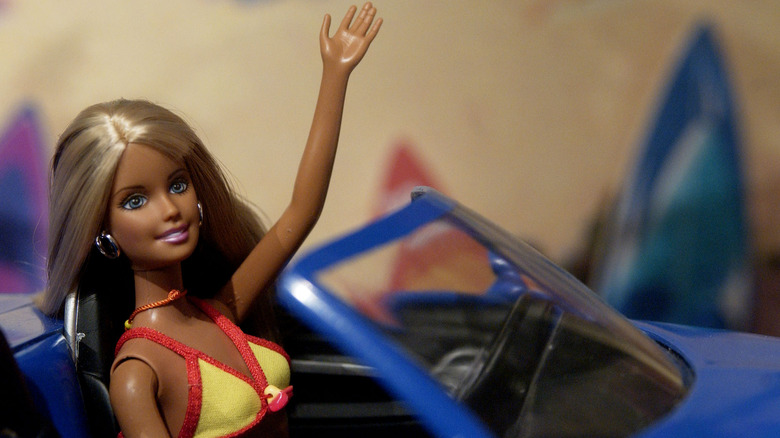 Bloomberg/Getty Images
The 2000s marked the return of beach vibes and Malibu Barbie's successor, Cali Girl Barbie. This doll was all about embodying the summer trends of the 2000s West Coast, from a deep tan to blond to brown highlights. This decade also marked a big change in Barbie's face mold and makeup. Taking on a more angular eye look and brown muted tones, Barbie's beauty looks adapted to match the deeper tones favored by the  decade. This face mold proved to be popular, as it's similar to the look sported by the current Barbies of today.
2009: Barbie gets a tattoo
Barbie's looks have changed a lot over the years, but this change in 2009 may have proved to be too much for customers. Totally Stylin' Tattoos Barbie came with tiny temporary tattoos that could be applied to the doll, her clothing, and the buyer's own skin. 
This doll marked the first time that Barbie got a body modification (aside from earrings) and was criticized for promoting tattooing to children. While an ode to Barbie via a Mattel-inspired tattoo is not uncommon, the doll sporting a stencil or two herself was overall less well received.
2010s: Rise of the fashionistas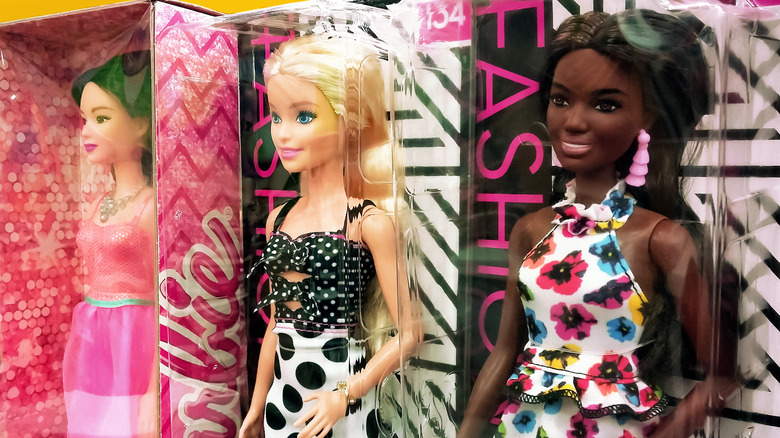 Al Sorbi/Shutterstock
Although released in 2009, the Barbie Fashionistas line was one of the most influential collections released by Mattel in the 2010s. Not only did this line sport some seriously impressive tiny outfits, but they marked the introduction of new updates to Barbie's face design. 
Like the late '90s and early 2000s, brown tones were further emphasized via her eyeshadow and liner. During this time, Barbie's eyes also became slightly larger and her eyebrow shapes more varied, as she became available in multiple Fashionista variants from Sassy Barbie to Sweet Barbie.
Barbie of the present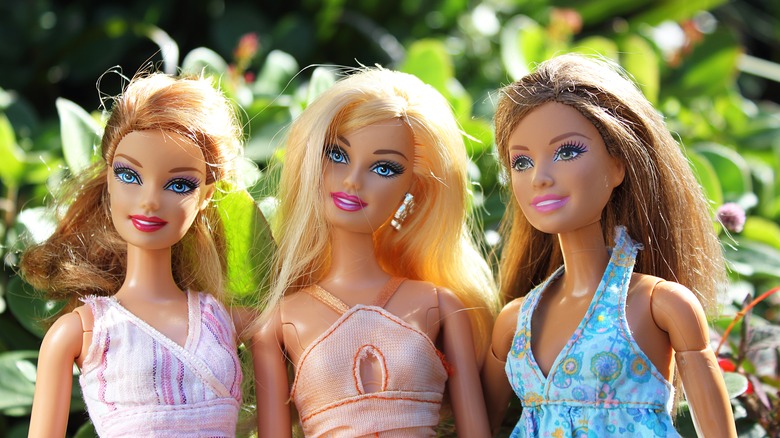 NightGliderSA/Shutterstock
2023 marks one of Mattel's most exciting years so far. The release of Greta Gerwig's "Barbie" movie means more Barbies based around the live action characters are due to come onto the market soon. While Barbie fans are looking toward the future, Mattel has been busy looking to the past. To celebrate 40 years of Black Barbie, the doll was re-released in 2020.
From heavy eyeliner to blue eyeshadow and cooler tones, Barbie has undergone a lot of transformations. However, what has always been consistent is her style, creativity, and commitment to keeping up with beauty trends.