Tangerine Orange Is The Brightest Color You Can Wear While Still Giving Quiet Luxury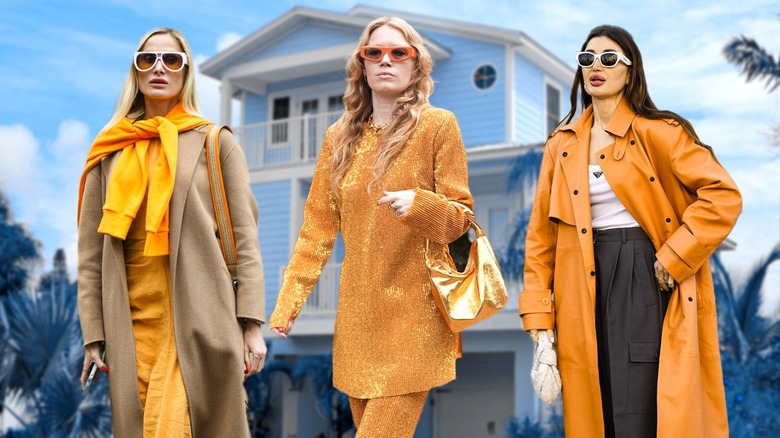 Static Media / Shutterstock / Getty
Quiet luxury is the trend of the moment, and we love it. Not only is this style making waves for its subtle fashion, but it's the perfect movement for any budget. Mixing simple silhouettes with neutral colors and prints is an ideal wardrobe that pairs well with similar items. An easy way of creating a capsule wardrobe, there is little to frown upon with this trend. The only downside is for those looking to inject color into their closet but still want to look chic and wealthy. Thankfully, a few colors still give a luxurious vibe but aren't boring. Dusty blue gives an ethereal moment on the softer side, while golden yellow can bring your outfit to life.
Tangerine orange is the latest color to cross into the quiet luxury trend — it's vivacious but never loses its shine. This bright color isn't as saturated as a neon orange but still gives you a visual twist in a neutral look. Like other colors attached to the trend, tangerine orange pairs well with most hues, making it an easy shade to add to your existing wardrobe. If you're looking to upgrade your quiet luxury wardrobe with a new color or simply looking for ways to add color to your luxurious ensemble, tangerine orange is the most stylish way.
Tangerine accessories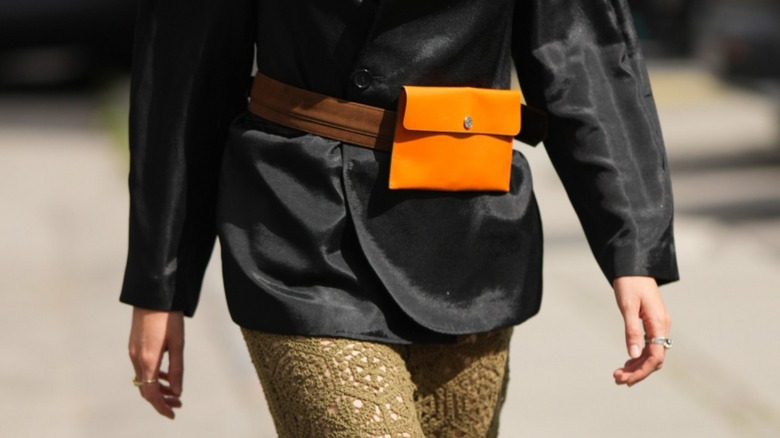 Edward Berthelot/Getty Images
Adding a new hue can be overwhelming if you've been wearing neutral 'fits for a while. The easiest way to incorporate tangerine orange into your looks is through your accessories. Easy pieces include handbags, shoes, and jewelry. These pieces will still look elegant while adding flair to your outfits and helping break up monotone 'fits.
Orange outerwear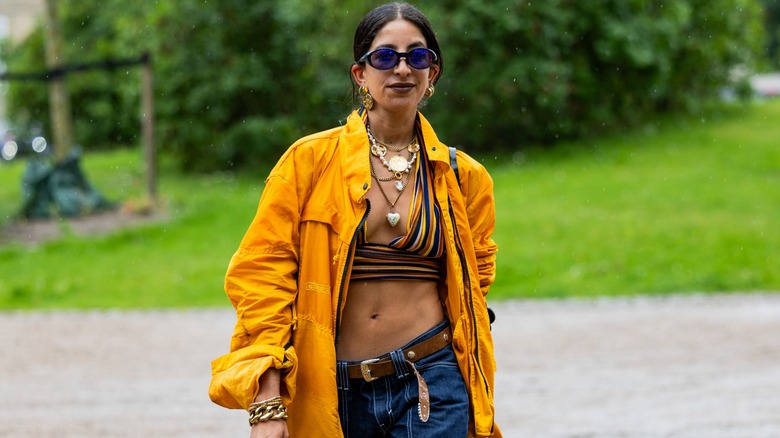 Christian Vierig/Getty Images
Tangerine orange is perfect for taking the quiet luxury trend into colder months like fall and winter. By matching the season, orange outerwear can be the go-to color for keeping the movement alive during autumn. Tangerine orange jackets and coats can be a finishing piece that keeps your outfit elegant but adds more flair. Pair your tangerine orange outerwear with brown and earthy tones for a cohesive ensemble that screams fall.
Refined but lively dresses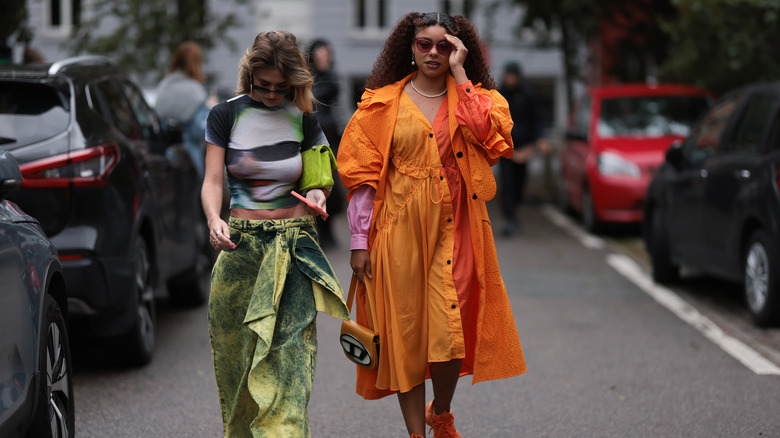 Jeremy Moeller/Getty Images
Dresses are the best for those looking to incorporate a new color or trend into their wardrobe. A dress removes the guesswork of styling multiple pieces and lets you rock it with just one item. Depending on the event and season, a tangerine orange dress is easy to style. For warmer days, opt for a pair of natural straw or rattan sandals for a laid-back, luxurious look. Opt for a tangerine orange dress with booties for the ultimate refined ensemble on colder days.
Mandarin blazers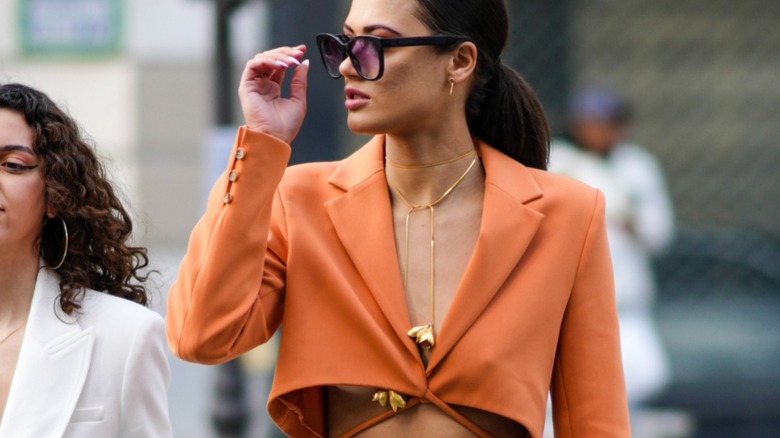 Edward Berthelot/Getty Images
No matter what the trend is, chic blazers will always make an appearance. Because these pieces work for any style or movement, it's no secret that tangerine orange blazers will appear with the quiet luxury trend. By combining a blazer's structured, polished nature with the vibrant hue of tangerine orange, you're bound to get your favorite quiet luxury piece. These two pieces are a foolproof way of rocking both trends without sacrificing elegance or fun.
Elegantly fun sweaters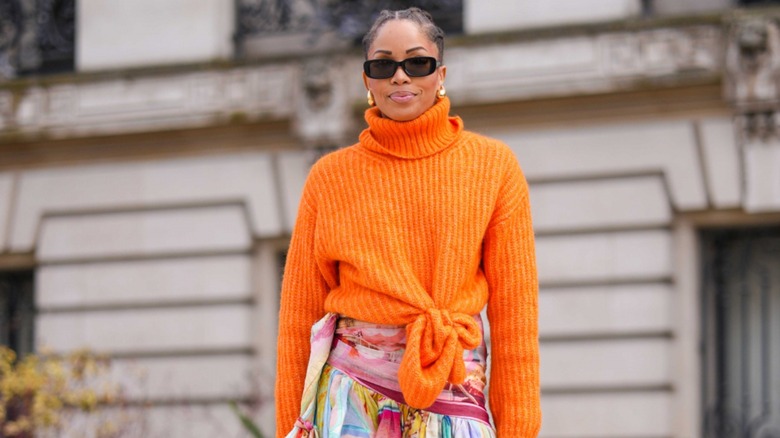 Edward Berthelot/Getty Images
Sweaters are the easiest way to inject color into your clothing pieces if you want to rock quiet luxury in the fall and winter. For more texture and warmth, a sweater is a must-have in the colder months, and the tangerine orange hue can be the ultimate finishing piece. By pairing it with denim jeans or black slacks, your orange sweater can be the top subtle statement piece. Go for simple designs and silhouettes with an orange knit sweater that doesn't lose its elegance — it will still give you a fun layer.
Luxurious pants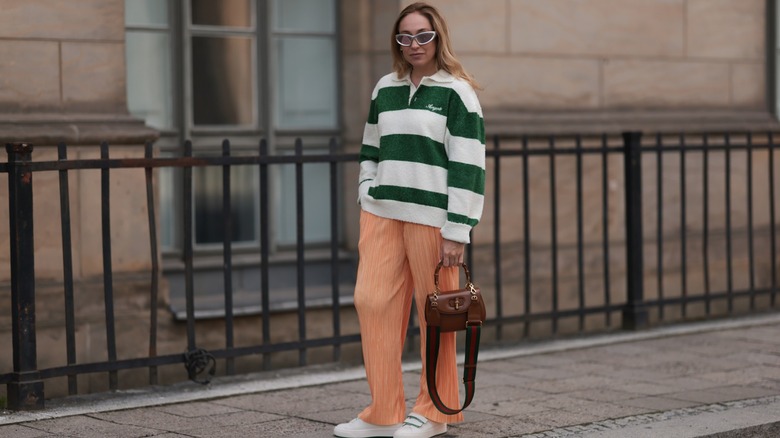 Jeremy Moeller/Getty Images
We've previously seen how designers like Christian Siriano have used tangerine orange to give energy to structured trousers. These typically masculine pieces exemplify how orange pants can be the ultimate base for your quiet luxury pieces. Whether you're sticking for something simple and modern or baggy and carefree, tangerine bottoms are as easy to style as any pair of neutral slacks.