'Cinnamon Cookie Butter Hair' Is The Dynamic Brunette Trend You Need For Fall 2023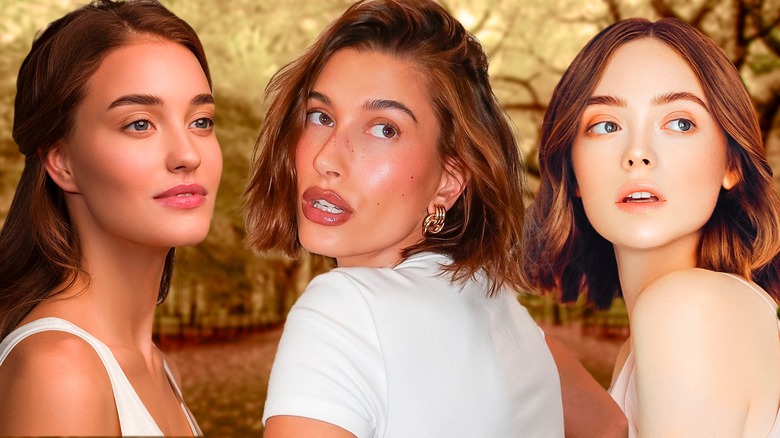 Static Media / Shutterstock
Anyone who enjoys eating cinnamon-flavored cookie butter and relaxing on cozy fall days will likely love Hailey Bieber's end-of-summer 2023 brunette hair color. The hair color is a warm cookie butter-inspired brown with hints of reddish cinnamon. "I would ask for dark golds, light browns, with a little bit of coppery reflects to be weaved or foiled into your hair. It's a foil technique, not a whole head color, and to maintain depth with your natural would really be the best way to get the result," Matt Rez, Bieber's hair colorist, told Byrdie. So, if you enjoy the "cinnamon girl" aesthetic, you should consider following the celebrity's footsteps and go get that cinnamon cookie butter-influenced hair color.
Some TikTokers don't enjoy the vibe, thinking the hair color's name is too specific. This makes the look sound more complicated or desirable than it is in reality. For instance, TikToker @kimmymichelle posted a video saying, "That is just brown hair," and many commenters agreed. Even if you think the name is a little much, the hair color is appealing — some might even say delicious. The brown's warmth and touches of subtle red scream fall.
Embrace the warmth
Again, the cinnamon cookie butter hue is a deep, rich shade of brown with subtle red hints. This means that, even when the hair color is dark, it shouldn't be black or a cool dark brown for this trend. The cinnamon cookie butter look is all about soft, warm, and toasty brown tones. Make sure you opt for the warmest brown shade possible for your natural hair color, features, and skin tone.
Add cinnamon cookie butter bangs
The cinnamon cookie butter hair trend is almost the best possible hair option for fall, but what would make it that much better? Bangs! Fall is arguably the best season to get a fringe. It's the time of year that isn't as hot and sweaty as spring and summer, but it's less windy than winter. Therefore, rocking bangs and the cinnamon cookie butter hue can combine two trendy looks for the ultimate fall energy.
Go bolder with the cinnamon if you want more red
You might like the idea of the cinnamon cookie butter hair color, but agree with the TikTokers who say that Hailey Bieber's hair transformation appears too basic brown for the name. In this case, you can opt for more cinnamon tones. The extra red details will make the hair color look livelier and more unique.
Don't feel pressured to add a haircut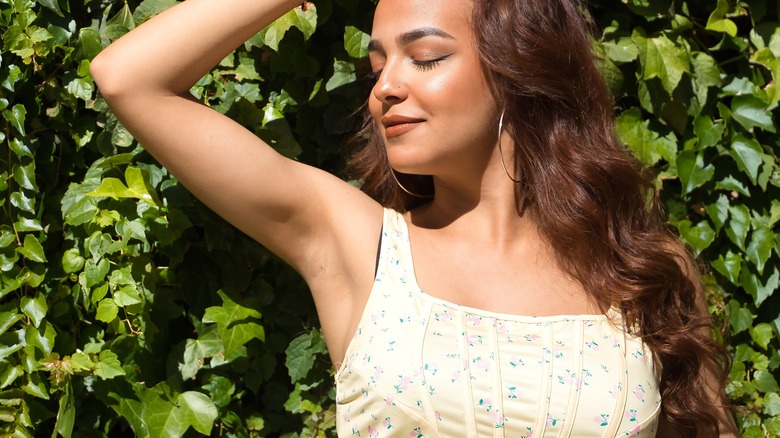 farinasfoto/Shutterstock
Of course, Hailey Bieber's cinnamon cookie butter bob looks beautiful. However, don't assume that you need a bob like Bieber's to rock the hair color. The trendy fall hair color will look lovely with any hair length, so if you want to keep your hair long, there's no need to cut it.
Messy hair will look adorable
We love cozy fall days, but the season can get messy with tangled scarves, dirt from pumpkin or apple picking, and spilled seasonal coffee drinks. That being said, it's that messiness that somehow adds to the season's laid-back, comfy vibe. Think of cinnamon cookie butter hair the same way. If it looks a little messy, the bedhead or flyaways will just fit the cute coziness-over-perfection charming fall lifestyle.