Temporary Hair Tattoos Change Your Look Without Permanently Changing Your Color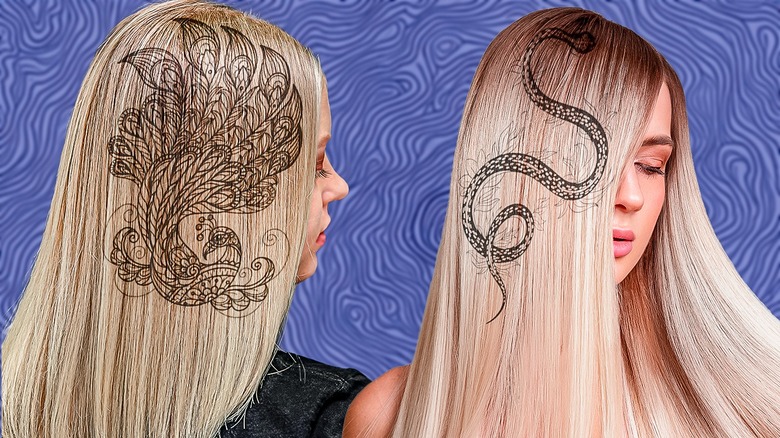 Static Media / Shutterstock
While we all occasionally -– and perhaps even more often than that –- feel the itch to switch up our locks and book that color appointment or go for a major chop, the impulsivity of the moment doesn't always prove to be our best idea. Bangs out of boredom, for example, are a quick fix some may be all too familiar with, but it's a change that can last awhile. So, what about something that's more of a temporary thrill instead? That's where the hair tattoo trend comes in. It may sound like a wild concept, but the process is fairly simple and the results are stellar. The best part? It's not permanent, and you can revert back to your daily hair after just one wash.
The inspiration is nearly endless when it comes to design choices, and applying a temporary tattoo to your hair is relatively easy. While special occasions like Halloween or festivals would be a great time to try out the trend, we see no issue with spicing up daily life with this temporary artistry. If you're craving a low-commitment hair change, then here's the inspiration for you.
The inspiration
When selecting the perfect temporary tattoo for your hair, you'll want to consider your color and length. If you have lighter hair, then a black or colorful tattoo will show up clearly. If your hair is darker, then a white, silver, or gold tattoo might be a nice contrast. You'll obviously need longer locks to act as the surface for bigger temporary tattoos, and don't be shy when it comes to quantity. If you can fit several temporary tattoos on your hair, then select a scene or a collection to apply.
Florals, celestial bodies, dragons, zodiac signs –- the options are endless. And while applying the tattoos to the curtain of your hair is a beautiful look, you could also opt to put your hair in an updo and apply the tattoos directly to slicked tresses. "It's so popular because it's eye-catching and a quick alternative to something that's longer lasting," Brandie Devillier, a platform educator at the Aveda Arts & Sciences Institute and certified color educator at Elevate Hair, told Bustle. "It's fun and can really show off someone's personality."
The application
In order to apply a temporary tattoo to your locks, you'll need at least one section of straight hair large enough for the tattoo. Using a protectant spray is always wise, and you'll want to make sure the surface of your hair is super smooth -– so pull out the flat iron if necessary. Next, spray the surface of your hair with a strong hairspray so that it won't have too much movement.
If you've ever applied temporary tattoos to your skin, then you'll understand the next step as it's exactly the same when applying the tattoo to your hair. Place the tattoo face down on the surface of your hair, then use a wet sponge to dampen the tattoo. If there are any other specific instructions on the product you're using, then follow those. Wait the allotted amount of time, or until the tattoo has dried, and remove the paper.
When applied correctly, the results are sure to be amazing. In order to keep your hair tattoo looking great, spray it again with hairspray. The tattoo will remain in your hair until the next shampoo. You could also experiment with applying temporary tattoos to your wigs. "I did zero prep and used a synthetic wig which doesn't get frizzy or soaked from the water," beauty content creator Matthew Newman told Nylon. "Afterwards, it peeled right off and didn't seem to rip any hairs."
How long do temporary hair tattoos last?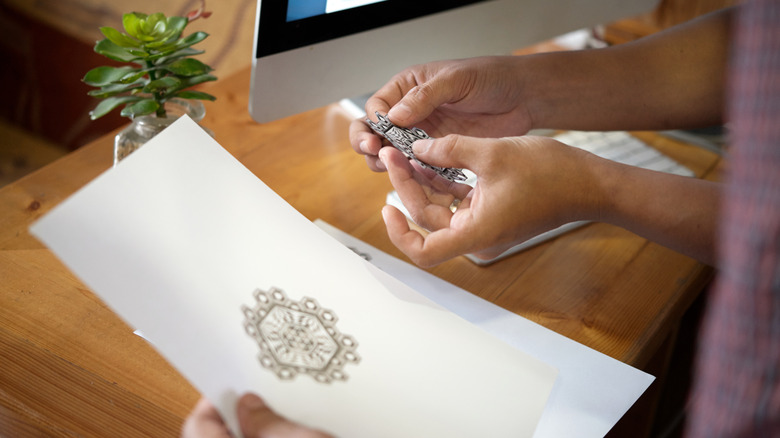 Dragon Images/Shutterstock
Temporary hair tattoos will last until your next shampoo. If you don't shampoo within a few days, it's possible the tattoo will begin to wear away, just as temporary tattoos on your skin do eventually. There shouldn't be much mess. Again, since these are non-permanent, you can easily wash them out if you aren't pleased with the results or want to go another route with a different design. You could also apply additional hairspray in order to maintain the tattoo if you do decide to wear the look for a bit longer.
"That's what makes this trend even more fun," Devillier told Bustle. "You can change it up all the time." Let the creativity flow and try applying temporary tattoos to different hairstyles using new arrangements and designs to keep the look fresh. The idea here is to use your hair as your canvas.
How to remove temporary tattoos from your hair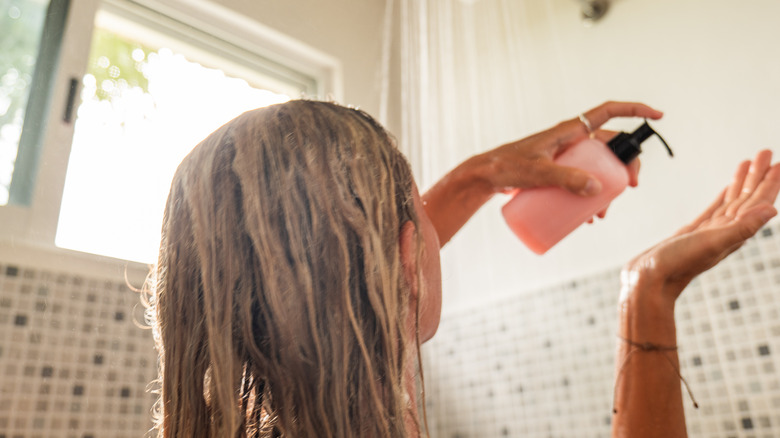 Mystockimages/Getty Images
Removing temporary tattoos from your locks might sound a bit messy, but the process is fairly simple. All you need to do is shampoo your hair as you typically would, and the tattoo will rinse out. If you've applied more hairspray than you normally use, an extra application of shampoo might be necessary to get your hair sparkling clean.
If you've applied the temporary tattoos to a wig or to extensions, the removal process is the same. If there are specific care instructions for your wig or extensions, like using a certain shampoo, then continue to follow those directions. This is the best part of experiencing a fun, new look without the long-term commitment –- you've got a clean slate after shampooing, and you can create another beautiful design should you wish to. Also, temporary tattoos have grown far beyond the selections you used to find in the grocery store quarter machines. The designs out today truly are pieces of art.
Other temporary hair changes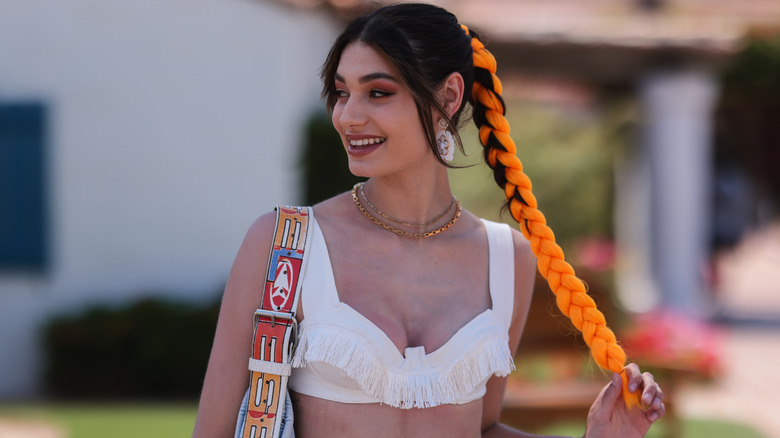 Jeremy Moeller/Getty Images
If you've had your fun with temporary hair tattoos and are craving more non-permanent changes, there are a few other routes to try. Extensions, clip-in bangs, spray-in color, a faux bob, braids –- the list goes on. These are all great options if you've been down the road of impulsivity a time or two and in hindsight wish you had thought through the big change a little more thoroughly.
And while bigger events like festivals and parties are the perfect opportunity to step outside your comfort zone and try a temporary style, you can also experiment with many of these on an average day. We can all get cornered into our go-to styles within the flow of daily life. While there's nothing wrong with having a basic, dependable style on hand, let this be your sign to step outside your style box and get creative with a temporary hair change.