Rosie Huntington-Whiteley And Kate Bosworth Both Wear This Iconic Woodsy Perfume
While we may never be able to relate to celebrities with their cars, houses, and lifestyles, the one thing we can live up to is their beauty routine — mainly their scents. Perfumes offer a great avenue to feel connected to your favorite stars while keeping your budget relatively safe. If you've ever been curious about what scents actress Kate Bosworth wears on set, it turns out it's a Byredo classic, and now you can cop it, too.
In an interview with Into The Gloss, Kate Bosworth revealed that she's a Byredo Gypsy Water loyalist, stating that scents from the perfumery are both "beautiful and complex." But Bosworth isn't Byredo's only loyalist — supermodel Rosie Huntington-Whiteley also explained her love of the Byredo fragrance to Gritty Pretty. She expressed how the perfume is never overpowering and smells lovely on her skin.
Byredo Gypsy Water is a woodsy perfume inspired by Romani culture and features several citrusy and earthy notes. Byredo states that they made the scent to evoke feelings of nomadism and travel, like the gypsies. The Eau de Parfum is available in two sizes — 50ml and 100ml — and retails for $205 on the site for the smaller size.
What does Byredo Gypsy Water smell like?
Floral and citrusy scents may get most of our attention, but this forest scent might just change our minds. Byredo Gypsy Water was made with vibrant top notes like bergamot, juniper berries, lemon, and pepper. This gives it a mix of a spicy and zesty aura for its first impact. At the fragrance's heart are incense, pine needles, and orris for that woody feel. At the base is a mix of sweet and woody notes like amber, sandalwood, and vanilla for a lingering impact.
With such a profile, it's no surprise that Gypsy Water suits both men and women, and the reviews are buzzing. From its first scent to the dry down, many reviewers love Byredo Gypsy Water, and they have the reviews to show for it. One reviewer stated, "This scent is amazing for women/anyone who wants to smell clean yet doesn't mind smelling sweet and feminine... it is definitely expensive; however, I can't help but be obsessed".
However, several other reviewers are torn between the perfume's poor sillage, expensive price tag, and the alcohol-like smell from the first spray. Another reviewer commented that the fragrance barely projects and does not last on the skin. "It's very sad. I have to overspray, mainly on my clothes, since it disappears on my skin".
What do I layer my Byredo Gypsy Water with?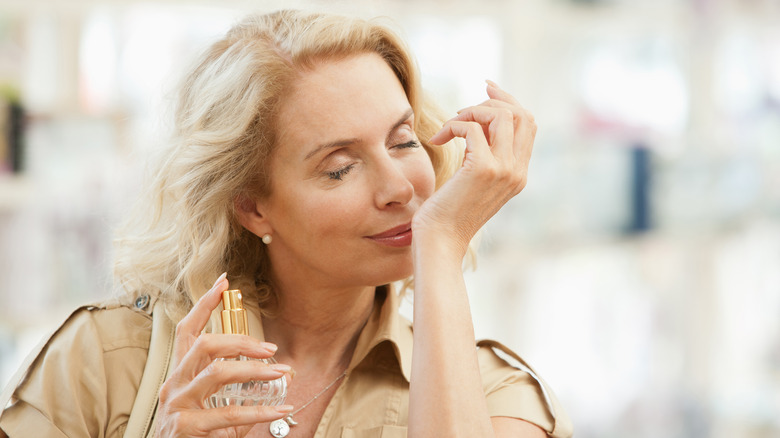 Martin Barraud/Getty Images
While many reviewers argue whether or not this perfume is appropriately named, they agree on its rich scent profile. With several woody notes and a hint of sweetness, you can layer your Gypsy Water with fragrances containing citrusy and fresh notes to add depth and vibrance to your scent.
But $205 for a perfume that reportedly lacks sillage is not pocket-friendly for most. If you're seeking a budget-friendly alternative with notes as similar as you can get, Tocca Colette Eau de Parfum retails for $132 and has been named by TikTokers as the closest you can get to the Gypsy Water vibe. If you're on an even slimmer spending spree, the Lake EDP by Rosie Jane retails for $72 and has a mix of the same citrusy, vibrant, yet woodsy scent profile the Byredo Water contains. It's Rosie Huntington-Whiteley, but on a budget.