No Clue What To Wear On A Date Out For Drinks? We've Got You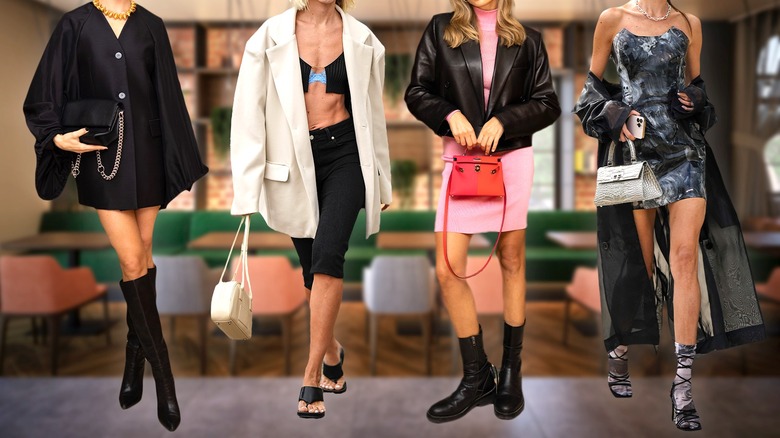 Static Media / Shutterstock / Getty
Date nights can be fun and exhilarating, albeit slightly nerve-wracking, especially when meeting someone for the first time. First impressions are important, and it's natural to want to wear the perfect outfit. Even if you've been with someone for a while, you want to look your best for your partner. While you know to wear something a little extra fancy for romantic dinner dates, going out for drinks can be a little tricky to dress for. Do you go super casual in jeans and sneakers or get glam in heels and a sparkly top?
A pair of jeans with a cute top and flats is appropriate for daytime drinks. For nighttime drinks, a casual dress with a pair of ankle boots or sandals is a perfect outfit. If you need a jacket, stick with a blazer or a classic trench. Of course, the location matters as well. Do a little online reconnaissance to check out the date spot's atmosphere — is it casual or fancy? These days, going for drinks can mean anything from a trendy rooftop spot to a fun dive bar. No matter where you go, it's always better to be slightly overdressed than under, but don't worry — you've got plenty of options.
A pretty sundress takes you from day to night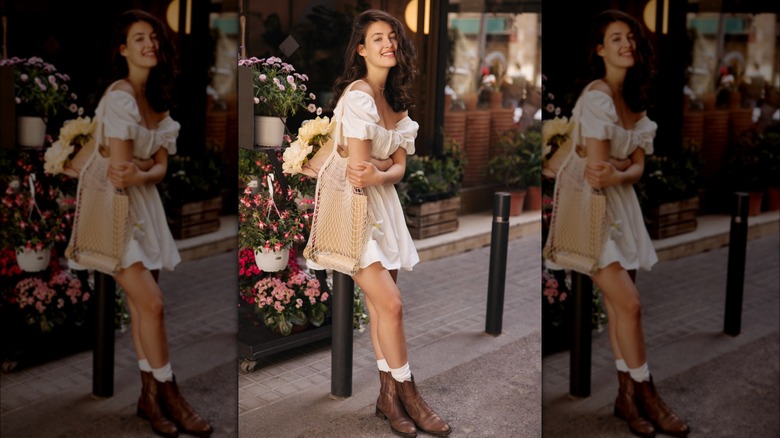 Look Studio/Shutterstock
If you're going for a casual boozy brunch and you end up having so much fun that it's now dinnertime, a cute daytime sundress can easily be worn into the evening. Instead of sneakers, which may make you feel underdressed at night, opt for trendy ankle boots or stacked wedges. Anticipate a chill in the air? Tuck a cardigan sweater or a big scarf into your purse.
You can never go wrong with a pretty blouse and jeans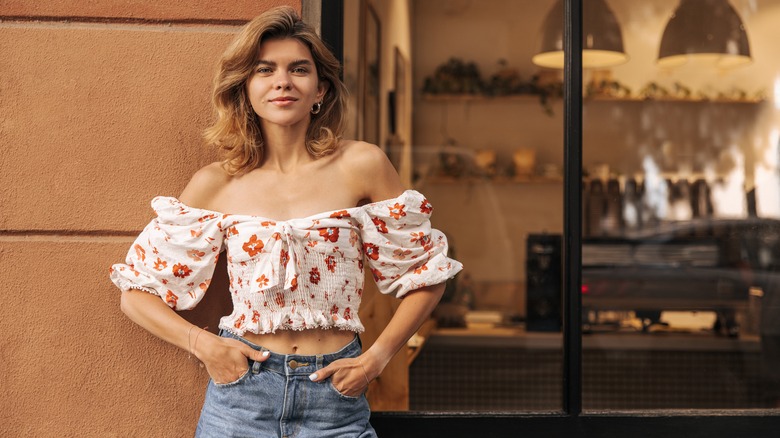 Look Studio/Shutterstock
Jeans were once primarily a casual item of clothing, but they have since evolved into an acceptable item to wear at night. Dress yours up with a floral off-the-shoulder blouse with a peekaboo hem. We bet your date will enjoy checking out your shoulders!
Fitted sweater dresses are cozy for fall dates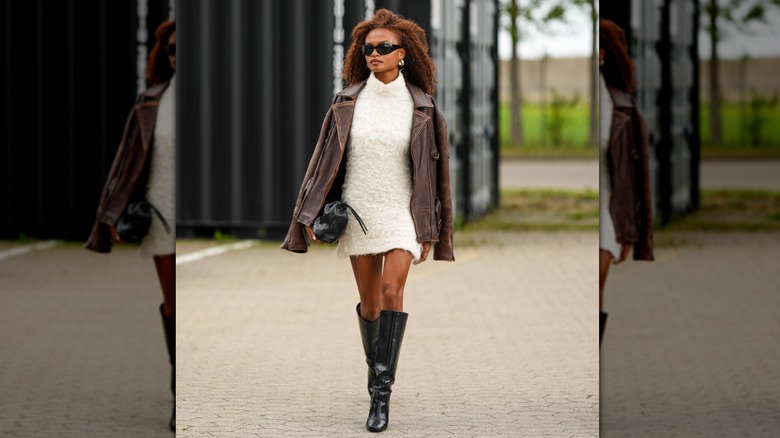 Edward Berthelot/Getty Images
When the weather gets a bit nippy, there's nothing as comforting as a snug sweater dress. One in a winter white is the perfect contrast to a distressed, brown leather jacket. Paired with black knee-high boots, this outfit is casual, yet put-together, and you'll fit right into a hip karaoke bar or an elegant piano lounge.
Go from work to after-work drinks in a loose sweater and midi skirt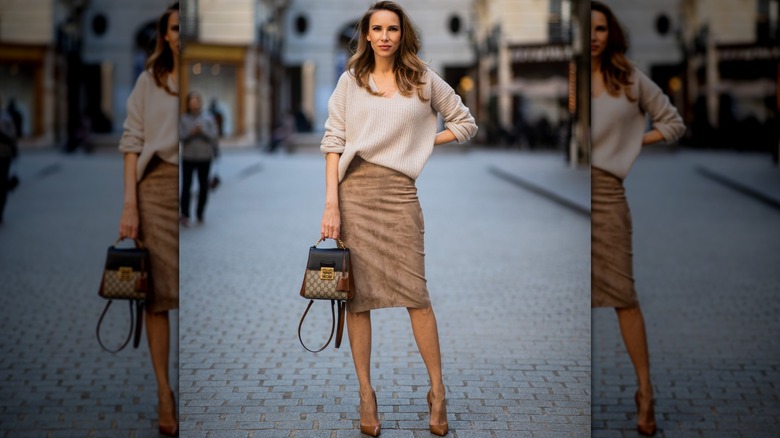 Christian Vierig/Getty Images
Meeting your beau after work? You can look office-friendly, yet date-ready with a loose cream-colored sweater tucked into a fitted, suede knee-length skirt in camel, a staple color for the fall. A nice pair of pumps looks professional while adding a touch of elegance to the outfit. Leave your work bag at the office, and bring along a cute, hand-held purse instead.
A black jumpsuit is a sexy date-night option
Jumpsuits are great when you have no idea what to wear or don't have time to put an outfit together. A black jumpsuit is the perfect alternative to a little black dress and should be a staple in your closet. Flared pantlegs add shape to one with a fitted top and give the illusion of having longer legs. A silver chain belt accentuates your hourglass shape, while strappy sandals give you added height.
Colorful matching sets are flirty and fun
Just like jumpsuits, matching sets are here to stay and are the best when you're stumped about what to wear for a drinks date since sets require little thinking. For a casual springtime look, this bright multi-colored floral two-piece is perfect for frozen margaritas at a beachside watering hole or martinis at a country club.
Pair an oversized blazer with skinny jeans
We know skinny jeans have been banished to the depths of our closets for now, but don't discount them for a sexy date-night look. Replace your black skinny jeans for leggings when worn with an oversized blazer, which you can wear all summer long and look like a sexy boss. Don't forget to add a touch of color to your neutral outfit with a pair of neon pumps.
Show off your legs in a flirty skirt
Are your legs your favorite part of your body? Highlight them in a swingy pleated miniskirt. The loose fit makes your gams look nice and lean without being too constricting. Tuck a form-fitting blouse into the waist of your skirt, and add a skinny belt to tie it all together. Strappy buckled heels give this otherwise soft look a bit of an edge — perfect for drinks in the city!