How To Recreate The Women Of Friends' Peak '90s Looks On A Budget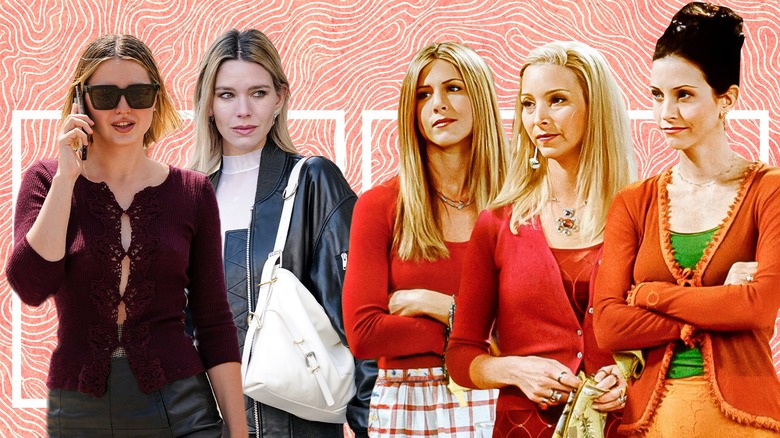 Static Media/Shutterstock/Getty
The hit '90s TV show "Friends" has created a popular and loyal fan base since the show's premiere in 1994. According to a recent survey conducted by CableTV.com, "Friends" ranks as America's top comfort show that people just love to watch and re-watch. The show is known not only for making people laugh, but also for serving us some good old '90s nostalgia through the characters' wardrobes. Now, more than two decades after "Friends" first aired, Monica, Rachel, and Phoebe, played by the beautiful Courteney Cox, Jennifer Aniston, and Lisa Kudrow, continue to remain style icons and their outfits still act as a source of fashion inspiration.
With fashion trends recycling every few years, it's time for the beloved '90s looks to once again make an appearance. With the retro trends back in action, we're seeing more fashion looks making a comeback, ranging from chokers and stacked accessories to baggy jeans and overalls. And we can find the perfect guide to recreating this era by looking through the dazzling outfits that the women in the "Friends" sitcom have served us through the years. The best part is that you can easily put together the show's iconic wardrobe pieces like overalls and jean jackets without breaking the bank.
Thrift the classic Rachel Green mom jeans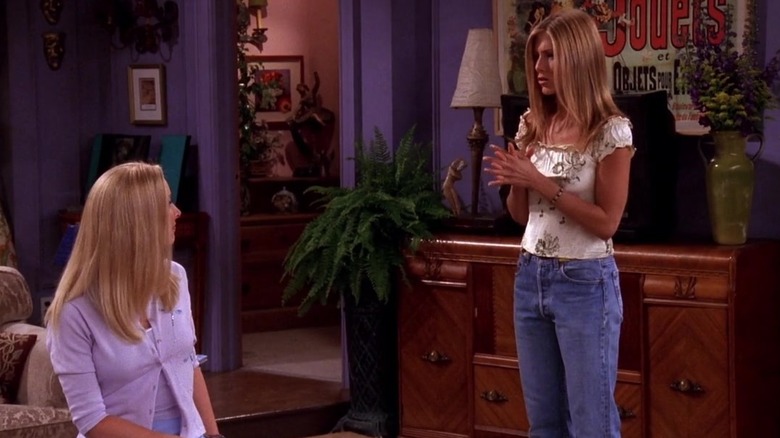 NBC
Mom jeans are making a comeback and wearing them with a cozy sweater is the perfect ode to "Friends" fashion. You could always spot Rachel Green rocking baggy jeans and cropped T-shirts on the show. While jeans make the perfect staple for your closet, they can be rather expensive. This is why thrifting a pair of mom jeans is the way to go. To ensure the denim is high quality, look for pieces made out of 100% cotton. Don't be afraid to invest in an option that is a little big on you, as the mom jeans look is all about a slightly baggy feel that is comfortable enough to move around and be active in.
There's a reason the '90s were big on casual trends like flare jeans. It's because women wanted to have wardrobe pieces that were practical and trendy, making mom jeans the perfect choice. With the resurfacing of laid-back fashion, it makes sense why mom jeans are still a great reusable piece to own.
Add plaid skirts to your wardrobe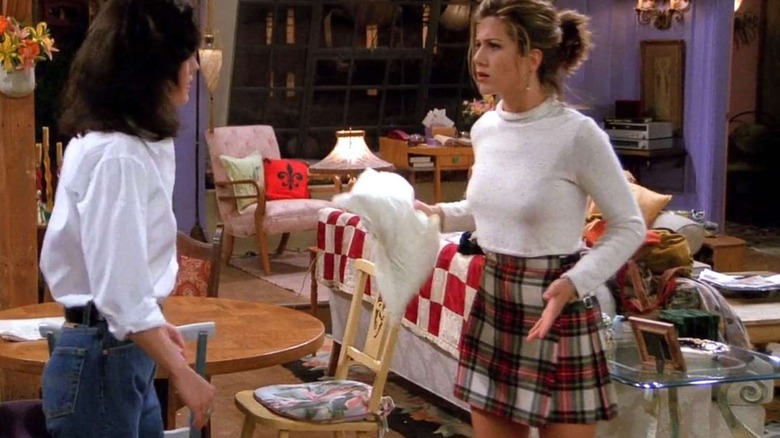 NBC
From dramatic maxi dresses to simple shirts and plaid skirts, Rachel Green looked stunning in everything. Rachel's famous plaid skirt was styled with a white turtleneck, knee-high socks, and chunky black shoes. This outfit may still be one of the most iconic looks from "Friends" to date.
If you're going for the '90s it-girl look, then adding plaid skirts to your closet is a must. In order to duplicate Rachel's outfit, try finding a red and white plaid skirt. Then pair this skirt with a neutral top and add some solid white or black crew socks and a pair of chunky black boots or white sneakers. Try looking for a budget-friendly plaid skirt online at Boohoo, or even at your local Goodwill. If you're up for a challenge, you can also DIY the look by thrifting a flannel in a larger size so that it sits like a dress on you. From here, you can wear a turtleneck over the flannel, to mimic the look of a skirt and top. 
Overall, Rachel's light academia aesthetic, which is focused on a preppy yet soft academic and scholarly style, means lots of plaid skirts, blazers, cardigans, and turtlenecks in light hues like a warm beige or brown. So, go for a neutral color palette scheme when you're styling your plaid skirts, and you'll have the Rachel Green look down in no time.
Channel your inner Phoebe by wearing your most oversized coat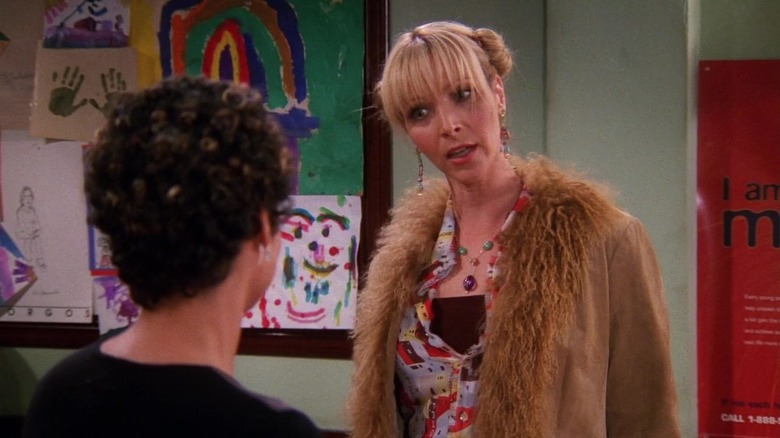 NBC
Phoebe Buffay was known for her quirky sense of style and being the queen of comfortable clothing, chunky knits, and, of course, long coats. If there's one easy way to duplicate her unique sense of style, it's by putting on the most oversized coat we own over just about any outfit. We may have forgotten that the '90s were big on colorful faux fur coats, but a look back at Phoebe's iconic style shows her love for bright faux fur coats on full display. Since oversized items are making a comeback and many celebrities like Kendall Jenner have been rocking the oversized jacket look, it would be the perfect time to rock a large faux fur coat.
The best part about oversized coats is the fun colors that we can rock. If you want to be bold like Phoebe, a lime green, bright orange, or electric blue oversized coat is the perfect fit. Pair it with colorful matching accessories. Most of all, Phoebe's passion for animal rights and principles portrayed on the show means reaching for faux fur alternatives and thrifting your coats. You can find a similar faux fur coat at a discounted rate on a discount website like Poshmark.
Your favorite clean white shirt can be worn with just about anything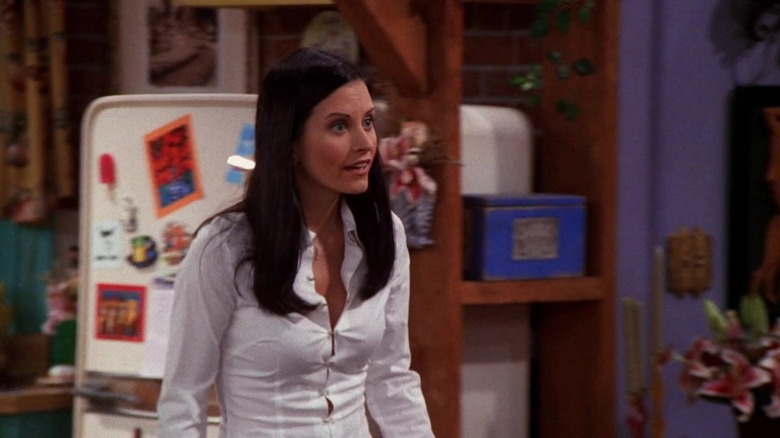 NBC
Who said that the '90s wardrobe has to be all glam? If there's anything that Monica Geller's character taught us, it's that a classic white shirt is always fail-proof. There's a reason that crisp button-up shirts are still a fashion staple today, and it's because they are just so versatile. Plus, this is an easy look to recreate on a budget. All you need is a crisp white button-up that's slightly oversized. From here, you can recreate Monica's look by tying the excess of the button-up into a simple knot or tucking it into a pair of comfy jeans and adding a big belt.
Accessories and hair and makeup can also help you transition your outfit from day to night. For instance, you can find Monica wearing small gold hoops and some red lipstick with her favorite white button-up for a fancy look. In contrast, you can wear the same button-up, with a few buttons loose on the top and your hair in a ponytail or messy bun for a more casual look.
Reach for overalls when you want to have some fun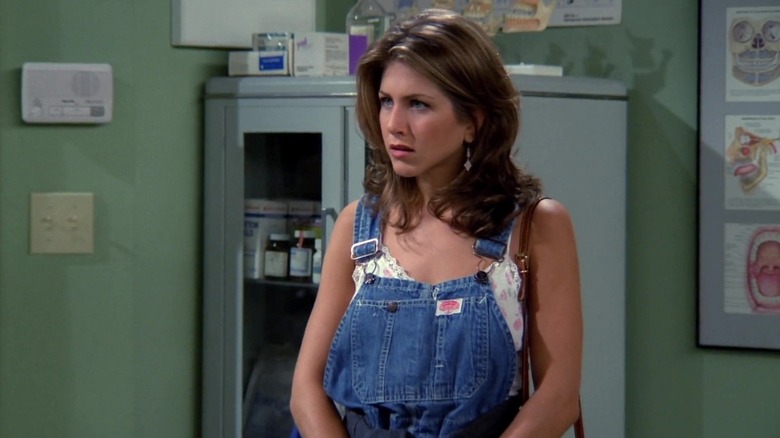 NBC
If you look back at pictures of the '90s, you're guaranteed to spot someone wearing overalls. Rachel Green's character always had the effortless girl-next-door look and was seen wearing overalls quite a few times on the show. With some luck, you can steal the same look by finding a quality pair of overalls at a consignment store or by thrifting them.
All you need to nail this look is a lace tank or a basic tee and a baggy pair of overalls. You can also throw on an oversized jacket to pull the entire look together. If you want to achieve the ultimate cool-girl look, try wearing the overalls with one strap undone. Plus, you can easily take the outfit from summer to fall by switching from a tank top and short overalls to a turtleneck and long overalls. Playing around with the color of your overalls can also help you match the different seasons and feel more festive. Remember, Rachel was seen rocking everything from red and black to denim overalls.
Don't be afraid to wear denim on denim
NBC
By now, you sense the craze denim had in the '90s. It wasn't uncommon to wear denim on denim. Now, you can replicate Monica's twist on this cool-girl trend by pairing a denim shirt with some complementary denim jeans. Rather than going for a Canadian tuxedo look, which usually involves matching denim, pair up contrasting denim tones for a more interesting and laid-back vibe. While the denims don't have to match exactly, the shades should complement each other so that the outfit appears seamless. Finish the look with a pair of flat white sneakers.
Above all, "Friends" fashion is fun and casual (even on the neurotic Monica Geller) so cement the look here by rolling up your sleeves (if it's a long-sleeved button-up) and leaving the first few buttons undone. For the ultimate throwback to the '90s, wear white crew socks with your sneakers, and opt for a relaxed hairstyle.
Make turtlenecks your winter go-to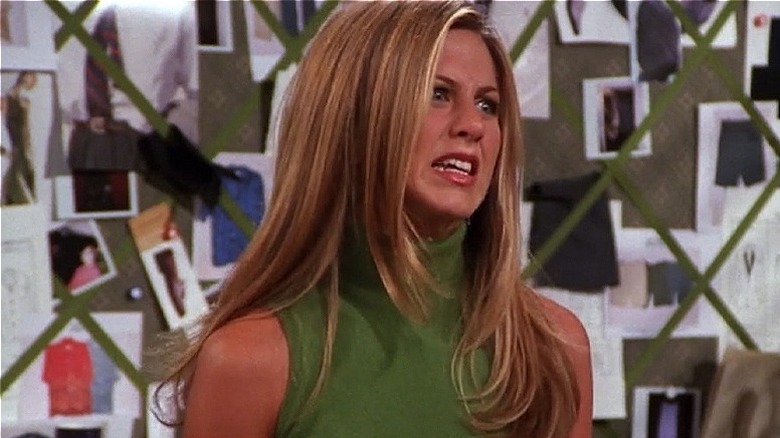 NBC
Nearly the entire "Friends" cast has worn a cool turtleneck at some point during the show. Turtlenecks are extremely versatile, which means that they are perfect for just about any occasion or weather. Rachel Green especially immortalized this piece with her constant pairings of the sleeveless turtleneck with jeans and miniskirts. This gave us the cue that the turtleneck can also be worn and styled on warmer days. Now, the sleeveless turtleneck and miniskirt combo remains just as iconic as it was in the '90s. You can try a thrift store for a budget sleeveless turtleneck, or else turn to online sources like Amazon, which are known for cheaper fashion options. 
Jennifer Aniston recently wore a black sleeveless mock turtleneck during "Friends: The Reunion" on HBO as a tribute to her character, signaling to us that the trend is still very much alive. The look can be easily replicated by making turtlenecks your go-to and pairing them with both skirts and pants year-round.
Pair your chunkiest sweater with some fitted blue jeans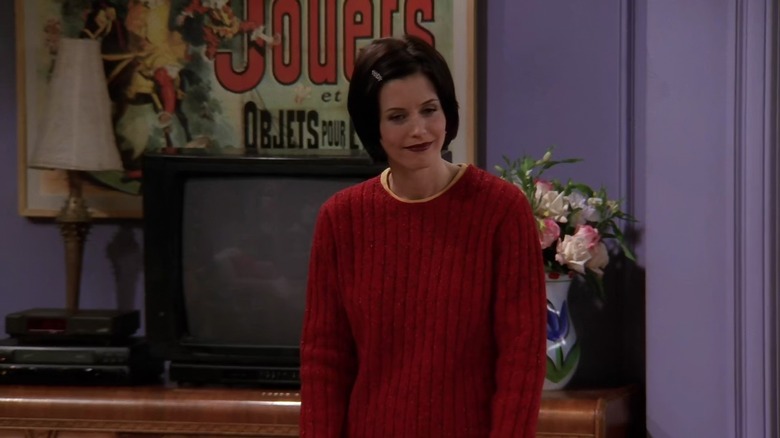 NBC
The recipe for the ideal Monica Geller outfit is simple. Just wear your chunkiest sweater with some fitted blue jeans. While Monica is the perfect poster girl for the '90s, her outfits are also the ones that remain the most timeless and resonate with crowds today. "It's interesting now how the attention is to Courteney's wardrobe as being iconic for the '90s," says "Friends" costume designer Debra McGuire in an interview with Entertainment Weekly. She explains that while Monica's outfits may have gone a little under the radar on the show, they have become an iconic staple of the '90s.
Sensible staples are what come to mind when trying to channel our inner Monica for style inspiration. This means wearing your coziest cable knit sweater on a chilly day with some well-fitted straight-leg jeans and a trusted shoe, like a pair of Converse sneakers. Try to look for a grandpa sweater for the real '90s feel on Etsy, or thrift one. Bonus points if the sweater is slightly larger or chunkier, as the bulkier the sweater, the cozier it'll feel. Try to stick to neutral colors for the sweater and keep the accessories to a minimum. Something as simple as a tasteful watch will give it more of a Monica-like feel.
Reach for a flirty slip dress for date night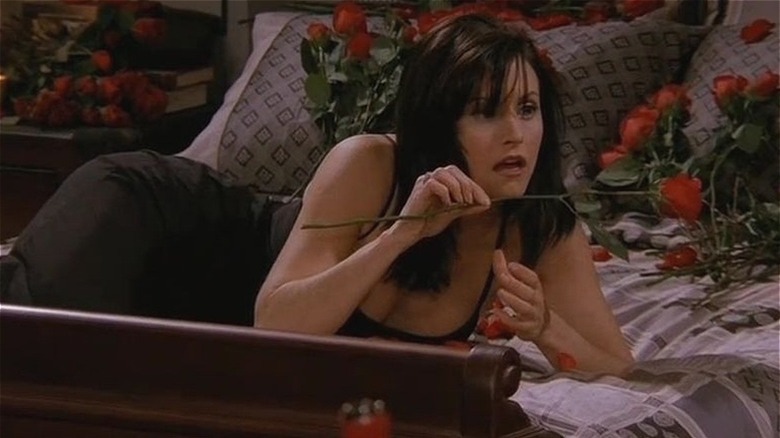 NBC
Slip dresses personify '90s femininity and exude elegance. And the easy-breezy fit of a slip dress makes it all the more perfect. The slip dress has made numerous stylish appearances on "Friends." Structured and toned slip dresses were a common choice for Monica's wardrobe. Take a cue from Monica's black slip dress on how to elevate your slip dress for any occasion, like date night. All you need is a satin or silk slip dress in an attractive color, such as a bold red or a mysterious black. Then you can add some strappy high heels to complete the look. If you're trying to replicate Monica's take on this look, then keep things simple when it comes to accessories. A clean bun or updo can really tie together the whole look without the need to add much else.
Since slip dresses are so versatile, you can also change the look to cater to your own style. For instance, you can give the slip dress a more grunge look with combat boots and a leather jacket. In fact, Phoebe was often seen wearing her dresses with biker boots and chunky sweaters that added an edgy feel. Or you can go for a more delicate look with a simple floral slip dress that you wear with a neutral tee or even a turtleneck underneath to replicate more of Rachel's style.
Wear the flowy maxis in your closet on a daily basis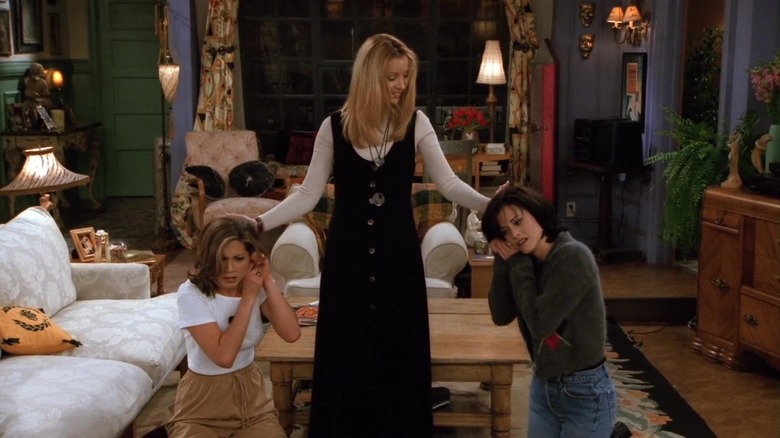 NBC
Take it from Phoebe — flowy maxis are meant to be worn casually. Instead of storing your favorite flowy dresses away for the right occasion, try incorporating them into your everyday wear. Phoebe's bohemian style represented her character both through her outfits and her personality. She required pieces that had lots of flow and airiness to them. Phoebe's appearance throughout the seasons started to really showcase this with some feminine maxis, like the ultra-chic black button-down maxi she wore in Season 2, which aired in 1995. "I really wanted to bring in that element of flowy, feminine patterns," Debra McGuire told Entertainment Weekly. "I didn't want it to be sort of bringing back something; I wanted it to be reminiscent of bohemian life, but I wanted it to have a more contemporary feeling." 
If you're looking to recreate Phoebe's look, reach for a feminine floral printed dress. Essentially, look to create movement in your outfits with flowy rather than stiff fabrics and bright colors like pink and yellow combined with some earth tones. Since Phoebe's style is all about experimentation, try mixing the cottagecore and hippie vibes with a bit of '90s grunge thrown in there. For example, to recreate her outfits, you can add a fringe or suede brown jacket to your maxi and top it off with some clogs or ankle boots and lots of fun accessories.
Always use claw clips to pull your hair back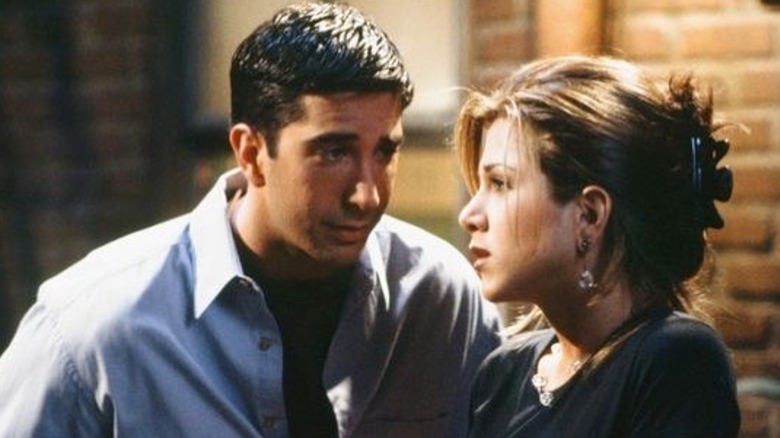 NBC
Did you know that the slicked-back hair bun with small spikes poking out of a claw clip was originally a '90s trend? Christian Potut invented the claw clip the late 1980s, and by the late '90s, popular shows like "Friends" were having their main characters sport the clip as an accessory to all their outfits, per Tegen Accessories. Rachel Green did the claw clip justice with her buns and half-up hairstyles, and the clip always seemed to frame her face perfectly. The real secret behind her claw clip hairstyle was the volume of her hair. You can mimic this by adding some dry shampoo or texturizing spray to your hair before pulling it back.
Ditching your hair elastic for the claw clip is simply a must to replicate this "Friends" fashion look. But fear not if you have short hair. Try using a handful of small claw clips as a cute accessory or to create a design throughout your hair. For medium to long hair, the best way to recreate the Rachel Green claw clip look is to pull your hair in a messy updo, but keep your curtain bangs out to frame your face. Don't try to make the hair look super clean or slicked back, as Rachel's hairstyle was all about volume and a little movement.
Accessorize to the absolute max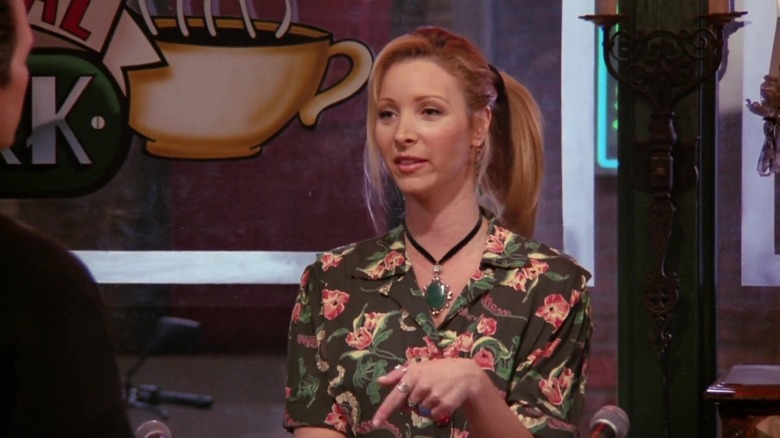 NBC
There's no denying that Phoebe had the absolute best accessories on "Friends." Whether it was a statement necklace and matching rings or a perfectly curated stack of earrings, she was always decked out in the most impeccable jewelry pieces. If you're looking to replicate the look, try stacking your jewelry. After all, Phoebe would agree that multiple necklaces and rings are better than just one.
The '90s were filled with witchy jewelry like large heart pendants and lockets, lots of beaded bracelets, and gemstone earrings. So, it makes sense why the free-spirited Phoebe always had her accessories in order. Luckily, both free-spirited and nostalgic jewelry, like peace sign necklaces, chokers, and gemstone rings seem to be coming back in style. Try pairing a flowy top or dress with multiple rings, a heavy pendant, and some colorful butterfly clips in your hair. Top the look off with a giant tote bag and you're ready to unleash your inner Phoebe Buffay.