Why The Layered Lobe Piercing Look Will Never Go Out Of Style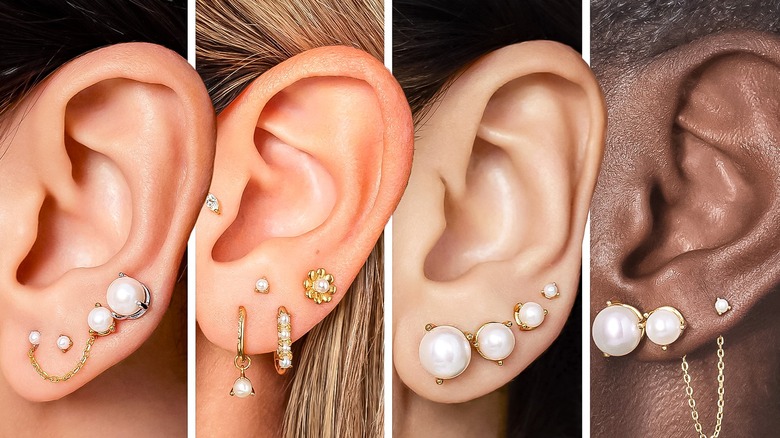 Static Media
2023 has brought many new piercing trends to upgrade your look – the dainty-yet-punk double nostril piercing fad, anyone? These trendy piercing options usually appear fun and exciting, so impulsively getting the moment's hottest look is often tempting. However, many piercing trends tend to come and go, so we don't recommend going through the piercing process, buying the body or face jewelry, and committing to the style unless you're 100% sure you'll still like it after the trend fades — especially if you want the layered look, which can be expensive and time-consuming.
If you want to experiment with layered piercings, we recommend starting with a layered lobe look — a style that remains timeless and is also beginner-friendly for double or more piercings. Lobe piercings — like TikToker @itsmeshaaai's beautiful three-lobe earrings look — always stay in style because they aren't too painful and are more versatile than many other piercing options.
Lobe piercings typically don't hurt as much
For those that don't have a high pain tolerance, or have never gotten a piercing and want to get two or more, start with the earlobe as this area isn't super painful for piercings. "We all know and love a good lobe piercing. I encourage these constantly. The easiest part of the ear to heal is the lobe. The least painful is the lobe, too — just a one or two out of 10," Janeese Brooks, Stone and Strand's Head of Piercing told Byrdie. So, since lobe piercings are typically so low-pain, you can get as many as you want without stressing over how much it might hurt. Can you imagine how unpleasant it would be to get multiple piercings in more painful areas, such as your lips?
London-based piercing studio Metal Morphosis posted a TikTok video to show how convenient and simple the lobe-piercing process is. The video is only 11 seconds, demonstrating the fast and low-pain earlobe-piercing experience. No matter how many lobe piercings you get, there are low chances of regret due to the speedy process and minimal pain.
Lobe piercings are versatile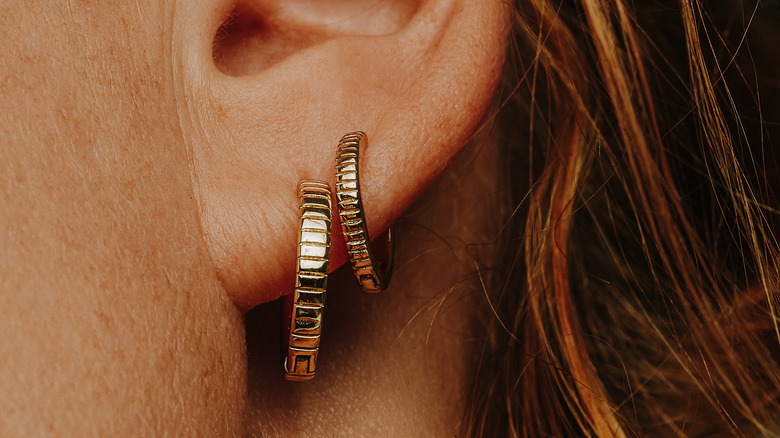 Knape/Getty Images
Not only are lobe piercings relatively low pain, but they're significantly more versatile than other piercing locations. For instance, eyebrow piercings — whether styled with studs, rings, or both — typically give an edgier, punky appearance, even on days when the piercee might want to look more delicate and feminine. But that's not the case with lobe piercings. There are so many different earring choices that you can find earrings for any aesthetic, switching them out whenever you want a different vibe. It's so easy to change out the earrings in your layered lobe piercings that TikToker @alecolantuono even posted a video of her doing so in a car.
If you want a classic look with a bit more contrast, consider rocking gold, silver, and rose gold hoops if you have three piercings on each lobe. Or, if you have two lobe piercings and want a girly, dainty look, you may want to flaunt one slim dangly earring and one tiny stud. Moreover, if you want an edgier look, you might want to fill the layers with silver, black, and red earrings. There are countless earring options, so you can never have too many!