Glo2Facial: What To Know About The Buzzy New Skincare Treatment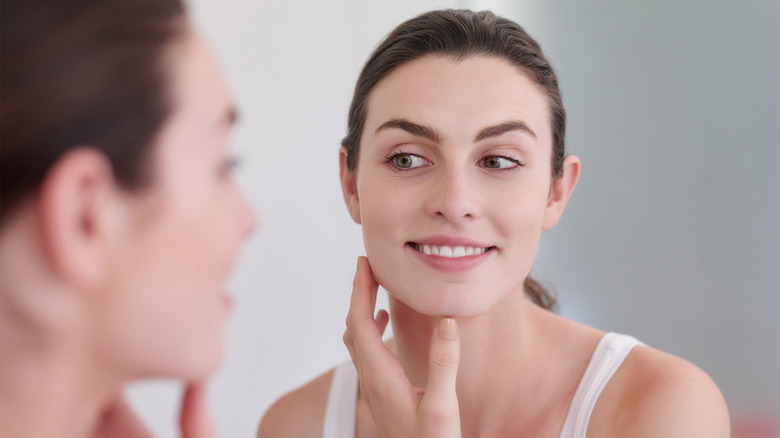 Jeffbergen/Getty Images
As much of the northern hemisphere moves rapidly toward autumn, it's once again time to start thinking about how you can pamper your skin during the upcoming colder, drier seasons. The downside of many traditional professional skincare treatments, including laser therapy, is the downtime required for recovery. If dealing with aftereffects like peeling, swelling, and redness isn't your strong suit, there are less invasive options to consider.
One new option is Geneo's Glo2Facial treatment. Traditionally, a facial entails deep cleansing, exfoliation with manual extractions, and a soothing or hydrating mask. A Glo2Facial treatment elevates the facial process by incorporating exfoliation with oxygenation (trademarked as oxfoliation), ultrasound technology, and lymphatic drainage massage. The treatment can also be used as an add-on when undergoing resurfacing or other harsher procedures to help soothe and nourish the skin and get a head start on recovery. Whether you're looking to trade more invasive procedures for something gentler and subtle or give them a boost, Glo2Facial treatments may be the missing ingredient in your skincare routine. 
Oxfoliation
A Glo2Facial treatment takes the exfoliation step of a typical facial and supercharges it by adding oxygenation. Exfoliation, whether chemical or physical, gently removes the layer of dead skin cells that adorns the surface of the skin on your face. This allows any skincare products applied during the process to absorb deeper into the skin rather than sitting on its surface, as explained by Esmi Skin.
Oxygenation refers to delivering pressurized oxygen directly to the skin for a boost in hydration, collagen production, and circulation (via Healthline). While a traditional oxygen facial includes simply applying oxygen to the skin using a small wand tool, a Glo2Facial treatment takes a different approach. During the treatment, the skin is exfoliated and oxygenated simultaneously using an exfoliation device that reacts with a primer gel that is applied to the skin to create carbon dioxide bubbles. According to Glo2Facial, the presence of carbon dioxide triggers the body to naturally send more oxygen to the site, in this case, your face.
Ultrasound
Ultrasound therapy uses ultrasound energy waves to stimulate skin cells deep below the surface. This stimulation provokes the skin to naturally produce more collagen, according to the American Society for Dermatologic Surgery. The more collagen the skin produces, the firmer and more toned it will appear, reducing the appearance of hanging or sagging skin. A Glo2Facial treatment includes what's called the lite ultrasound experience (LUX), which applies micro-ultrasound vibrations to the skin. The goal of these vibrations is the same as any form of ultrasound therapy — to firm and tighten the skin, as per a 2019 study via Plastic and Reconstructive Surgery Global Open.
Stimulating the skin using ultrasound waves is also known to increase its permeability, according to a 2014 article via Therapeutic Delivery. This will allow topical ingredients applied to the skin's surface to penetrate more deeply and efficiently into the layers below. After all, "Most topical skincare products work on the skin's surface," according to Ron Robinson, cosmetic chemist, via Real Simple. Therefore, any treatment that can increase the absorption rate of beneficial and, often, expensive ingredients is worth a try.
Lymphatic drainage massage
The lymphatic system — as explained by the Cleveland Clinic — is an essential aspect of the body's immune system, best known for the lymph nodes, which can become swollen during bouts of illness. This system, which is also made up of the thymus and bone marrow, cycles a fluid known as lymph through the bloodstream, collecting excess fluid from tissue and filtering out waste and potentially threatening abnormal cells.
A lymphatic drainage massage "uses light pressure to mobilize the lymphatic system, which lies directly beneath the skin," according to Cedars Sinai. The premise of lymphatic drainage massage is that it speeds up the lymphatic system's natural process of removing excess fluid and waste, often referred to as toxins in the wellness industry. During a Glo2Facial treatment, a hands-free facial lymphatic drainage massage is performed with a wand to reduce puffiness and thoroughly apply any final skincare products.
Glo2Facial treatment plans
Aside from being completely non-invasive, Glo2Facial treatments are customizable to target a number of different skin concerns. There are seven types of Glo2Facial treatment plans to choose from, depending on where your skin is starting out and the type of challenges you tend to face with it. The balance treatment plan, for instance, is designed for those who struggle with acne-prone skin and excess oil production. For those with sensitive skin that tends to become red, irritated, and break out in response to environmental stressors, the detox plan addresses those issues.
Battling with premature signs of aging? There's a Glo2Facial treatment plan for that; it's called the glam treatment plan. The hydrate plan targets dry, dehydrated skin that may struggle with keratosis pilaris bumps. For people struggling with old acne scars and discoloration, there's the illuminate treatment plan. If you're experiencing wrinkles, fine lines, and the beginning of loose or sagging skin, the revive treatment is the Glo2Facial plan for you. Facing a combination of blemishes and signs of aging? Go for the retouch treatment plan. 
What to expect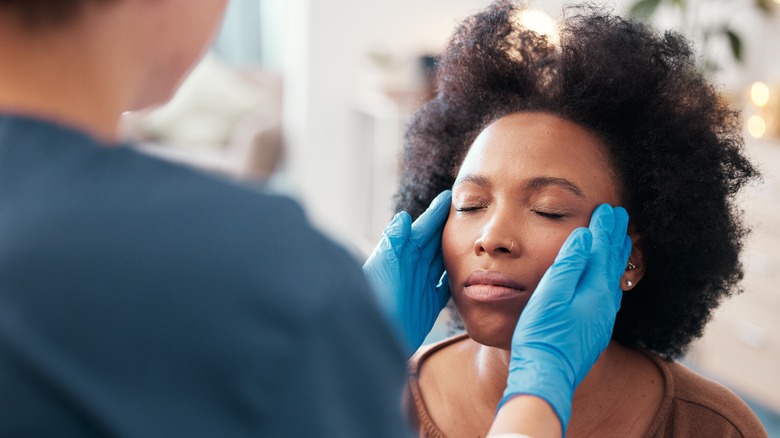 PeopleImages.com - Yuri A/Shutterstock
Once you choose the right Glo2Facial treatment plan for your skin, you can expect to receive four to six treatments spaced out over a month or two (depending on your treatment plan). After the initial series of treatments is completed, you may wish to schedule monthly maintenance treatments to maintain your results. Before your first treatment, you'll be asked to discontinue the use of any products containing retinoids or other exfoliants until after you've completed your treatment plan.
If you use filler or other facial injectables, you should not schedule a Glo2Facial treatment within a minimum of 10 days after injections. Receiving a treatment too soon after injections can result in your new filler migrating. There is virtually no recovery time after a Glo2Facial treatment, so there's no need to plan time for hiding away your red, peeling skin after each session. If you're a low-maintenance babe who still enjoys glowing skin, a Glo2Facial plan may be just what you've been waiting for.