Taylor Swift's Hair Enters Its Hot Mess Era At 2023 VMAs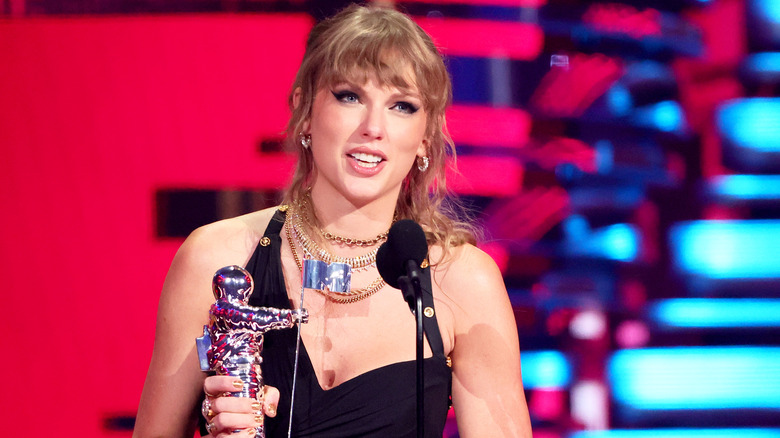 Theo Wargo/Getty Images
This year, MTV introduced its first-ever pink carpet for the 2023 Video Music Awards. While the reason for this decision is unconfirmed, it may be due to the massive popularity of the "Barbie" movie and the resulting Barbiecore trend. As the celebrities arrived to show off their flashy outfits, over-the-top accessories, and flawless hair and makeup on the fabulous pink carpet, one unfortunate truth became impossible to ignore: Taylor Swift's hair stylist missed the mark.
While other attendees flaunted elaborate updos, voluminous extensions, and carefully crafted curls, Swift's hair looked like she might have styled it in the car on the way to the event without a mirror or a hairbrush. The song of the year winner sported what appeared to be a half-up style from the front, but in the back, it seemed like a rapidly unraveling chignon. Sadly, even her bangs didn't quite match the rest of her hair for the ceremony.
Taylor Swift's hair falls flat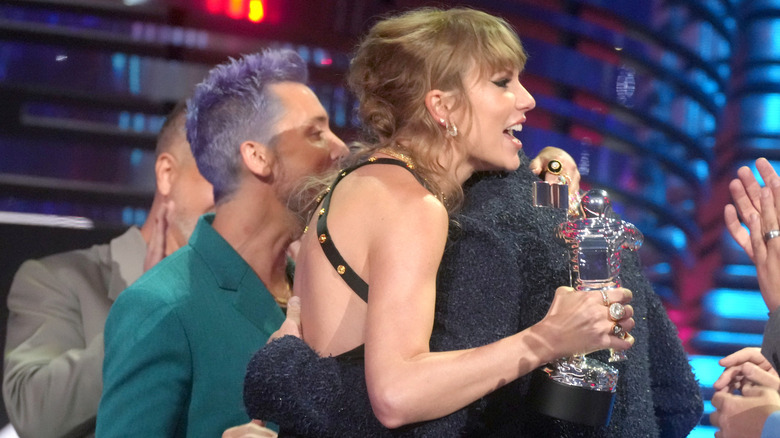 Jeff Kravitz/Getty Images
Taylor Swift is considered pop royalty at this point. With such a title, expectations are high when Her Highness graces an event on the scale of the VMAs. Unfortunately, Swift's hair fell flat, lacking volume and appearing frizzy, stringy, and unkempt. It was more reminiscent of a middle school teacher at the end of a long day than a millionaire spending an evening winning awards and rubbing elbows with other mainstream celebrities.
Hopefully, this was simply a one-time misstep and not the beginning of a reverse style transformation for Swift. Perhaps the venue was particularly humid this year and Swift's classy chignon simply fell apart before the pre-show even began — a scenario that many of us can relate to. Only keeping an eye on the icon over her next few public appearances will tell. We're all for a new era, but maybe not this one.