'Girl Math' Is Trending On TikTok And We Can Totally Relate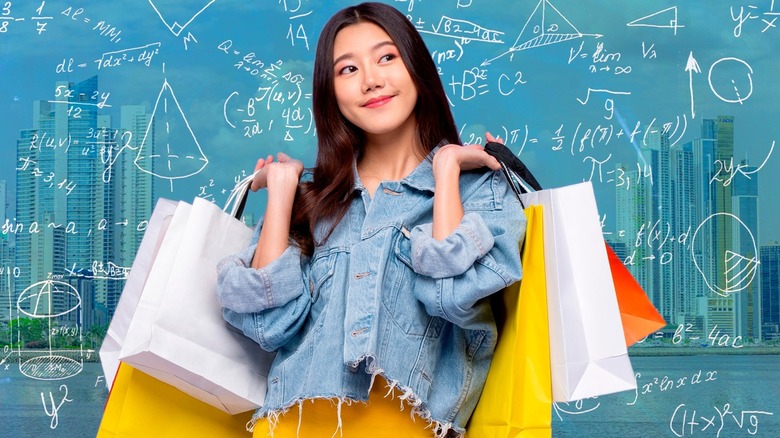 Static Media/Shutterstock
Trends involving the word "girl" are having a major moment. The girlies on TikTok have been spearheading concepts like the "girl dinner" and the "hot girl walk" that are relatable to women everywhere, as well as some men and non-binary folks. Now, a new girl-centric TikTok microtrend is coming for our bank accounts and helping us all feel a little better about our spending habits.
The trend is called "girl math," and it'll make sense even if you flunked your 9th-grade algebra class. The term seems to have originated from viral clips by New Zealand radio show "Fletch, Vaughan & Hayley," though the idea existed long before it had a name. In essence, girl math is the mental gymnastics many of us do to justify spending money. And while a math teacher might not approve of some of its principles, there's still a bit of logic to back it up.
TikToker @mckennaelianna posted one popular video explaining girl math, where she offered tenets like, "Anything I buy with a gift card is free" and, "If I buy something but then I return it, I've made money." Content creator @healthbydaniela shared additional examples in her own viral video, including, "If I don't buy a beverage today, I'm making money" and the all-too-relatable, "If I don't spend enough to get free shipping, I'm losing money." These influencers aren't the only ones hopping on the trend: To date, the #girlmath hashtag has racked up over 310 million views on TikTok and counting.
Girl math busts shame around money
In an economy where 70% of Americans report feeling stressed about money (via Momentive), it's easy to be hard on ourselves when buying a pricey coffee or splurging on skincare products. However, girl math makes shopping feel less shameful. "People connect [to girl math], because one: we're in some trying times," Jen Hemphill, financial counselor and host of "Her Dinero Matters" podcast, explained to HuffPost. "It's relatable to them, because chances are they've made a mistake. And so being able to connect with that and say, 'Hey, I've been there too'...feels good."
Dan Egan, vice president of behavioral finance and investing for Betterment, agreed that girl math can take the guilt out of treating yourself. "Having a few things where I can say, 'It's okay to spend this,' where I don't have to get all antsy and have anxiety about it, is kind of nice," Egan told The Washington Post.
Justifying purchases is something that many people do, so why is girl math gendered in the first place? It might be because women are often judged more harshly for their financial decisions. As Sallie Krawcheck, CEO of investment platform Ellevest, shared with TheStreet, "Money is so taboo for us as women ... [We hear that we're] spending too much on the latte[,] on the facial[,] on the manicure and the pedicure, on the shoes and so on. And so we have these messages that come to us which are not positive."
The downsides of girl math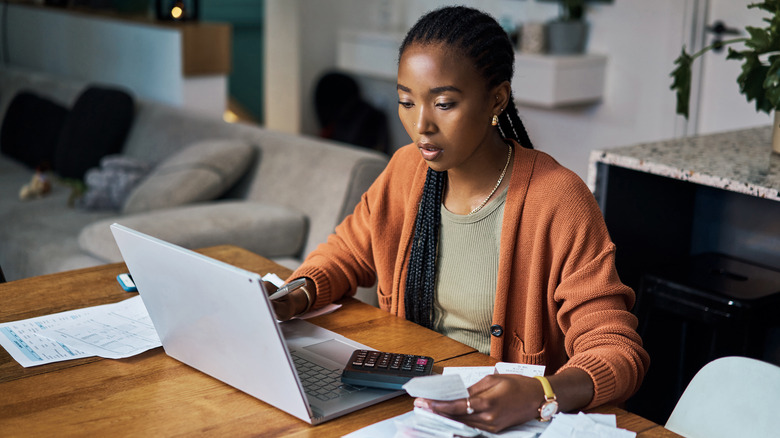 Pixdeluxe/Getty Images
There's nothing wrong with treat culture and buying a nice meal or a new pair of shoes. However, it's important to not take girl math too seriously when choosing how to save and spend your hard-earned money. "I am a huge proponent of not cutting out your everyday pleasures. But you need to acknowledge that those things bring you joy and cost money," Vivian Tu, a financial expert and former J.P. Morgan equities trader, revealed to HuffPost. Moreover, Tu pointed out that girl math could perpetuate sexist stereotypes that characterize women as being bad with money and numbers.
Lindsey Stanberry, former executive editor at Fortune and author of the money-focused newsletter The Purse, has the same concern, telling Today, "While I think that the trends definitely started as good fun ... the women who started it are hilarious and it's very funny and very tongue in cheek and that's great — it can quickly spiral into being taken as a representation that women don't know how to manage their money, and I don't think that's true."
A little bit of girl math — say, buying a deeply discounted item because the deal is just too good — can be harmless and even helpful if you struggle with buyer's remorse. But don't forget that girl math can also include debt repayment plans, negotiating your salary, and saving up over time for big-ticket purchases.